«And in the end, the love you take, is equal to the love you make»
The latest chapter in a saga so intense, full of twists and that has forever changed the world of music, could be nothing but extraordinary. It couldn't end with a hard patched record, put together by a producer who had never worked with The Beatles: something that would leave a mark forever was needed. And that mark came.
Its name was Abbey Road.
The studios were named after the road, which went into history through the main door, perhaps by accident. It seems that laziness in doing the photos for the cover took them out the recording studios, trying some improvised photo shoots. Their walking on the crosswalk in a casual, almost tired manner, became an indelible symbol. Instead of going to India, as some had suggested, they decided to get out and use the first thing available, the passage of pedestrians. When we say to have a solution at our fingertips!
The tracklist is perfect and we will not modify it in any way, we'll just point out the single that was released before the album, "The Ballad Of John and Yoko" / "Old Brown Shoe": the first was a Lennon song recorded by him and McCartney, where they played all the instruments, the B-side was Harrison.
 We list the album tracks separating the two sides, because within the second there's an extended medley of short songs (from "You Never Give Me Your Money" to "The End"):
1. Come Together
2. Something (Harrison)
3. Maxwell's Silver Hammer
4. Oh! Darling
5. Octopus's Garden
6. I Want You (She's So Heavy)
7. Here Comes the Sun (Harrison)
8. Because
9. You Never Give Me Your Money
10. Sun King
11. Mean Mr. Mustard
12. Polythene Pam
13. She Came In through the Bathroom Window
14. Golden Slumbers
15. Carry That Weight
16. The End
17. Her Majesty
Some consider Abbey Road the work of maturity, the most beautiful, intense, that closes with honor an incredible adventure. It is not hard to put it on top of our preferences: Harrison takes part with two of his most important songs; John and Paul are competing in writing the best song; the medley on the B-side is something to remember: it's hard to even consider it as a medley, it sounds like a work in itself.
The Beatles asked George Martin, who thought he would never work with them again, to produce the record. He replied that he would do that if he could work the old way, with no insults, fights and the rest. And so it went.
How can this album be summed up? The opening was left to the songs that were both A-sides of the 45 rpm, and is worth the purchase: "Come Together" is a bluesy song composed by Lennon and played over the years by thousands of musicians around the world; "Something" is one of the most beautiful Harrison' songs.
"Oh! Darling" was sung by Paul dozens of times before he was satisfied with it. He went to the studios every morning one hour before the others giving a try in recording it, closing with the same sentence: «Five years ago I would do that in a moment». But it was worth the waiting, because his performance will be remembered: it's hard to hear a man singing better than this, not to mention the song, which is great.
On the album there is also one of the first appearances of the famous Moog synthesizer, that was going to be used a lot in subsequent years. We understand how good The Beatles were in using and  not 'being used' by machines, limiting the use of new sounds to a minimum: everything was functional to the cause, nothing was indispensable.
The long ending of "I Want You (She's So Heavy)" – which is one of their longest songs – is cut roughly and closes the first side of vinyl: it was John's idea, because he couldn't find a way to fade as he wanted, and the cut is rather daring for the time.
And what about the medley on the B-side, with all those small masterpieces glued together: several were written with that idea already in mind, and some cuts from a tune to another are so well done.
Then there's Ringo playing his first and only drum solo ever (he hated to do them) on the last official song played by the Four, "The End", that sees the other three playing great electric guitar solos trading parts.
Not to mention the closing with "Her Majesty": the song was rejected by Paul (originally it was after "Mean Mr. Mustard" in the medley) and attached at the bottom of the last tape from engineer John Kurlander, who thought it was best not throwing anything away. He left fourteen seconds of blank tape and then attached the short acoustic song by Paul. The cut was not very precise, and at the beginning we still hear the last chord of "Mean Mr. Mustard". Probably Paul was amused to find that song in an unexpected place, and it was left where it was. Today the so-called 'ghost tracks' are a classic, but not back then!
Faith, once again, exploited for their benefit.
Electric Guitar
The trend after Sgt. Pepper's was maintained and the guitars had a considerable space here: from the first song we realize what is going to happen, both the rhythm and the solo of "Come Together" are almost perfect. "Something" features Harrison playing one of the most intense guitar solos of his career, while "Oh! Darling" opens with an effective altered chord and is supported by a beautiful part of arpeggiated electric guitar.
Then comes the long "I Want You (She's So Heavy)" for which John and George wanted to create a heavy wall of guitars, continuing to overdub parts on the final; it was really – as was often the case with their music – ahead of the times: with every passing minute the song became heavier, opening the way for a lot of music that would come later in years.
The entire medley on the B-side is dominated by guitars. When it gets to the final, "The End" sees the three guitarists trading short guitar solos, in a surprising way, and it's difficult to understand who plays what: what is certain is that the quality of solos – in their own way – is very high, making it clear to everyone that The Beatles were not so scarce as painted.
Acoustic Guitar
The introduction of George Harrison's "Here Comes the Sun" is one of the most famous parts ever played with an acoustic guitar. The mobile capo placed at the seventh fret, while George plays the positions of D major (the song is in A), gives a unique ringing tone: trying to play the same part with the capo in a different position takes away the magic that we all know – trying is believing.
We only find another important acoustic guitar part at the very end: Paul McCartney plays "Her Majesty" with just guitar and voice, closing in the simplest way the most extraordinary adventure of pop music.
Arrangements
The whole record is 'played', we no longer have those moments in which elements of the band had to kill time while the others worked on their own: the very structure of the songs allows the four to give their best, bass and drums serve as support in most of the songs, with the guitars weaving parts enriched by piano or strings or voices.
Vocals
It would be enough to quote the wonderful "Because" to have an idea of what a vocal part could be: this is probably the highest point among their performances. The piece, an extraordinary one, was inspired to John by Yoko playing Beethoven. He asked her to play the chords backwards and wrote this masterpiece. It seems that George Martin was arranging voice parts while the three were singing in the studio: we can't say that for sure but it wouldn't be so strange – what is certain is that the three voices were tripled to sound like nine singers.
All the medley on the second side is characterized by massive vocal interventions: "You Never Give Me Your Money" is full of choirs, "Sun King" is sung harmonized throughout, "Polytheme Pam" and "She Came In Through the Bathroom Window" have beautiful vocal pads, the closing evocative "The End" is complemented by a nice harmonization, almost to close down a chapter of history.
---
Winston's Thoughts
---
by Davide Canazza
Abbey Road is an album made with commitment and professionalism, that followed the tormented sessions for what would become Let It Be. George Martin returned to produce the quartet and the music changed.
The global quality of the songs is not in my opinion excellent, even though there are several pieces destined for anthologies. What makes this LP another masterpiece is its choral quality, the strength of the arrangements and the richness of the sounds. All together the maturity of The Beatles is expressed above all in the arrangements, in tailoring a product that is homogenous and mature from a musical point of view.
As far as the quality of the songs is concerned, this is certainly Harrison's album. His "Something" and "Here Comes the Sun" are so beautiful that, owing to the unwritten rules that forced their author not to put more than two of his pieces in each album, they were included at the cost of leaving out even "Old Brown Shoe" (released as a single) and "All Things Must Pass" (included as the title track in the triple soloist LP of the same name).
Of course even the medley on the B-side is a masterpiece, but only when considered as a whole, since each of the eight songs that make it up – when considered individually – can't live up to comparisons with such memorable pieces as "Come together", "Oh! Darling"or "Because".
As we were saying, the instrumental and vocal arrangements give this work a notable something extra. The harmony between the four of them has come back and the musical understanding between them is at its utmost: you only have to listen to the jazzed version of "Ain't She Sweet", improvised during the sessions, to realise the musical capabilities of John, Paul, George and Ringo.
In the album's tracks we meet the four of them always ready to exchange roles and instruments. Apart from "The Ballad of John and Yoko", that was recorded by only Lennon and McCartney because the others were on holiday (Paul is on drums, bass and piano, and John is on guitars), in almost all of the pieces there is always a paw put in by each one of The Beatles.
Harrison abandons the rosewood Telecaster and goes back to using his favourite, the Les Paul from 1957 re-named 'Lucy'. The photos from the sessions demonstrate at least that George played several parts too with his Casino. In terms of the acoustic, the Gibson J-200 rules the day. John plays the electric parts exclusively with his faithful Casino, while for the acoustic parts he alternates his Martin D-28, his Gibson J-160E (brought back to its natural colour with all the doodles made by him and Yoko on the soundboard) and his Framus 12-string.
Paul takes it in turns with his three bass guitars: the old and inexhaustible Hofner, his rediscovered Rickenbacker 4001 (this also with the finish taken off) and the Fender Jazz Bass.
In terms of the amplifiers, by now it was clear they were set on Fender: Twin Reverb for the guitars and Bassman 50W for the bass.
In "Come Together" the rhythmic bass line is played by Paul. Ringo is on the drums and George is on the rhythm guitar in the background, so as to allow John to sing lead vocals without any distractions. Later, the solo guitars to the central part (John and George together) and the final solo by Harrison were added. At the end an electric piano played by McCartney was also inserted.
In "Something" there are electrics by Lennon and Harrison (this latter one connected to a Leslie amplifier) who play the rhythmic parts together. The solo is naturally by George, played while lying down, while Paul recorded the characteristic bass at a later date, that substituted another much scantier version that had been recorded live.
The splendid country-rock guitar solo in "Octopus's Garden" is Harrison's, while Lennon plays the rhythmic arpeggios.
In "I Want You (She's So Heavy)" guitars are in abundant and uncalculated quantities, fruit of additions and additions played by John and George, with the aim of creating an out-and-out wall of sound in the arpeggio part of the ending. The introductive solo is definitely Harrison's, while the solo guitar that backs the vocals and follows the central solo is without a doubt Lennon's, who plays with a pickup on the neck that changes to one on the bridge for the arpeggio part played in unison with George (you can clearly hear a click in the selector).
Also in "You Never Give Me Your Money", perhaps the piece with the most interesting and emotional arrangement on the album, Lennon delights in being solo guitarist. And the background notes to the piano introduction are his; in the central part, the bit where the vocals sing «oh, that magic feeling», it is George who plays the arpeggio, with the guitar connected to a Leslie and backed by bells during a sequence of chords – Bb/F/C – repeated twice. It's worth noting the fact that the original recording lasted more than five minutes and included a very long final solo by Lennon, that was shortened by a fade out.
Behind the sung part «One sweet dream», the solo guitar is again Lennon's that overlaps Harrison's rhythm. At the end, it catches up on its tail during the arpeggio part performed by George (with the Leslie) on which John plays the final solo accompanied by the chorus that sings the phrase «One, two, three, four, five, six, seven, all good children go to heaven». The song blends out in a fanciful ending that mixes with «Here come the Sun King».
In the medley "Polythene Pam" – "She Came In through the Bathroom Window", Lennon plays the 12-string acoustic and Harrison the electric one with which he plays the solo.
The sequence of solo parts played by Paul, George and John in "The End" is worth noting from a guitarist's point of view. Just as if they wanted to say goodbye to their public, the song offers the possibility of a solo to each of the four Beatles. Ringo begins with a solo on the drums that lasts about 35". After a sequence of A7 and D7 chords articulated by the chorus «Love you», the eighteen bars of the guitar solo begin. Two bars each for three consecutive times: Paul begins, then George, then John; and then twice again in the same order. Careful listening reveals that they would seem to be played on the same guitars; this leads me to hypothesise that they had each used their own Epiphone Casino.
The closing solo on the sequence C/D/Eb/F/C is clearly Harrison's.
---
I Saw The Beatles Live – 6
---
By Dennis Conroy
I watch as The Echoes, a group formed to back, amongst others, Jerry Lee Lewis and Gene Vincent, stand in the first left side alcove from the stage. I'd seen them in the Isle of Man early in the year, as the backing group for one of Larry Parnes tours. Backing the likes of Johnny Gentle, Vince Eager and the fabulous but underrated Dickie Pride, they were very Shadows like and obviously good musicians.
They'd headlined the show tonight and gave a very enthusiastic performance to a polite Cavern audience. The Beatles seemed to be putting even more into the gig tonight. Perhaps annoyed that they'd lost their usual top of the bill slot, or maybe just the challenge of a 'London group' – whatever it was The Echoes stood and watched mouths open at a group that would change the music scene in the UK forever.
Next track is Carl Perkins country track "Sure to Fall (In Love with You)" (1) followed by Little Eva's "Keep Your Hands off My Baby" (2). Later on, after a trip to London, the Beatles would include Little Eva's "Locomotion" in their set, as well as the chart topping Frank Ifield track "I Remember You". This was explained away by Paul one night, saying they had to learn these songs for gigs they played in London, implying London audiences weren't 'as cool as us'!
Following their version of Barret Strong's "Money" (3), a huge favourite in the Cavern, The Beatles halted proceedings for a very special birthday, Paul's 20th. A cake with candles is brought onto the stage and, after the "Happy Birthday" celebrations quieten down, George, in his droll way, informs us all that he is «the only teenage Beatle now». As the majority of people in the place are teenagers, George establishes he still is one of us.
After the celebrations are complete the group launch into "P.S. I Love You" (4). This was a huge favourite at the Cavern and widely expected to be the A-side of their debut single. Strangely enough there is no known live recording of this favourite. The Beatles however showed, with the choice of "Love Me Do" for the A-side, that they would always go their own way and not pander to public opinion.
"P.S. I Love You" is followed by the fabulous "Shimmy Shimmy Shake" (5), one of the all time great rock'n'roll songs, originally recorded by The Olympics as "I Wish I Could Shimmy Like My Sister Kate". This shows the Beatles talent for finding obscure American rhythm and blues tracks and making them their own.
Ringo was on fine form tonight after a harrowing lunchtime session, which was filmed for Granada TV. A week after Pete Best's exit from the band Ringo was playing drums with the Beatles, a session which was spoilt by some of Pete's friends who were in the centre of the club shouting «we want Pete» and some other not so complementary phrases.
The Crickets "Please Don't Ever Change" (6) and the Shirelles "Baby It's You" (7), take the tempo down before 'The Reverend John Lennon' announces "I'm Gonna Sit Right Down And Cry" (8), an Elvis cover. John showed his love for the absurd by often announcing songs in a preacher style looking over the heads of the audience and making a cross sign with his fingers to everyone's amusement.
Paul's "Hippy Shake" (9), Georges, "Roll Over Beethoven" (10) and Paul's wonderful "Long Tall Sally" (11) bring everyone to a fever pitch before the group concludes with The Isley Brothers "Twist And Shout" (12).
Then it was over. No false encores, just DJ Bob Wooler telling us who this fantastic group was, then playing the next record as the stage was cleared for the next group.
Individually John, Paul, George, Pete and Ringo were great, as a group they were completely unique.
1. Sure To Fall (Live At The BBC)
2. Keep Your Hands off My Baby (Live At The BBC)
3. Money (Live At The BBC)
4. P.S. I Love You (45 giri)
5. Shimmy Like My Sister Kate (Live At The Star Club)
6. Don't Ever Change (Live At The BBC)
7. Baby It's You (Live At The BBC)
8. I'm Gonna Sit Right Down and Cry (Live At The BBC)
9. Hippy Shake (Live At The Star Club)
10. Roll Over Beethoven (Live At The BBC)
11. Long Tall Sally (Live At The Star Club)
12. Twist And Shout (Live At The BBC)
Most of the Live At The Star Club recordings are of a poor quality, littered with, unusual for The Beatles, fluffed notes. However the sound and excitement takes me right back to The Beatles live at The Cavern.
(This article, with a different final contribution, has been published in Chitarra Acustica, n. 5, August 2011, pp. 67-70)

«And in the end, the love you take, is equal to the love you make»
L'ultimo capitolo di una saga così intensa, ricca di colpi di scena e che ha cambiato per sempre il mondo della musica, non poteva che essere straordinario. Non si poteva certo chiudere con un disco raffazzonato e messo insieme da un produttore che mai aveva lavorato con i Beatles, serviva qualcosa che avrebbe lasciato un segno, per sempre. E quel segno arrivò.
Si chiamava Abbey Road.
Il nome dello studio di registrazione si rifaceva a quello della via, che è entrata nella storia dalla porta principale, forse per caso. Sembra che la pigrizia nel fare le foto per la copertina li avesse portati ad uscire davanti agli studi di registrazione, a provare qualche scatto improvvisato. Quel modo di attraversare sulle strisce pedonali in maniera disinvolta, quasi stanca, divenne un simbolo incancellabile. Invece di andare fino in India, come qualcuno aveva suggerito, si preferì scendere in strada e usare la prima cosa disponibile, il passaggio dei pedoni. Quando si dice avere la soluzione a portata di mano!
La tracklist è perfetta e non verrà da noi modificata in alcun modo, ci limiteremo a segnalare il singolo che uscì prima dell'album, "The Ballad of John and Yoko" / "Old Brown Shoe". Il lato A era un brano di Lennon registrato con il solo McCartney, sul quale i due suonarono tutti gli strumenti, il retro era di Harrison.
Elenchiamo i brani separando le facciate, perché all'interno della seconda si trova un lungo medley di brevi canzoni (da "You Never Give Me Your Money" a "The End"):
1. Come Together
2. Something (Harrison)
3. Maxwell's Silver Hammer
4. Oh! Darling
5. Octopus's Garden
6. I Want You (She's So Heavy)
7. Here Comes the Sun (Harrison)
8. Because
9. You Never Give Me Your Money
10. Sun King
11. Mean Mr. Mustard
12. Polythene Pam
13. She Came In through the Bathroom Window
14. Golden Slumbers
15. Carry That Weight
16. The End
17. Her Majesty
Per alcuni, Abbey Road è il lavoro della maturità, il più bello, intenso, e chiude con onore un'avventura incredibile. Non si fatica a metterlo in cima della lista delle proprie preferenze: Harrison partecipa con due dei suoi brani più importanti, John e Paul fanno a gara per chi scrive la canzone migliore, il medley del secondo lato è qualcosa di memorabile, difficile anche solo considerarlo come un medley, sembra un'opera a sé.
I Beatles chiamarono George Martin, che pensava non avrebbe mai più lavorato con loro, e gli chiesero di produrre il disco. Lui rispose che lo avrebbe fatto solo se si fosse lavorato alla vecchia maniera, e lo avessero lasciato fare davvero, senza insulti, litigi e altro. E così andò.
Cosa si può riassumere di questo disco? La sola apertura, con i due brani del singolo di cui furono entrambi il lato A, vale l'acquisto: "Come Together" è un brano di matrice blues composto da Lennon e suonato negli anni da migliaia di musicisti di tutto il mondo; "Something" è una delle più belle canzoni di Harrison.
"Oh! Darling" è stata cantata da Paul decine di volte prima di essere soddisfatto. Arrivava in studio un'ora prima degli altri ogni mattina e la registrava come prima cosa, chiudendo sempre con la stessa frase: «Cinque anni fa l'avrei fatta in un attimo». E ne valse la pena, perché la sua performance vocale è superlativa: difficile sentire un uomo cantare meglio di così, per non parlare della canzone che è bellissima.
Sul disco c'è anche una delle prime apparizioni del Moog, il famoso sintetizzatore che tanto venne usato negli anni successivi. La bravura del gruppo nel non farsi 'usare' dalle macchine, limitando l'utilizzo di suoni nuovi allo stretto necessario, fa capire quanto fossero superiori a ciò che li circondava: tutto era funzionale alla causa, nulla era indispensabile.
Il finale di "I Want You (She's So Heavy)" – che è uno dei pezzi più lunghi da loro registrati – è tagliato bruscamente e chiude il primo lato del vinile: fu un'idea di John, che non trovava il modo di sfumare come voleva, piuttosto audace per l'epoca.
E il medley del secondo lato con tutti quei piccoli capolavori appiccicati uno all'altro: molti furono scritti con già in testa l'idea complessiva, e alcuni passaggi da un pezzo all'altro sono incredibilmente ben fatti.
Poi abbiamo Ringo che suona un assolo (odiava farli) per la prima e unica volta, sull'ultima canzone suonata insieme, quella "The End" che vede gli altri tre suonare degli splendidi assoli di elettrica scambiandosi il ruolo a turno.
Per non dire della chiusura di "Her Majesty": il brano era stato scartato da Paul (in origine si trovava dopo "Mean Mr. Mustard" nel medley) e attaccato in fondo all'ultimo nastro dal tecnico John Kurlander, che pensò fosse meglio non buttare via nulla. Lasciò quattordici secondi di nastro vuoto e attaccò la breve canzone acustica di Paul. Il taglio era poco preciso, all'inizio del brano c'era ancora l'ultimo accordo di "Mr. Mustard" come ancora oggi si sente. A Paul forse piacque ritrovare quella canzone scartata in fondo a tutto, quando nessuno se la sarebbe più aspettata, e fu lasciata dove era. Oggi le cosiddette ghost tracks sono un classico, ma allora no di certo! Ancora il caso, sfruttato a loro favore.
Chitarra elettrica
La tendenza post Sgt. Pepper's venne mantenuta e le chitarre ebbero uno spazio notevole: già dal primo brano si capisce che aria avrebbe tirato, sia la parte ritmica che solista di "Come Together" sono pressoché perfette. "Something" vede Harrison suonare uno degli assoli più intensi della sua carriera, mentre "Oh! Darling" si apre con un efficace accordo di quinta aumentata e tutto il brano è sorretto da una splendida parte arpeggiata di chitarra elettrica.
Si giunge quindi alla lunghissima "I Want You (She's So Heavy)" per la quale John e George vollero creare un vero e proprio muro di chitarre, continuando a sovraincidere parti su parti sul finale che era davvero avanti – come spesso accadde con le loro cose – rispetto ai tempi: con il passare dei minuti il brano aveva un andamento sempre più pesante, aprendo la strada a tanta musica che sarebbe venuta in seguito.
Sul secondo lato l'intero medley è dominato dalle chitarre, fino ad arrivare al finale. "The End" vede i tre chitarristi scambiarsi brevi assoli in una maniera che risulta sorprendente: difficile capire chi suoni cosa, quello che è certo è che la qualità degli assoli – a modo loro – è altissima, facendo capire a tutti che i Beatles, così scarsi come venivano dipinti, non erano di certo.
Chitarra acustica
L'introduzione di "Here Comes the Sun" di George Harrison è una delle cose più famose mai suonate con una chitarra acustica. Il capotasto posizionato al settimo tasto mentre George suona le posizioni di Re maggiore (ma il brano è in La) conferisce un timbro squillante davvero unico: provando a suonare la stessa parte con il capotasto leggermente più indietro, si toglie la magia che conosciamo, provare per credere.
Ritroviamo un'acustica importante solo sul finale, su quel brano praticamente scartato: Paul McCartney si accompagna alla sua maniera su "Her Majesty" chiudendo, con la sola chitarra e voce, l'avventura più straordinaria della musica pop.
Arrangiamenti
Il disco è molto 'suonato', non abbiamo più quei momenti in cui elementi della band dovevano ingannare il tempo mentre gli altri lavoravano da soli: la struttura stessa delle canzoni permette alla band di esprimersi al meglio, basso e batteria fanno da supporto nella maggior parte delle canzoni, con le chitarre a ricamare parti arricchite ora dal pianoforte ora dagli archi o dalle voci.
Voci
Basterebbe citare la meravigliosa "Because" per avere un'idea di cosa possa essere una parte vocale: siamo probabilmente al momento più alto delle loro esecuzioni. Il pezzo, straordinario, fu ispirato a John da Yoko che suonava Beethoven. Lui le chiese di suonare gli accordi al contrario e scrisse questo capolavoro. Pare che George Martin arrangiasse le voci mentre i tre cantavano in studio: non ve ne è certezza, ma non sarebbe così strano, quel che è certo è che le tre voci vennero triplicate per suonare come nove cantanti.
Tutto il medley sul secondo lato è caratterizzato da interventi vocali importanti: "You Never Give Me Your Money" è ricca di voci, "Sun King" è tutta cantata armonizzata, bellissimi i tappeti vocali su "Polytheme Pam" e "She Came In Through the Bathroom Window", la chiusura affidata alla evocativa "The End" è completata da una bella armonizzazione, come a chiudere definitivamente un capitolo di storia.
---
I pensieri di Winston
---
di Davide Canazza
Abbey Road è un album realizzato con impegno e serietà, dopo le travagliate session di quello che sarebbe diventato Let It Be. George Martin torna a produrre il quartetto e la musica cambia.
La qualità globale delle canzoni non è, secondo me, eccelsa, pur essendoci alcuni brani da antologia. Ma a rendere un altro capolavoro questo LP è la coralità, la qualità degli arrangiamenti e la ricchezza di suoni. Insomma la maturità dei Beatles è espressa soprattutto negli arrangiamenti, nel confezionare un prodotto omogeneo e maturo dal punto di vista musicale.
Per quanto riguarda la qualità delle canzoni, questo è sicuramente l'album di Harrison. Le sue "Something" e "Here Comes the Sun" sono così belle da costringere il suo autore, a causa della regola non scritta che lo costringeva a non mettere più di due pezzi suoi per ciascun album, a lasciar fuori addirittura "Old Brown Shoe" (pubblicata come singolo) e "All Things Must Pass" (inclusa come title track nell'omonimo triplo LP da solista).
Certo anche il medley del lato B è un altro capolavoro, ma solo se considerato nel suo insieme, mentre le otto canzoni che lo compongono – prese da sole – non reggono certo il confronto con pezzi memorabili come "Come Together", "Oh! Darling" o "Because".
Come dicevamo, gli arrangiamenti strumentali e vocali conferiscono a questo lavoro un plusvalore notevole. L'armonia tra i quattro è ritornata e l'intesa musicale è al massimo: basta ascoltare una versione jazzata di "Ain't She Sweet", improvvisata durante le session, per rendersi conto del livello di capacità musicale di John, Paul, George e Ringo.
Nei brani registrati durante le session per l'album, troviamo i quattro sempre pronti a scambiarsi i ruoli e gli strumenti. A parte il futuro singolo "The Ballad of John and Yoko", che è registrato dai soli Lennon e McCartney, poiché gli altri si trovavano ancora in vacanza (Paul suona la batteria, il basso e il piano, John le chitarre), in quasi tutti gli altri brani c'è sempre lo zampino di ciascuno dei Beatles.
Harrison abbandona la Telecaster in palissandro e torna ad utilizzare la sua preferita, la Les Paul del 1957 ribattezzata 'Lucy'. Le foto delle session dimostrano comunque che George ha suonato alcune parti anche con la sua Epiphone Casino. Come acustica predilige la Gibson J-200. John suona le parti elettriche esclusivamente con la sua fedele Casino, mentre per quelle acustiche alterna la Martin D-28, la Gibson J-160E (riportata a colorazione naturale con tanto di caricatura di lui e Yoko sulla cassa) e la Framus 12 corde.
Paul alterna i suoi tre bassi: il vecchio ed inesauribile Hofner, il ritrovato Rickenbacker 4001 (anch'esso sverniciato) e il Fender Jazz Bass.
Sul versante amplificatori ormai ci si è stabilizzati sui Fender: Twin Reverb per le chitarre, Bassman 50W per il basso.
In "Come Together" la base ritmica è suonata da Paul al basso, Ringo alla batteria e George alla chitarra ritmica di sottofondo, per permettere a John di cantare la voce guida senza distrazioni. In seguito sono state aggiunte le chitarre soliste della parte centrale (John e George assieme) e l'assolo finale di Harrison. Infine è inserito anche un piano elettrico suonato da McCartney.
Su "Something" ci sono le elettriche di Lennon e Harrison (quest'ultima collegata a un ampli Leslie) che suonano assieme le parti ritmiche. L'assolo è naturalmente di George, suonato da coricato, mentre Paul incide in un secondo tempo il caratteristico giro di basso, andando a sostituirne un altro molto più scarno suonato in presa diretta.
La splendida chitarra solista country-rock di "Octopus's Garden" è di Harrison, mentre Lennon suona la ritmica arpeggiata.
In "I Want You (She's So Heavy)" le chitarre sono in quantità abbondante e incalcolabile, frutto di aggiunte su aggiunte suonate da John e George allo scopo di creare un vero e proprio muro di suono nella parte arpeggiata del finale. L'assolo introduttivo è sicuramente di Harrison, la chitarra solista che raddoppia la voce ed esegue l'assolo centrale è senza dubbio di Lennon, che suona col pickup al manico per passare su quello al ponte (si sente chiaramente il click del selettore) per la parte arpeggiata suonata all'unisono con George.
Anche in "You Never Give Me Your Money", forse il brano con l'arrangiamento più interessante ed emotivo di tutto l'album, Lennon si diletta come chitarrista solista. Sue sono le note di sottofondo dell'introduzione di piano; nella parte centrale, quella dove la voce canta «oh, that magic feeling», è George ad eseguire l'arpeggio con la chitarra collegata a un Leslie e raddoppiata da delle campane, su una sequenza di accordi di Sib/Fa/Do ripetuta due volte. Da rimarcare il fatto che l'incisione originale durava oltre i cinque minuti, con un lunghissimo assolo finale di Lennon poi accorciato nel fade out. Sotto la parte cantata «One sweet dream», la chitarra solista è sempre quella di Lennon che si sovrappone alla ritmica di Harrison. Infine si giunge alla coda in cui parte l'arpeggio effettato (con il Leslie) di George, su cui John suona l'assolo finale accompagnato dal coro che canta la frase «One, two, three, four, five, six, seven, all good children go to heaven». La canzone sfuma in un frinire di grilli per mixarsi con «Here come the Sun King».
Nella sezione del medley "Polythene Pam" – "She Came In through the Bathroom Window", Lennon suona l'acustica 12 corde e Harrison l'elettrica con cui esegue l'assolo.
Degno di nota, dal punto di vista chitarristico, è la sequenza di parti soliste suonate da Paul, George e John in "The End". Proprio come per volersi congedare dal pubblico, la canzone offre la possibilità di un assolo ciascuno ai quattro Beatles. Inizia Ringo con un solo di batteria lungo circa 35". Dopo una sequenza di accordi di La7 e Re7 scandita dal coro «Love you», iniziano le diciotto battute di chitarra solista. Due battute a testa per tre volte consecutive: parte Paul, poi George e quindi John; nello stesso ordine, altre due volte. All'ascolto sembrerebbero suonati con le stesse chitarre, il che ci porterebbe ad ipotizzare che abbiano usato ognuno la propria Epiphone Casino.
L'assolo di chiusura, sulla sequenza Do/Re/Mib/Fa/Do, è chiaramente di Harrison.
---
Ho visto i Beatles dal vivo – 6
---
di Dennis Conroy
Guardo gli Echoes, gruppo formato per accompagnare, fra gli altri, Jerry Lee Lewis e Gene Vincent, mentre assistono allo show nella prima saletta alla sinistra del palco. Li ho visti all'inizio dell'anno all'Isola di Man come gruppo di uno dei tour di Larry Parnes. Accompagnavano gente del calibro di Johnny Gentle, Vince Eager e il favoloso ma sottostimato Dickie Pride; suonavano come gli Shadows ed erano davvero ottimi musicisti.
Stasera sono il gruppo di punta e hanno fornito una prestazione entusiastica all'educato pubblico del Cavern. I Beatles sembrano mettere anche più del solito nella performance di questa sera. Forse scocciati dal fatto di non essere il nome principale in cartellone, o forse solo per la sfida portata dalla presenza di un gruppo 'londinese': qualunque cosa fosse, gli Echoes stavano a bocca aperta davanti a un gruppo che avrebbe cambiato la storia della musica per sempre.
Il brano seguente è "Sure to Fall (In Love with You)" (1) pezzo country di Carl Perkins, seguito da "Keep Your Hands off My Baby" (2) di Little Eva. Più avanti, dopo un viaggio a Londra, i Beatles inseriranno in repertorio "Locomotion", sempre di Little Eva, e "I Remember You", brano di alta classifica di Frank Ifield. La cosa fu spiegata una sera da Paul quando disse che avevano dovuto imparare questi brani per dei concerti a Londra, sottintendendo che il pubblico londinese non era 'cool come noi'!
Dopo la loro versione di "Money" (3) di Barret Strong, i Beatles si fermano per celebrare un compleanno molto speciale, il ventesimo di Paul.
Una torta con le candeline viene portata al centro del palco e, dopo che il tradizionale "Happy Birthday" si è placato, George, alla sua buffa maniera, ci informa di essere rimasto «l'unico Beatle adolescente». Visto che il pubblico era in gran parte composto da giovanissimi, era il suo modo di comunicarci di essere ancora uno di noi.
Al termine delle celebrazioni il gruppo si lancia nell'esecuzione di "P.S. I Love You" (4). Questo era uno dei pezzi più richiesti al Cavern e si pensava che sarebbe stato il lato A del loro primo singolo. Stranamente non se ne conoscono registrazioni dal vivo. I Beatles comunque dimostrarono, con la scelta di "Love Me Do" come lato A, di non seguire le opinioni della gente ma la propria strada.
"P.S. I Love You" è seguita dalla fantastica "Shimmy Shimmy Shake" (5), una delle più grandi canzoni rock'n'roll di sempre, registrata dagli Olympics come "I Wish I Could Shimmy Like My Sister Kate". Ciò a dimostrazione del talento dei Beatles nello scovare oscuri pezzi R&B americani per poi farli loro.
Ringo è in forma stasera, dopo una stancante sessione all'ora di pranzo filmata dalla Granada TV. Una settimana dopo l'uscita di Pete dalla band, Ringo suonava con i Beatles e il concerto fu rovinato da alcuni amici di Pete, che erano al centro del club e urlavano «Vogliamo Pete» e altri frasi non proprio di questo tono.
"Please Don't Ever Change" (6) dei Crickets e "Baby It's You" (7) delle Shirelles rallentano il ritmo prima che il 'Reverendo Lennon' annunci "I'm Gonna Sit Right Down and Cry" (8), una cover di Elvis. John mostrava spesso il suo amore per l'assurdo, annunciando canzoni in uno stile da predicatore, guardando sopra le teste del pubblico e facendo il segno della croce con le dita divertendo tutti.
La "Hippy Shake" (9) di Paul, "Roll Over Beethoven" (10) di George e la meravigliosa "Long Tall Sally" (11) di Paul portavano l'eccitazione ai massimi livelli, prima che il gruppo chiudesse con la celebre "Twist and Shout" (12) degli Isley Brothers.
Dopodiché era finita. Niente falsi bis, solo il DJ Bob Wooler che ci diceva chi fosse questo fantastico gruppo, mettendo un disco di preparazione al cambio di palco per il gruppo successivo.
Individualmente John, Paul, George, Pete e Ringo erano grandi, insieme erano assolutamente unici.
1. Sure to Fall (Live At The BBC)
2. Keep Your Hands off My Baby (Live At The BBC)
3. Money (Live At The BBC)
4. P.S. I Love You (45 giri)
5. Shimmy Like My Sister Kate (Live At The Star Club)
6. Don't Ever Change (Live At The BBC)
7. Baby It's You (Live At The BBC)
8. I'm Gonna Sit Right Down and Cry (Live At The BBC)
9. Hippy Shake (Live At The Star Club)
10. Roll Over Beethoven (Live At The BBC)
11. Long Tall Sally (Live At The Star Club)
12. Twist and Shout (Live At The BBC)
Molte delle registrazioni del disco Live At The Star Club sono di bassa qualità, disseminate di note sporche, cosa inusuale per i Beatles. Ma il suono e l'eccitazione mi riportano esattamente ai giorni dei Beatles dal vivo al Cavern.
(Questo articolo, con un diverso contributo finale, è stato pubblicato in Chitarra Acustica, n. 5, agosto 2011, pp. 67-70)
«Words are flying out like endless rain»
Dall'inizio della serie è stato evidente un nostro approccio scherzoso all'argomento, un po' come fosse un gioco. Questa volta facciamo ancora più (o meno) sul serio e cambiamo le carte in tavola, stravolgendo il corso della storia, degli eventi.
Gli appassionati dei Fab Four avranno forse già capito di cosa parliamo, gli altri lo scopriranno a breve.
Tratteremo Let It Be, ultimo disco ufficiale della band, come se non fosse l'ultimo.
Perché, in effetti, ultimo non fu.

Cosa vuol dire? Per una serie di eventi, il materiale che oggi ben conosciamo e che compone la scaletta di questo album, uscì nel maggio 1970 ma fu registrato in buona parte all'inizio del 1969, prima che iniziassero le registrazioni di Abbey Road, penultima uscita ufficiale del gruppo. Doveva intitolarsi Get Back ed essere prodotto da Glyn Johns, ma i quattro non furono contenti del risultato, per cui fu temporaneamente accantonato e ripreso in seguito. Johns dovette farsi carico di selezionare qualcosa di decente da centinaia di ore di registrazione, compito così arduo da risultare a lui impossibile. La missione fu portata a termine dall'americano Phil Spector, non senza problemi, come vedremo.
Quindi, l'ultimo disco registrato, Abbey Road, sarà per noi l'ultima puntata della serie.
Visto che giochiamo, prendiamoci il lusso di togliere una cosa praticamente inutile come "Dig It" (già sentiamo le urla dei fan), sostituendola con la splendida "Don't Let Me Down" e la geniale e divertente "You Know My Name (Look Up the Number)", retro del singolo "Let It Be".
Ecco la nuova, inesistente scaletta:
1. Two of Us
2. Dig a Pony
3. Across the Universe
4. I Me Mine (Harrison)
5. Don't Let Me Down
6. Let It Be
7. Maggie Mae
8. I've Got a Feeling
9. One after 909
10. The Long and Winding Road
11. For You Blue (Harrison)
12. You Know My Name (Look Up the Number)
13. Get Back
Non male!
Andiamo per ordine.
Il progetto nasceva come un disco e un documentario live, una ripresa più reale possibile del gruppo al lavoro, telecamere sempre accese per scoprire come la più grande band del pianeta scrivesse, provasse, registrasse. Tutta la musica doveva essere suonata dal vivo, senza sovraincisioni. Una sorta di Grande Fratello che avrebbe di sicuro incuriosito milioni di persone, e più.

Il problema era che i quattro, dopo anni a strettissimo contatto, si sopportavano appena, spesso lavoravano separatamente e litigavano anche in maniera pesante coinvolgendo tecnici e produzione; diverse persone si erano già rifiutate di lavorare ancora con loro.
Volevano (in realtà il progetto era voluto da Paul, più che dagli altri) che fosse un film 'reale' e purtroppo lo fu. Le telecamere ripresero in maniera impietosa lo sgretolarsi di una band e le discussioni che nessuno dovrebbe mai vedere: non si entra negli spogliatoi di una squadra di calcio alla fine del primo tempo di una finale mondiale, se non si gioca in quella squadra.
E allora ecco Ringo subire passivamente tutto ciò che accade, George suonare ciò che gli viene chiesto ma ribattere alla sua maniera tagliente, John prendere parte in modo piuttosto distaccato o freddare tutti con uno sguardo dei suoi, e Paul recitare stancamente una parte che sapeva essere falsa e inutile.
Per fortuna che di quel film entrò a far parte la leggendaria esibizione sul tetto della Apple, poche canzoni per vedere i Beatles al lavoro un'ultima volta, con la gente in strada incredula e a bocca aperta fissando il cielo, e la polizia che li fa smettere di suonare perché non autorizzati: quanta ironia nel finale.

Nonostante tutto, eccoci a scrivere di un pezzo di storia.
Molti di noi si taglierebbero un braccio per aver scritto "Across the Universe" o "Let It Be", "Get Back" o "I'Ve Got a Feeling". Songwriting ai massimi livelli, qualcosa di grande ancora usciva dalle menti geniali dei quattro, per fortuna.
Il disco è in commercio grazie al lavoro di Phil Spector, produttore americano all'epoca considerato un guru, e a distanza di molti anni non possiamo che essere d'accordo. Il suo lavoro su Let It Be è stato criticato duramente, fu accusato di aver riempito di archi e sovraincisioni delle canzoni intese per essere diverse (McCartney se la prese per "The Long and Winding Road"), ma la verità è che, come disse Lennon anni dopo, «gli fu fornito del materiale scadente e registrato male, e lui ne tirò fuori un vero album». E a sentire Let It Be… Naked uscito pochi anni fa, con i brani senza il lavoro di Spector, ad avere ragione fu proprio quest'ultimo.
Ma visto che il proposito iniziale era di scrivere di chitarra, che chitarra sia.
Possiamo iniziare dalla title track e citare il celebre assolo di George Harrison: ne esistono due versioni, molti hanno creduto che si trattasse di due registrazioni separate dello stesso brano; in realtà la base era la stessa, Harrison suonò due assoli diversi a distanza di qualche tempo. "One after 909" era un brano scritto prima di diventare famosi, legato a doppio filo al rock'n'roll che tanto amavano e quindi sorretto dalle chitarre elettriche, e registrato dal vivo come la straordinaria "I've Got a Feeling". Il riff iniziale di quest'ultima è una delle cose più semplici e incisive suonate da Lennon, il brano è ricco di interventi di chitarra, oltre che essere impreziosito dal cantato di Paul e da una parte vocale di John che si sovrappone alla principale come una seconda canzone. Un ulteriore esempio di come i Fab Four sapessero portare nel futuro la musica del passato. Per non parlare di "Get Back", canzone straordinaria, impreziosita dagli assoli e dalla ritmica di Lennon, che dimostra di essere molto migliore, come chitarrista, di quanto non venisse (o ancora non venga) considerato.
Chitarra acustica
"Two of Us" è splendida nella sua semplicità unplugged. Di "Across the Universe" è impossibile dire cose che non siano già state dette. Il disco è però suonato più con le elettriche e vi rimandiamo alle considerazioni di Davide Canazza, a seguire.
Arrangiamenti
Grazie all'idea di partenza (non rispettata fino in fondo), quella che prevedeva la band suonare dal vivo senza sovraincisioni, gli arrangiamenti sono spesso essenziali e funzionali, molto rock'n'roll in alcuni casi, piuttosto pop in altri. La differenza fra brani acustici e delicati ed altri elettrici e aggressivi è impressionante, ma il tutto risulta piuttosto omogeneo, chissà se per la qualità del materiale o il lavoro di Phil Spector.
La presenza di un quinto musicista aggiunto, a tempo quasi pieno e per la prima volta nell'intera storia della band, si fece sentire. Billy Preston ebbe la fortuna di far parte del progetto, suona il piano elettrico su diversi brani come "Get Back" e "I've Got a Feeling", e l'organo su altri come "Let It Be". La sua presenza risulta fondamentale e si capisce quanto un musicista di estrazione differente potesse risultare efficace in quel contesto.
Voci
Aspettando la magnificenza di Abbey Road ci godiamo le doppie voci di "One after 909" e "Two of Us", e i cori orchestrali di "Across the Universe". Ma non ci sono vette di vocalità eccelsa, solo un onesto lavoro di squadra. Del resto la modalità di lavorazione di questo album non permise alla band di aggiungere e cesellare con elementi come le voci, alla loro solita maniera.
---
I pensieri di Winston
---
di Davide Canazza
Sarò controcorrente, ma Let It Be è uno dei miei album preferiti. Il motivo è perché, sotto sotto, si sente quello che avrebbe dovuto essere: un LP live o quasi, registrato senza tanti fronzoli, come una volta, ma con le tecnologie del 1969. Ed è quindi un disco che esalta le qualità di musicisti dei quattro di Liverpool, stavolta non aiutati dalla possibilità di sovraincidere o di rifare una parte successivamente.
A mio parere la produzione di Phil Spector ha rovinato questa genuinità iniziale, aggiungendo troppi strumenti e troppa 'ciccia' a canzoni come "The Long and Winding Road" (sarò blasfemo, ma io, con tutto il mio amore per i Beatles, la odio quasi!) e "Across the Universe", o addirittura costringendo Harrison, McCartney e Starr a tornare in studio a Beatles ormai praticamente sciolti, per incidere "I Me Mine", brano completamente decontestualizzato in quanto ad arrangiamenti e feeling.
Ecco perché il mio personalissimo Get Back (il titolo che avrebbe dovuto avere secondo il progetto iniziale) è una via di mezzo tra il Get Back di Glyn Johns e lo sfortunato Let it be… Naked di McCartney.
Ho la fortuna di aver ascoltato ore e ore di registrazioni delle sedute di Get Back del gennaio 1969. Ho praticamente tutto e posso dire che il materiale migliore è più o meno quello pubblicato in veste ufficiale, ma qualche altra cosuccia l'avrei salvata. Ecco che, solo per questa volta, azzardo anch'io una mia scaletta personalizzata.
1. Get Back (versione 45 giri)
2. Don't Let Me Down (versione 45 giri)
3. Two of Us (versione 33 Let It Be)
4. Dig a Pony (versione 33 Let It Be – live sul tetto)
5. All Things Must Pass (reg. 29 gennaio)
6. Dig It (versione breve 33 Let It Be)
7. Let It Be (versione Let It Be… Naked)
8. Maggie Mae (versione 33 Let It Be)
9. I've Got a Feeling (versione 33 Let It Be – live sul tetto)
10. One after 909 (versione 33 Let It Be – live sul tetto)
11. The Long and Winding Road (versione Let It Be… Naked)
12. Rocker (reg. 22 gennaio 1969)
13. For You Blue (versione 33 Let It Be)
14. Teddy Boy (versione Get Back di Glyn Johns)
15. Across the Universe (versione WWF febbraio 1968)
16. Get Back Reprise (versione Get Back di Glyn Johns)
Naturalmente cercando di mantenere il tutto più possibile vicino all'idea originale, scegliendo, quando possibile, brani senza sovraincisioni.
Qualunque versione si preferisca, il materiale di questo progetto è molto interessante e nonostante i dissidi interni, i Beatles dimostrano che quando c'è da suonare non ce n'è per nessuno. Finché si scherza si può anche strimpellare a vanvera, ma quando si deve incidere una versione pubblicabile, i quattro diventano impeccabili. Quando poi arriva anche Billy Preston al piano elettrico Rhodes e all'organo Lowrey, allora si torna ad essere una band di professionisti. Mica è il caso di far brutta figura, no? E malgrado qualche litigio passato alla storia, il clima finale delle session è molto scherzoso e produttivo!

Le chitarre sono le assolute protagoniste. La Casino di Lennon si incrocia con la Telecaster Rosewood di Harrison, appena arrivata dagli USA assieme a un carico di materiale tutto Fender DOC: tre Twin Reverb Silverface (sul tetto i chitarristi ne hanno uno a testa più un terzo a cui è collegata la Pianette Honher. Lennon usa il canale Normal, Harrison quello Vibrato), due piani elettrici Rhodes (uno per Paul e l'altro per John, uno dei quali usato da Preston sul tetto), un impianto PA usato sia sul tetto che negli studi Apple.
A questi strumenti si aggiungono un Wah VOX e un Fuzz Face utilizzati entrambi da George.
I due chitarristi si scambiano spesso i ruoli. In "Get Back" è Lennon che suona la solista e i riff di risposta ai ritornelli, mentre Harrison scandisce la ritmica con gli accordi in levare. John torna alla ritmica negli altri brani, ma è sempre pronto a raddoppiare la chitarra di Harrison nei fill di chiusura o nei riff.
Ecco che in "Dig a Pony" affianca George nei riff iniziale e finale, mentre in "I've Got a Feeling", oltre a suonare il caratteristico riff-accompagnamento, raddoppia, ma un'ottava più in basso, i passaggi di chiusura del brano suonati da Harrison. Famoso è anche il bending di due battute eseguito da George a metà canzone, prima ascendente e poi calante, sulla realizzazione del quale c'era stato un battibecco con McCartney!
Harrison mostra tutta la sua bravura ed esperienza nelle parti soliste di "One after 909", con un assolo graffiante,
double stops
e passaggi che accompagnano tutta la canzone. Anche in "Dig a Pony" il suo lavoro non è da poco e mai banale. In "Don't Let Me Down" non c'è assolo, ma la chitarra di Harrison ha comunque un ruolo fondamentale.
L'aspetto più interessante di questi brani è che le due chitarre non suonano mai la stessa cosa e non si sovrappongono mai. Ognuno dei due chitarristi sa sempre cosa suonare e come farlo!
In "Let It Be" e "The Long and Winding Road" il basso originale è suonato da Lennon col Fender VI Bass, ma nelle versioni ufficiali è stato doppiato in fase di sovraincisione. Ad entrambe le canzoni furono aggiunte parti orchestrali e cori.
"Let It Be" è stata pubblicata in tre differenti versioni, ognuna con un assolo differente dall'altro, anche se sempre realizzati da Harrison. Il primo, l'originale in presa diretta, è presente nella versione
Naked
, il secondo è ascoltabile sul 45 della canzone, il terzo nell'LP.
Negli altri pezzi predominano le chitarre acustiche. Interessante è l'arrangiamento di "Two of Us", in cui John e Paul imbracciano le loro Martin D-28 mentre George esegue una linea di basso con la sua Telecaster.
In "For You Blue" George suona la Gibson J-200 con capo al quinto tasto, John è alla steel guitar (una Hofner da appoggio accordata DADF#CD), Paul al piano e Ringo alla batteria. Non c'è basso!
Durante le session furono provati numerosi brani che poi avrebbero visto la luce sull'album
Abbey Road
. Val la pena ricordare una "I Want You" in stile funky cantata in coppia da Lennon e Preston, "Old Brown Shoes", "Something", "Octopus's Garden". Altri pezzi non videro mai la luce, come "Wake up this morning" scritta da McCartney ma cantata da Lennon; altri ancora entreranno negli LP da solista dei veri componenti della band: "All Things Must Pass" di Harrison, "Teddy Boy" di McCartney, "Gimme Some Truth" di Lennon per citarne solo alcune.
---
Ho visto i Beatles dal vivo – 5
---
di Dennis Conroy
È un mercoledì sera al Cavern, in un giorno qualunque fra il 1961 e il 1963. Se potete leggere quanto segue ascoltando le canzoni elencate, sarà quanto di più vicino possibile alla possibilità di ascoltare mai i Beatles al Cavern.
Kingsize Taylor and the Dominoes hanno appena lasciato il palco dopo aver fatto da apertura. Kingsize, un omone, grande fan di Fats Domino di cui suonava molte canzoni durante i concerti, era anche ospite fisso ad Amburgo, dove la sua band suonava regolarmente.
I Beatles, non annunciati, salgono sul palco. I loro strumenti sono già pronti dall'esibizione dell'ora di pranzo. Paul inizia a guardare fra i foglietti che contengono le richieste, lasciati principalmente dalla metà femminile del pubblico, sistemandoli in modo che si adattino anche alla scaletta già decisa.
George come al solito controlla che la chitarra sia accordata, cosa non facile in un'epoca in cui non esistevano ancora gli accordatori, in un club in cui i muri trasudavano di condensa ancor prima che il primo gruppo iniziasse a suonare. Tutti a quell'epoca ci riferivamo ai Beatles chiamandoli il 'gruppo'.
Pete sta finendo di sistemare la batteria parlottando con George, mentre John raccoglie l'ampia tela incerata che ricopre il piano verticale, rimasta a terra dopo l'esibizione di Kingsize Taylor and The Dominoes.
John guarda il coperchio e urla verso i camerini «Kingsize, hai dimenticato l'impermeabile!» condividendo la battuta con qualcuno nascosto fra il pubblico oltre l'arco alla sua sinistra. Paul entra nella conversazione ridendo con John, mentre si avvicina alla sua posizione al centro del palco. Si gira verso George, che ride ancora per la battuta, che Pete si è persa: è seduto guardando John con la testa leggermente inclinata.
Poi accade. Mentre Paul e George hanno catturato la nostra attenzione, John ci sorprende, ancora una volta, contando «un, due, tre, quattro». Questo annuncia gli accordi di La e Do, che portano alla tonalità di Re per una scatenata versione di "Some Other Guy" (1), una canzone di Richie Barrett. Nella versione di Barrett le note iniziali erano suonate con una tastiera ad un tempo molto più lento. John usò questa sequenza tempo dopo nella sua "Instant Karma". John e Paul cantano buona parte del brano all'unisono.
Il brano finisce fra le urla entusiastiche e gli applausi di un pubblico già conquistato. Prima che l'applauso termini, Paul lancia la veloce "Red Sails in the Sunset" (2), una canzone del 1935 rilanciata nel 1955 da Nat King Cole.
I Beatles si fermano un attimo e ci lasciano riprendere fiato. John legge richieste scritte su pezzetti di carta, seduto sul suo amplificatore, prima di prendere l'armonica poggiata proprio sull'ampli, per suonare il primo originale della serata, "Love Me Do" (4). Appena l'applauso sfuma John strilla il titolo seguente, "Mr Moonlight"
(4). Il tremolo del VOX AC30 di George aggiunge un sapore latinoamericano al drumming di Pete.
È ora il turno di George di cantare una delle canzoni di Carl Perkins nel suo repertorio, "Everybody's Tryin' to Be My Baby"
(
5)
,
che era un altro brano anni '30 originariamente di Rex Griffin. La versatilità di George era evidente anche a questa giovane età, visto come inseriva il tipico arpeggiato ritmico di Perkins in un gruppo di rock'n'roll.
John prende il comando per un lato B di Arthur Alexander, "Soldier of Love" (6). Questo tipo di pezzi rendeva i Beatles davvero unici rispetto agli altri gruppi di Liverpool. Questi rhythm'n'blues lenti mostravano l'attenzione che mettevano nei cori, caratteristica predominante lungo tutto l'arco della loro carriera.
Prima che l'applauso finisca i Beatles attaccano con "Slow Down" (7), lato B di "Dizzie Miss Lizzie" di Larry Williams.
1. Some Other Guy (Live At The BBC)
2. Red Sails In The Sunset (Live At The Star Club)
3. Love Me Do (Live At The BBC)
4. Mr. Moonlight (Live At The Star Club)
5. Everybody's Trying to Be My Baby (Live At The Star Club)
6. Soldier of Love (Live At The BBC)
7. Slow Down (Live At The BBC)
(5 – continua)
Questo articolo, con un diverso contributo finale, è stato pubblicato in Chitarra Acustica, n. 5, agosto 2011, pp. 62-64.


«Words are flying out like endless rain»
Since the beginning of this column, it was pretty clear our approach to the whole thing, like if it was a game. This time we are more (or less) serious and change cards on the table, distorting history's course and events.
Fab Four passionates will probably be on the right way to understand, the others will find out in a while.
We'll treat Let It Be, their last official release, as if it wasn't the last one.
Because, in facts, it wasn't.

What does this mean? For a series of events, the record that we know well was released in May 1970 but was recorded at the beginning of 1969, before Abbey Road's recordings began. It was supposed to be called Get Back and being produced by Glyn Johns, but the four were unhappy with the result, so it was set aside and resumed lately. Johns had to select something decent from hundreds of hours of recordings, a task so difficult that resulted impossible to him. The mission was accomplished by the american Phil Spector, not without problems, as we shall see.
So, the last album recorded, Abbey Road, will be for us the last episode of the series.
As we are playing, let's substitute something in fact useless as "Dig It" (we can already hear screaming fans), to insert the beautiful "Don't Let Me Down" and the brilliant "You Know My Name (Look Up The Number)", B-side of the single "Let It Be".
Here's the new, non-existent, track list.
1. Two of Us
2. Dig a Pony
3. Across the Universe
4. I Me Mine (Harrison)
5. Don't Let Me Down"
6. Let It Be
7. Maggie Mae
8. I've Got a Feeling
9. One after 909
10. The Long and Winding Road
11. For You Blue (Harrison)
12. You Know My Name (Look Up the Number)
13. Get Back
Not bad!
First things first.
The project began as a record and a live film, a realistic movie of the band's work, cameras always on to discover how the greatest band on the planet wrote, rehearsed, recorded. Everything should be played live, no overdubs. A sort of Big Brother that would certainly intrigued millions of people, or more.

The problem was that the four, after years in close contact, barely stood each other, often working separately and fighting heavily, involving technicians and producers; several people had already refused to work with them again.
They wanted (Paul more than the others) a 'reality' movie, and unfortunately, it was. Cameras filmed in a pitiless way the crumble of a band and the fights that no one is supposed to see: you don't go in the football team lockers room at the end of the first half, if you don't play in the team.
So here is Ringo passively accepting everything that happens, George playing what he is asked answering back in his sharp way, John taking part in a rather detached way killing with a glance of his eye, and Paul playing a part he knew to be false and useless.
Luckily that movie saw the legendary Apple's rooftop performance, where the four played together a bunch of songs for the very last time, people in the street were astounded, looking at the sky, and policemen stopped them because unauthorized: so much irony in this ending.

Despite everything, here we are, writing about a piece of history.
Many of us would give an arm to write songs like "Across the Universe" or "Let It Be", "Get Back" or "I'Ve Got a Feeling". Songwriting at the highest level, something great was still coming out of their work.
The record saw the light thank to Phil Spector's work, the american producer who was considered a guru at the time, and so many years later we must agree with that. His work on Let It Be was heavily judgeg, he was accused of filling the songs with too much orchestration and overdubs (McCartney was really angry because of "The Long and Winding Road"), but the truth is that – how Lennon said years after – «he was given the shittiest load of badly recorded shit with a lousy feeling to it ever, and he made something of it». And after listening to Let It Be… Naked, the original songs released recently without Spector's work, he was right.
But our purpose was to write about guitar, so let guitar be.
We could start from the title track and quote the famous guitar solo by Harrison: two versions exist, many of us thought it was two separate recordings of the same song; the track was in fact the same and George played two different solos in separate moments. "One after 909" was one of their first songs, written before being famous, a rock'n'roll inspired by the music they grew up with, supported by electric guitars and recorded live as the great "I've Got a Feeling". The opening riff is one of the simplest and more incisive things John Lennon ever played, the song is enriched by guitar parts, other than Paul' singing and John's vocal part that overlaps to the first as a second song. Another example of how the four could bring to the future the music of the past. Not to mention "Get Back", wonderful tune made precious by Lennon's rhythm and solo guitar parts, where he shows to be a lot better – as a guitarist – of what he was (or still is) considered.
Acoustic Guitar
"Two of Us" is beautiful in his unplugged simplicity. About "Across the Universe" it's impossible to write already unsaid things. But the whole record is more electric – please refer to the following Davide Canazza's thoughts.
Arrangements
Thank to the initial idea (not respected till the end), the one that saw the band playing live with no overdubs, arrangements are pretty easy and functional, very rock'n'roll in some cases, more pop in others. The difference between soft unplugged songs and aggressive electric tunes is impressive, but everything result in a homogenic record – who knows if because of the quality of the material or because of Spector's work.
The presence of a fifth musician, nearly full time for the first time in the band's history, has an importance. Billy Preston was lucky to be a part of the project, he plays electric piano on "Get Back" and "I've Got a Feeling", and the organ on others like "Let It Be". His presence is fundamental and we can hear how much a musician from a different context could give in that situation.
Vocals
Waiting for the magnificence of Abbey Road, we enjoy the double voices on "One after 909" and "Two of Us", and the orchestral choruses of "Across the Universe". But there's no vocal excellence, just a honest team work. Moreover, the mode of production of this album didn't allow the band to carve and add elements such as voices, in their usual manner.
---
Winston's Thoughts
---
by Davide Canazza
I will go against the grain, bu Let It Be is one of my favourite albums. The reason is because, deep down, you can feel what it really should have been – a live LP or almost, recorded without a lot of frills, just like the old times, but with the technology of 1969. And so it's a record that brings out the excellence of these four musicians from Liverpool, who this time weren't helped by the possibility of overdubbing or re-doing a part subsequently.
In my opinion, Phil Spector's production ruined this initial genuineness, adding too many instruments and too much 'stuffing' to songs such as "Across the Universe" or "The Long and Winding Road" (I may be blasphemous but, despite all my love for The Beatles, I almost reach the point of hating it!) and even making Harrison, McCartney and Starr return to the studio once The Beatles had practically split up, in order to record "I Me Mine", that's a piece completely decontextualised both in terms of arrangements and feelings.
That's why my personalised Get Back (the title that the initial project should have had) is a compromise between Glyn Johns' Get Back and McCartney's unfortunate Let It Be… Naked.
I've had the good fortune to listen to hours and hours of recordings of the sessions of Get Back from January 1969. I have almost everything and I can say that the best material is more or less what was published officially, but I would have saved a couple of other small bits. And for this, I'll hazard a go at making my own personalised playlist too.
1. Get Back (45 rpm version)
2. Don't Let Me Down (45 rpm version)
3. Two of Us (33 rpm version Let It Be)
4. Dig a Pony (33 rpm version Let It Be – live on the rooftop)
5. All Things Must Pass (rec. 29th January)
6. Dig It (short 33 rpm version Let It Be)
7. Let It Be (version Let It Be… Naked)
8. Maggie Mae (33 rpm version Let It Be)
9. I've Got a Feeling (33 rpm version Let It Be – live on the rooftop)
10. One after 909 (33 rpm version Let It Be – live on the rooftop)
11. The Long and Winding Road (version Let It Be… Naked)
12. Rocker (rec. 22nd January 1969)
13. For You Blue (33 rpm version Let It Be)
14. Teddy Boy (version Get Back by Glyn Johns)
15. Across the Universe (version WWF February 1968)
16. Get Back Reprise (version Get Back by Glyn Johns)
Naturally I would seek to keep everything as close as possible to the original idea, choosing pieces without overdubbing, whenever possible.
Whatever version you prefer, this project's material is very interesting and – despite inside disputes – The Beatles show that when it comes to playing there's nobody can hold a torch to them. As long as you're just playing around, you can strum along haphazardly, but when you have to record something that can be released, the four of them become impeccable. When Billy Preston comes along on the Rhodes electric piano and Lowrey organ, it goes back to being a band of professionals. It's hardly worth making a fool of yourself, is it? And despite a few quarrels that are now water under the bridge, the atmosphere at the end of the session is still productive and full of jokes!

The guitars steal the scene completely. Lennon's Casino crosses over with Harrison's rosewood Telecaster, just arrived from the USA together with a whole load of material all genuine Fender: three Silverface Twin Reverbs (on the rooftop the guitarists have one each, and there's also a third one that's connected to the Honher Pianette – Lennon uses the Normal channel and Harrison the Vibrato one); two Rhodes electric pianos (one for Paul and the other for John – one of these is used by Preston on the roof); and a PA system that's used on the roof as well as in the Apple studios.
These instruments were joined by a Wah VOX and a Fuzz Face, that were both used by George.
The two guitarists often exchange roles. In "Get Back" it is Lennon who plays the solo and the riffs that answer the chorus, while Harrison beats out the rhythm with off-beat chords. John returns to the rhythm in the other pieces, but is always ready to back up Harrison's guitar during the closing fills and the riffs.
So in "Dig a Pony" he plays alongside George during the initial riffs and the finale, while in "I"ve Got a Feeling", as well as playing the characteristic riff-accompaniment, he doubles up the closing passages of the piece played by Harrison, with a version an octave lower. The two bars bending by George half way through the song is also famous, first rising and then falling, the creation of which was the cause of some bickering with McCartney!
Harrison shows all his bravura and experience in the solo parts of "One after 909", with a gritty solo, double-stops and passages that accompany the whole song. In "Dig a Pony" too his work is considerable and never banal. In "Don't Let Me Down" there's no solo, but Harrison's guitar has a fundamental role just the same.
The most interesting aspect of these pieces is that the two guitars never play the same thing and never overlap. Each one of the two guitarists always knows exactly what to play and how to play it!
In "Let It Be" and "The Long and Winding Road" the original bass is played by Lennon on his Fender VI Bass, but in the official version it has been dubbed during post-production. Orchestral and choral parts were added to both the songs.
"Let it be" was released in three different versions, each one with a solo that was different from the others, even though each was played by Harrison: the first, the original live recording, is present in the version
Naked
, the second can be heard on the 45 rpm version of the song, and the third is on the LP.
In the other pieces the acoustic guitars dominate. The arrangement of the "Two of Us", in which John and Paul take up their Martin D-28s, while George plays a bass line with his Telecaster, is rather interesting.
In "For You Blue", George plays a Gibson J-200 with a capo on the 5th fret, John is on the steel guitar (a Hofner for support, tuned to DADF#CD), Paul is on the piano and Ringo on the drums. There's no bass guitar!
During the sessions numerous pieces were tried out, that came to light later on the album
Abbey Road
. It's worth remembering a version of "I Want You" in funky style, sung in a duet by Lennon and Preston, "Old Brown Shoes", "Something" and "Octopus's Garden". Other pieces such as "Wake Up This Morning", written by McCartney but sung by Lennon, never saw the light. Others will come to light later on the solo LPs by the various members of the group: "All Things Must Pass" by Harrison, "Teddy Boy" by McCartney and "Gimme Some Truth" by Lennon, to name just a few.
---
I Saw The Beatles Live – 5
---
By Dennis Conroy
It's a wednesday evening session at the Cavern, sometime between 1961 and 1963. If you can read this while playing the tracks listed below, it will be as near as you could ever get to hearing The Beatles in the Cavern.
Kingsize Taylor and the Dominoes had left the stage after opening the evening show. Kingsize, who was a big man and a huge fan of Fats Domino, performing many of his songs in the band's set, was also a big favourites in Hamburg, where the band regularly played.
The Beatles, unannounced, take to the stage. Their equipment is already in place from this afternoon's lunchtime session. Paul starts sifting through bits of paper which contain requests, mostly from the female side of the audience, arranging them no doubt to fit in with their anticipated running order.
George as ever is making certain his guitar is in tune, no easy feat in pre guitar tuner days, in a club where the brick walls were already glistening with condensation before the group's first number. The use of the word 'group' to describe The Beatles was the term we all used back then.
Pete's making final adjustments to the positioning of his drums, as he chats to George, while John picks up the large tarpaulin upright piano cover, which was lying on the stage floor after Kingsize Taylor and The Dominoes had left the stage.
John looks at it and shouts towards the dressing room: «Kingsize, you've forgotten your Mac [raincoat]!» John shares this joke with an unseen member of the audience through the arch to his left. Paul now picks up on this conversation, laughing along with John as he, Paul, edges towards his position, centre stage. He turns towards George, who is also enjoying the joke, which is lost on Pete, who sits watching John from a slightly head bowed position.
Then it happens. As Paul and George gain our attention, John catches us, once again, by surprising us with a «one, two, three, four» count in. This heralds the opening A and C chords that lead into the key of D, for a storming version of "Some Other Guy" (1),
a Richie Barrett number. On Barrett's version the opening notes were played on a keyboard, at a more laid back tempo. John was to use the same sequence much later on "Instant Karma"
.
John and Paul sing most of the track in unison.
The number finishes to the enthusiastic applause and shouts of encouragement, from an already won over audience. Before the applause can finish, Paul launches into an up-tempo "Red Sails in the Sunset" (2), a 1935 song revived in 1955 by Nat King Cole.
The Beatles now pause to let us get our breath back. John reads requests from pieces of paper sat on his amplifier, before collecting his harmonica from the top of it, to lead into their first original track of the evening, "Love Me Do" (4). Just as the applause fades John screams the title, "Mr Moonlight"
(4). George's VOX AC30 tremolo effect adds to the Latin American feel of Pete's drumming.
It's now the turn of George to sing one of his repertoire of Carl Perkins tracks, "Everybody's Tryin' to Be My Baby"
(
5)
,
which was another 1930's song originally by Rex Griffin. George's versatility even at this young age was very evident, as he brought Perkins' picking style rhythm to this rock'n'roll group.
John takes the lead on an Arthur Alexander B-side, "Soldier of Love" (6). This type of track really set the Beatles apart from the other Liverpool groups. This slower rhythm and blues track shows the attention they gave to the backing vocals, a characteristic that is heard throughout their careers.
Before the applause ends, the Beatles rip into the B-side of Larry Williams hit "Dizzy Miss
Lizzie"
,
"Slow Down" (7).
1. Some Other Guy (Live At The BBC)
2. Red Sails In The Sunset (Live At The Star Club)
3. Love Me Do (Live At The BBC)
4. Mr. Moonlight (Live At The Star Club)
5. Everybody's Trying to Be My Baby (Live At The Star Club)
6. Soldier of Love (Live At The BBC)
7. Slow Down (Live At The BBC)
(5 – to be continued)
This article, with a different final contribution, has been published in Chitarra Acustica, n. 5, August 2011, pp. 62-64.
«Happiness is a warm gun»
The Beatles, even called 'The White Album', is by many considered the most significant work, the one many of us bring in the heart, for several reasons. We could start from that wonderful, immaculate cover, all white with the band's name slightly raised and in white too, invisible at a first glance. We don't know if it was the first time for something like this, it has been the most famous, for sure.
After Sgt. Pepper's formalism and the less loved Magical Mistery Tour, the 'White Album' is a work that swerves sharply from many of the rules established in previous years: the four doesn' t work always together, they're often at work at the same time in different studios; who wrote the song sings it and many times decide everything about it; poor Ringo is forced to play hundreds of times the same part or to a long waiting in the corridors for someone to decide they need him, arriving to quit the band for a short time; the four fight furiously for futile reasons proving mutual impatience due to years of close contacts, closed to the outside world; Yoko Ono appears next to John in the studio, she won't leave him until the end. George Martin is not the only one producing the band and the guys, instead of rehearsing and then recording, record everything, the result is a huge amount of tapes for each song.
And what about the fades that tie almost every song to the next one? A whole side of Abbey Road will be built like that.
These elements lead to a masterpiece of unparalleled beauty.
If the word 'versatility' ever had a meaning in music, it could really be what's inside this record.
As if that were not enough, we can add the 45 rpm "Hey Jude/Revolution" to the amazing quality and variety of the elements. This time we won't insert the single in the album as usual in our game at this point, but we'll cite it as if it was part of it.
The great track-list (we left the four sides of the LPs) is the one that follows:
Side one
1.         "Back in the USSR"
2.         "Dear Prudence"
3.         "Glass Onion"
4.         "Ob-La-Di, Ob-La-Da"
5.         "Wild Honey Pie"
6.         "The Continuing Story of Bungalow Bill"
7.         "While My Guitar Gently Weeps" (Harrison)
8.         "Happiness Is A Warm Gun"
Side two
1.         "Martha My Dear"
2.         "I'm So Tired"
3.         "Blackbird"
4.         "Piggies" (Harrison)
5.         "Rocky Raccoon"
6.         "Don't Pass Me By" (Starkey)
7.         "Why Don't We Do It in the Road?"
8.         "I Will"
9.         "Julia"
Side three
1.         "Birthday"
2.         "Yer Blues"
3.         "Mother Nature's Son"
4.         "Everybody's Got Something to Hide Except Me and My Monkey"
5.         "Sexy Sadie"
6.         "Helter Skelter"
7.         "Long, Long, Long" (Harrison)
Side four
1.         "Revolution 1"
2.         "Honey Pie"
3.         "Savoy Truffle" (Harrison)
4.         "Cry Baby Cry"
5.         "Revolution 9"
6.         "Good Night"
If we consider opposites as Paul's rough "Helter Skelter" or the mellow "Mother Nature's Son", John's edgy "Revolution" or the sweet "Julia", passing from extremes like "Back in the USSR" and "Martha My Dear", or "Everybody's Got Something To Hide Except Me and My Monkey" and "I'm So Tired", we realize what is needed to be the best band ever. And we cited just a few examples, leaving out a lot more. The white album comes almost a whole year after the last work, but it's double and the long time is already justified by this.
It's like if the boys went back on the road, to their r'n'r beginnings, songs like "Back in the USSR" and "Birthday" are fast and furios in their way; "Helter Skelter" and "Yer Blues" open new roads followed in years by hard rock and blues bands of any kind; "Why Don't We Do It in the Road?" features Paul in of the hottest performances ever; on the other side, "I Will" and "Blackbird" (but not just those) are among the sweetest ballads ever written, often recorded in the same recording session of a fast, rough tune.
Speaking of composition we find unknown masterpieces like "I'm So Tired" and "Sexy Sadie", united by a bold major chord that goes down a half tone at the beginning of the verse, or the wonderful "Happiness Is a Warm Gun" , originally three unfinished songs that Lennon was able to fuse into a single masterpiece.
None of them was any longer afraid of something, no difference between the elements, they used almost anything: from the fans sitting in front of the studios, recruited to sing a verse that needed female vocals, to the stairwell used to create a natural 'reverb' effect. The only boundary was their fantasy or the often insurmountable technical problems of the time.
A tiny room with the whole band inside recording "Yer Blues", each thing happened by chance as a glass vibrating to a certain note, everything was recorded and used.
Did we mention "Hey Jude" and the violent version of "Revolution"? There's no need, they're masterpieces out of time!
Electric guitar
If guitar almost disappeared from Sgt. Pepper's, here's the four going back to the roots, dusting off the six strings and adding exaggerated distorsions for the time, they sent to red all the desk channels to saturate sounds as in "Revolution". Davide Canazza will go deeper in his own way in the subject, let's just mention a few things.
We must be honest: what is going to be remembered first is Eric Clapton' solo on Harrison's "While My Guitar Gently Weeps", George had tried any kind of solution but in the end he ask his friend to play on the song. Lucky us he did it, the beauty of the tune, combined with the intensity of the solo, gave us a memorable performance.
But there's plenty of quality electrics in the album, each of the rock'n'roll mentioned before guitar is the main instrument, we went back to the beginnings but with the maturity of the navigated musicians, this is one of the best summaries of their musical life. And what about "Everybody's Got Something to Hide Except Me and My Monkey" and "Sexy Sadie", two gems, especially the latter, full of electric guitar's riffs, solos, whatever?
Acoustic guitar
It was probably during their trip to India that Donovan taught John how to use the alternating bass with the right hand's thumb, John didn't miss a chance to write the poignant ballad dedicated to his too-young dead mother, "Julia", and the main riff of "Dear Prudence", this song was related to India too, as if it was probably dedicated to Prudence Farrow, Mia' sister, both meditation partners in the foreign country. Even "Sexy Sadie" dedicated to their spiritual guidance, the Maharishi Maesh Yogi, comes from that experience.
And there's plenty of acoustic in Paul's hands, he gives us gems like "Blackbird" and "Mother Nature's Son", small masterpieces born along the lines of "Yesterday", with him using bare fingers and the six strings to play intense and unforgettable moments.
Arrangements
The times of a single-day recording session for an album are just memories, at the beginning they were under pressure because of the continuous tours and of the promotion work that seemed to never end, other than studios were not cheap. Now they're the most famous musicians of the planet, free from any kind of commitment than being in the studio to create and record the new album, and the studios were almost home, nobody would have dreamed of asking them to leave because others needed it! Here they could afford to use hundreds of tapes, most of whom would have been useless, instead of rehearsing somewhere else and get in the studio with the arrangements done. As mentioned, comparing the huge work done on Sgt. Pepper's, the white album is kind of going back to simplicity, many songs work because of the band backbone, bass and drums with the guitars to fill the spaces; some songs are made almost only of acoustic guitars; what is becoming increasingly clear is how George Martin's orchestrations went to overlap perfectly with the work of the group, going to compensate where the Beatles would not have arrived with their skills, showing that he was indeed the 'fifth Beatle'. On "Happiness Is a Warm Gun" they have no problem in going from a 4/4 time to a 3/4 and back, many songs seem almost obvious in their simplicity, but each mechanism works perfectly, Ringo never misses a fill and the end result has been there for all to see, for a long time.
Vocals
From the '50's style back vocals of "Back in the USSR" to the perfect joints of "Happiness Is a Warm Gun", from the nice vocal pads of "Rocky Raccoon" to John's amazing double vocals on "Hey Jude", we find "Sexy Sadie", full of small but precious vocals, a trademark of theirs that changed the course of pop music forever.
---
Winston's Thoughts
---
by Davide Canazza
The record begins with a jam session that saw Jerry Lee Lewis on piano, Elvis on vocals and The Beach Boys on backing vocals… Not true! On "Back in the USSR" there were only Paul McCartney (vocals, drums, lead guitar and piano), John Lennon (bass, drums and vocals) and George Harrison (rhythm guitar and backing vocals). Ringo was on holyday. McCartney's guitar solo is simply – literally talking – wonderful.
Guitars and guitarists are the stars again in this album. New musical instruments for all: the legendary Harrison's Gibson Les Paul known as 'Lucy' (first belonged to John Sebastian, then to Clapton who gave it to George as a present); John's and Paul's Martin D-28s; Harrison's Gibson J–200, the Fender Bass VI for emergencies…
Talking about amps we can find a full hegemony of Fenders: a brand Deluxe Reverb Silverface for Harrison joins the faithful Blonde Bassman and a Blackface Deluxe Amp for John.
Let's return to music. For the recording of the album, the Beatles found themselves often at work simultaneously in the three Abbey Road's studios, and each of the other three were forced to contend the presence of Ringo on drums.
It happened so that Lennon, Harrison, McCartney were forced to exchange their roles or that a song was left in stand by waiting for George's solo or Paul's bass, or backing vocals.
As in the past, many guitar solos were played by McCartney, but now even Lennon plays a good share of solos, always in his own songs. He plays the fuzzy guitar on "Happiness Is a Warm Gun"; by Lennon is also the first solo of "Yer Blues", while the second one is played by Harrison (even if in the back it's possible to listen to the original second solo played by John and further overdubbed).
Lennon plays the guitar solo in the end of "Sexy Sadie" and the fuzzy overdriven lead guitar in "Revolution" (single version), whose sound is obtained by passing through a fuzz connected directly to the mixing console.
Paul plays the guitar solo on "Back in the USSR" and "Honey Pie", while on "Helter Skelter" he was on rhythm guitar and he played the descending phrasing of the introduction and after George's main solo.
Harrison, as well as in the two songs already mentioned, performs the guitar solo in "Everybody's Got Something to Hide Except for Me and My Monkey", "Revolution 1" and "Savoy Truffle".
Finally, let's talk about "Birthday", a song written by Paul in one go, with the help of John and George. Here Lennon's and Harrison's guitars are rhythm and lead at the same time. Riffs are played simultaneously in two different octaves: John plays the lower, George the higher. The closing instrumental parts after the instrumental verse are played in unison by the two guitarists.
A song recorded the old way, with all the four Beatles in studio simultaneously! For the record, between the recordings of rhythm parts and overdubs (solo parts, keyboards and vocals) the four Beatles and the technician Chris Thomas took a break to watch on TV (at Paul's), the film The Girl Can't Help It!.
That evening, rock'n'roll was in the air!
---
I Saw The Beatles Live – 4
---
By Dennis Conroy
4. The Beatles looked great
The look they had adopted after trips to Hamburg did make them stand out in provincial Liverpool of the early sixties. Favouring black and whether contrived or not, they looked like a unit.
Paul had that baby faced assassin look, John friendly but edgy.
George looked too young to be as good as he was, more like a kid brother in the group.
I remember the Beatles appearing at the Cavern around the date of Paul's twentieth birthday. A cake with candles was taken on the stage and after the "Happy Birthday" celebrations quietened down George, in his droll way informed us all, that he was 'the only teenage Beatle now'. As the majority of people in the place were teenagers George established he was still one of us.
Pete Best was a film star, or so he looked. Undoubtedly he was the most popular Beatle amongst the girl fans. A fact I felt did not sit too well with John and Paul, with Pete frequently being the victim of their humour. They would often announce Pete would sing the next song, which would invariably bring squeals of expectation from the girls. Pete would lower his head in a shy James Dean way as they laughed and launched into a number featuring one of them. However I am assured by Bill Kinsley, of the Merseybeats, that Pete did very occasionally sing, although I did not get to see that myself.
5. The Beatles were unbelievably exciting
The Beatles would amble on to the stage ignoring the audience as they made slight adjustments to the already set up drums and amplifiers. Paul would feed his guitar lead underneath one of his Cuban heeled boots to remove any kinks from it before plugging into his amplifier.
Careful not to make too much noise Pete would set his snare drum in place before glancing up at the frontline. From left to right George, Paul and John, ignoring the audience would be involved in some lively, mainly unintelligible banter while we… looked on in anticipation. One of the front three would, part un-noticed, turn away to make, what we assumed was, a final alteration to an amplifier.
Then it would happen. At an obviously pre-arranged signal, perhaps a mimed count in or a 1, 2, 3, 4 stamp of a Cuban heel, the Beatles would rip into their opening number. We were always caught by surprise. These intros were a feature of their stage show.
They always engaged with the audience. Reading request written on scraps of paper, sharing jokes. They were extremely humorous without descending into contrived cabaret. John was particularly funny, but more of that later.
While a request was being read out by Paul or as John joked with the audience, secret preparation for the next song was taking place. As whatever was being said concluded, the hidden count in was there for the Beatles to surprise us once again.
Further excitement was generated by the pace and dynamics the Beatles crafted into their music. The out and out rock numbers were played faster and with more drive than Little Richard, Elvis and Chuck's originals. Once again the Beatles surprised us all by injecting that extra pace into tracks that, although well known to us, now had that unique Beatles stamp on them.
They added dynamics to songs like "To Know Her Is To Love Her. The energy and lift they injected in to the middle eight was certainly not there in the Teddy Bears original wonderful recording.
6. They could write a decent tune
The Beatles reputation locally was based on many things but not, as may be assumed, on their song writing. They had a huge and varied repertoire which was added to by a few of their own compositions. Those I can recall hearing them play were, "Love Me Do", "P.S. I Love You", "Please Please Me" and "The Tip of My Tongue". It came as a great but very welcome surprise when the first album release had eight original songs on it. The rest as they say is history.
Back in those Cavern days "P.S. I Love You" was a huge favourite with the girls but also won the admiration of the male followers. This was because this group who came from similar backgrounds to us were writing their own songs. Up until then we thought you had to be a 'real' musician chosen by God to compose songs in the 'Brill Building' or 'Tin Pan Alley' or a concert hall. But no 'our mates' did it because they could.
"P.S. I Love You" was the song everyone one expected to be the A-side when we discovered the Beatles were going to make a record. "Love Me Do" had a bit more edge to it and was certainly a worthy choice for the A-side of their debut single which, incidentally, I bought the first morning it was released.
"Please Please Me" was played a lot slower at the Cavern with George playing the octave riff and no harmonica. The «Come on, come on» refrain and that fabulous middle eight leading you back into the opening lines of the song set it aside as something really special.
"The Tip of My Tongue", which was a single for Tommy Quickly, was memorable, if my memory serves me right, for John playing the maracas. It certainly wasn't played anywhere near as often as the other originals by the group at the Cavern.
So if you have or know anyone who has the six ingredients…
Next: what they played, how they played, who they played with, what they said.
(4 – to be continued)


«Happiness is a warm gun»
The Beatles, detto 'The White Album', è da molti considerato il lavoro più significativo, quello che tanti di noi portano nel cuore, per diversi motivi. Potremmo iniziare proprio da quella meravigliosa, immacolata copertina, tutta bianca con il nome del gruppo in rilievo, bianco anche lui, invisibile a un primo sguardo. Non sappiamo se fosse la prima volta che si faceva qualcosa di simile, ma di sicuro fu la più celebre.
Dopo il formalismo di Sgt. Pepper's e il meno amato Magical Mistery Tour, il 'Doppio Bianco' è un lavoro che sterza bruscamente da molte delle regole stabilite negli anni precedenti: i quattro non lavorano più solo insieme, spesso sono addirittura al lavoro simultaneamente in studi diversi; chi ha scritto il brano lo canta e molte volte decide quasi tutto ciò che lo riguarda; il povero Ringo è costretto a suonare centinaia di volte la stessa parte o ad aspettare nei corridoi che qualcuno decida che c'è bisogno di lui, arrivando anche a lasciare la band; i quattro litigano furiosamente per i motivi più futili dimostrando un'insofferenza reciproca data da anni di contatti strettissimi, chiusi al mondo esterno; Yoko Ono fa la sua comparsa al fianco di John in studio e non lo lascerà più. George Martin non è più l'unico produttore del gruppo e i quattro invece di provare, e poi registrare, registrano qualsiasi cosa, trovandosi fra le mani una quantità impressionante di nastri.
E che dire delle dissolvenze fra i vari brani che li legano quasi tutti uno all'altro? Un intero lato di Abbey Road beneficerà in maniera anche maggiore di questa tecnica di missaggio.
Questo porta a un capolavoro di ineguagliabile bellezza.
Se la parola 'versatilità' ha mai avuto un significato in musica, potrebbe davvero essere ciò che è contenuto in questo album.
Come se non bastasse, alla straordinaria qualità e varietà di elementi si aggiunge il singolo "Hey Jude/Revolution" che questa volta, prendendoci una nuova, piccola libertà, non inseriremo nell'album ma citeremo come facente parte di esso.
La grandiosa track-list (abbiamo lasciato le quattro facciate originali dell'LP) è quella che segue:
Side one
1.         "Back in the USSR"
2.         "Dear Prudence"
3.         "Glass Onion"
4.         "Ob-La-Di, Ob-La-Da"
5.         "Wild Honey Pie"
6.         "The Continuing Story of Bungalow Bill"
7.         "While My Guitar Gently Weeps" (Harrison)
8.         "Happiness Is A Warm Gun"
Side two
1.         "Martha My Dear"
2.         "I'm So Tired"
3.         "Blackbird"
4.         "Piggies" (Harrison)
5.         "Rocky Raccoon"
6.         "Don't Pass Me By" (Starkey)
7.         "Why Don't We Do It in the Road?"
8.         "I Will"
9.         "Julia"
Side three
1.         "Birthday"
2.         "Yer Blues"
3.         "Mother Nature's Son"
4.         "Everybody's Got Something to Hide Except Me and My Monkey"
5.         "Sexy Sadie"
6.         "Helter Skelter"
7.         "Long, Long, Long" (Harrison)
Side four
1.         "Revolution 1"
2.         "Honey Pie"
3.         "Savoy Truffle" (Harrison)
4.         "Cry Baby Cry"
5.         "Revolution 9"
6.         "Good Night"
Se si considerano opposti come la violenta "Helter Skelter" e la morbida "Mother Nature's Son" di Paul o la graffiante "Revolution" e la dolcissima "Julia" di John, passando per estremi come "Back in the USSR" e "Martha My Dear", o "Everybody's Got Something to Hide Except Me and My Monkey" e "I'm So Tired", ci si rende davvero conto di cosa sia necessario per essere la più grande band di sempre. E abbiamo citato solo alcune canzoni, lasciando fuori molto altro. L'album bianco arriva a quasi un anno di distanza dall'ultimo lavoro, ma è doppio e il tempo passato si giustifica già così.
È come se i ragazzi fossero tornati in strada, al rock'n'roll delle origini, brani come "Back in the USSR" e "Birthday" sono tiratissimi, alla loro maniera; "Helter Skelter" e "Yer Blues" aprono strade nuove percorse negli anni da band di blues e hard-rock di ogni tipo; "Why Don't We Do It in the Road?" vede una performance vocale di McCartney catalogabile come una delle più sensuali della storia; all'estremo opposto, "I Will" e "Blackbird" (ma non solo queste) sono fra le ballate più morbide mai scritte, spesso registrate a distanza di una sola seduta da cose violentissime.
Dal punto di vista compositivo ci sono capolavori sconosciuti a molti come "I'm So Tired" e "Sexy Sadie", accomunati da un audace accordo maggiore che scende di mezzo tono ad inizio strofa, o la bellissima "Happiness Is a Warm Gun", tre canzoni incompiute che Lennon riuscì a fondere in un singolo capolavoro.
Nessuno di loro aveva più paura di nulla, non c'era differenza fra gli elementi, si usava qualsiasi cosa: dalle ragazze in strada che facevano la posta davanti agli studi, reclutate per cantare un coro che necessitava di voci femminili, alla tromba delle scale per creare un effetto di 'riverbero' naturale. L'unico limite era quello della loro fantasia e dei problemi tecnici spesso insormontabili per l'epoca. Una stanza minuscola con loro chiusi dentro a registrare "Yer Blues", ogni cosa capitata per caso, come un bicchiere che vibrava a una certa nota suonata, veniva registrata e utilizzata.
Abbiamo detto di "Hey Jude" e della violenta versione di "Revolution"? Non crediamo ce ne sia davvero bisogno, capolavori senza tempo!
Chitarra elettrica
Se la chitarra era quasi scomparsa da Sgt. Pepper's, ecco che i quattro tornano all'antico, rispolverando le fide sei corde e aggiungendo distorsioni esagerate per l'epoca, facendo saturare i banchi di Abbey Road come nel caso di "Revolution". Davide Canazza approfondirà alla sua maniera il tema chitarra, qui accenniamo qualcosa.
Siamo onesti: ciò che rimarrà nella storia in quanto a chitarra elettrica è di sicuro il solo di Eric Clapton su "While My Guitar Gently Weeps" di Harrison, che aveva provato senza successo con nastri al contrario e quant'altro, ma alla fine chiese all'amico Eric di suonare lui. E per fortuna che lo fece, la bellezza della canzone, unita all'intensità dell'assolo, ci hanno regalato una performance memorabile.
Ma le elettriche sono abbondanti e di qualità in tutto il lavoro, su ognuno dei rock'n'roll sopra citati la chitarra la fa da padrona, siamo tornati agli esordi ma con la maturità dei musicisti navigati, questa è una delle migliori sintesi della loro vita musicale.
E che dire di "Everybody's Got Something to Hide Except Me and My Monkey" e "Sexy Sadie", due gemme compositive, soprattutto la seconda, anche queste piene di suoni di chitarra elettrica, riff, assoli, qualsiasi cosa?
Chitarra acustica
Durante il viaggio in India pare che Donovan avesse insegnato la tecnica americana del basso alternato sulla chitarra acustica a John, che non si fece scappare l'occasione di scriverci la struggente ballata dedicata alla madre scomparsa, "Julia", unica canzone della loro storia che vede John in completa solitudine, e il riff portante di "Dear Prudence", anche questa legata all'India, visto che doveva trattarsi di Prudence Farrow, sorella dell'attrice Mia Farrow, loro compagne di meditazione nel paese straniero. La stessa "Sexy Sadie", rivolta al maestro spirituale, il Maharishi Maesh Yogi, nasce da quell'esperienza.
E c'è tanta acustica nelle mani di Paul che si produce in gemme come "Blackbird" e "Mother Nature's Son", piccoli capolavori nati sulla falsariga di "Yesterday", con il nostro che usa le sole dita e le sei corde per regalarci momenti intensi e indimenticabili.
Arrangiamenti
Sono oramai lontani i tempi in cui i quattro entravano in sala e registravano un disco in poche ore, allora erano sotto pressione a causa dei tour ininterrotti e del lavoro di promozione che sembrava non finire mai, oltre al fatto che gli studi costavano. A questo punto si trattava invece dei musicisti più famosi del pianeta, liberi da ogni tipo di impegno se non quello di stare in studio a creare e registrare il nuovo disco, e gli studi erano praticamente casa loro, nessuno si sarebbe sognato di chiedergli di andarsene perché altri ne avevano bisogno! Ecco che ci si poteva permettere di usare centinaia di nastri, la maggior parte dei quali sarebbe risultata inutile, invece di provare da qualche altra parte e arrivare in studio con le idee più chiare. Come già accennato, rispetto al grande lavoro fatto su Sgt. Pepper's, l'album bianco è una sorta di ritorno alla semplicità, molti brani funzionano grazie all'ossatura della band, basso e batteria con chitarre a riempire il tutto; diversi brani si reggono quasi solo sulle chitarre acustiche; quello che appare sempre più evidente è come le orchestrazioni di George Martin si andassero a sovrapporre perfettamente al lavoro del gruppo, andando a compensare dove i Beatles non sarebbero arrivati con i loro mezzi, dimostrando come lui fu davvero il 'quinto beatle'. Su "Happiness Is a Warm Gun" non hanno nessun problema a passare più di una volta da un tempo di 4/4 a uno di 3/4, molte canzoni sembrano quasi scontate nella loro semplicità, ma ogni meccanismo funziona perfettamente, Ringo non sbaglia un passaggio e alla fine il risultato è sotto gli occhi di tutti, da molto tempo.
Voci
Dai cori stile anni '50 di "Back in the USSR" ai perfetti incastri di "Happiness Is a Warm Gun", dal tappeto vocale su "Rocky Raccoon" alla splendida seconda voce di Lennon e tutti i cori su "Hey Jude", si arriva a quella "Sexy Sadie" piena di piccoli ma preziosi interventi, un loro marchio di fabbrica che ha segnato il corso del pop per sempre.
---
I pensieri di Winston
---
di Davide Canazza
Il disco inizia con una jam session che vede Jerry Lee Lewis al piano, Elvis alla voce e i Beach Boys a fare il coro… Non è vero, in "Back in the USSR" ci sono solo Paul McCartney (voce, batteria, chitarra solista e piano), John Lennon (basso, batteria e cori) e George Harrison (chitarra ritmica e cori). Ringo era in vacanza. L'assolo di McCartney è semplicemente (in senso letterale) meraviglioso.
Le chitarre e i chitarristi tornano protagonisti in questo album. Nuovi strumenti per tutti: la leggendaria Gibson Les Paul 'Lucy' di Harrison (appartenuta prima a John Sebastian, poi a Clapton che la regalò a George) le Martin D-28 di John e Paul, la Gibson J-200 di Harrison, il Fender Bass VI da usare come jolly…
Sul versante ampli si entra in piena egemonia Fender: un nuovo Deluxe Reverb Silverface per Harrison da affiancare al fedele Bassman Blonde e un Deluxe Amp Blackface per John.
Torniamo alla musica. Per la registrazione dell'album, i Beatles si ritrovarono spesso a lavorare contemporaneamente nei tre studi di Abbey Road, e ognuno degli altri tre era obbligato a contendersi Ringo per le parti di batteria. Capitava così che Lennon, Harrison e McCartney si scambiassero i ruoli o che il pezzo venisse lasciato in sospeso in attesa dell'assolo di George o del basso di Paul, o dei cori di tutti e quattro.
Come già in passato, molte chitarre soliste sono di McCartney, ma anche Lennon si guadagna una buona fetta di assoli, sempre in pezzi da lui composti. Sua è la chitarra con fuzz di "Happiness Is a Warm Gun"; suo il primo assolo di "Yer Blues", mentre il secondo è di Harrison (ma in sottofondo si sente anche l'originario secondo solo di John).
Il solo nel finale di "Sexy Sadie" è sempre di Lennon e sempre sua è la distortissima chitarra solista in "Revolution" (versione 45 giri), il cui suono è ottenuto passando attraverso un fuzz collegato direttamente alla console del mixer.
Paul è alla chitarra solista in "Back in the USSR" e "Honey Pie", mentre in "Helter Skelter" suona la ritmica e il fraseggio discendente dell'introduzione, ripreso poi anche dopo l'assolo centrale di George.
Harrison, oltre che nei due brani già citati, esegue le parti di chitarra solista anche in "Everybody's Got Something to Hide Except for Me and My Monkey", "Revolution 1" e in "Savoy Truffle".
E poi c'è "Birthday", una canzone scritta da Paul di getto, con il contributo di John e George. Qui le chitarre di Lennon e Harrison sono entrambe ritmiche e soliste, col riff suonato in contemporanea dai due su ottave differenti: John quella bassa, George quella alta. Anche le parti di chiusura alle strofa strumentale sono suonate all'unisono dai due chitarristi.
Un pezzo inciso alla vecchia maniera, con tutti e quattro i Beatles presenti contemporaneamente! Per la cronaca, tra la registrazione delle parti ritmiche e le sovraincisioni di completamento (parti soliste, tastiere e voci) i quattro e il tecnico Chris Thomas si presero una pausa per vedere in TV (a casa di Paul) il film The Girl Can't Help It!.
Il rock'n'roll, quella sera, era nell'aria!
---
Ho visto i Beatles dal vivo – 4
---
di Dennis Conroy
4. I Beatles avevano un gran look
Il look che avevano adottato dopo i viaggi ad Amburgo li faceva brillare nella Liverpool provinciale dei primi anni '60. Preferivano il nero e, artificiosi o meno, apparivano come un'unità.
Paul aveva quella faccia da baby-killer, John appariva amichevole ma tagliente.
George sembrava troppo giovane per essere così bravo, sembrava il fratellino che si portavano in giro.
Mi ricordo i Beatles al Cavern in occasione del ventesimo compleanno di Paul. Una torta con le candeline fu portata sul palco e una volta terminato il consueto 'tanti auguri a te', George, nella sua maniera divertente di dire le cose, ci informò che l'unico teenager dei Beatles rimasto era lui. Visto che la maggior parte di quelli fra il pubblico erano teenagers, era il suo modo per dirci che era ancora uno di noi.
Pete Best era una star da film, o almeno sembrava esserlo. Era indubbiamente il Beatle più popolare fra le ragazze. Credo che non fosse un fatto da sottovalutare, visto che cadeva spesso sotto i colpi del tagliente umorismo di John e Paul. Spesso annunciavano, fra le urla piene di aspettativa delle ragazze, che Pete avrebbe cantato la canzone seguente, partendo poi invariabilmente con una delle loro canzoni, mentre Pete abbassava lo sguardo timidamente alla maniera di James Dean, con gli altri che ridevano. Il mio amico Billy Kinsley dei Merseybeats mi ha assicurato che Pete in qualche occasione cantò, anche se non mi capitò mai di vederlo.
5. I Beatles erano incredibilmente eccitanti
I Beatles salivano lentamente sul palco ignorando la gente, facendo piccoli aggiustamenti agli strumenti già posizionati. Paul tirava il jack della chitarra con il tacco di uno dei suoi stivaletti cubani per togliere possibili nodi formatisi prima di inserirlo nell'amplificatore.
Attento a non fare troppo rumore, Pete sistemava il rullante prima di alzare lo sguardo al fronte del palco. Da sinistra a destra George, Paul e John, ignorando il pubblico, erano parte di qualche inascoltabile scherzo fra di loro mentre noi… guardavamo in attesa. Uno dei tre, senza dare nell'occhio, si girava per fare la modifica finale ad uno degli ampli.
Poi accadeva. Con un segnale chiaramente preparato, forse un conteggio silenzioso o un 1, 2, 3, 4 dato da uno stivale sul palco, i Beatles si lanciavano nel numero di apertura. Eravamo sempre colti di sorpresa. Quelle intro erano un classico dei loro concerti.
Erano sempre impegnati con la gente, leggevano richieste scarabocchiate su foglietti, o facevano battute. Erano estremamente divertenti senza essere mai volgari. John aveva un gran senso dell'humour, ci torno più avanti.
Mentre Paul leggeva una richiesta o John scherzava con qualcuno, avveniva la segreta preparazione del pezzo successivo. Qualunque fosse la cosa che era appena terminata, iniziava subito un nuovo brano, contato in segreto per sorprenderci ancora.
Ulteriori eccitazione era generata dal ritmo e dalla dinamica con cui i Beatles costruivano la loro musica. I rock'n'roll venivano suonati più velocemente e con più drive degli originali di Little Richard, Elvis e Chuck Berry. Ancora una volta i Beatles ci sorprendevano tutti, mettendo quel qualcosa in più in tracce che, anche se ben note a tutti noi, avevano ora il timbro dei Beatles ben impresso.
Aggiungevano dinamica a brani come "To Know Her Is To Love Her". L'energia che iniettavano nella parte centrale non era certo presente nella pur splendida versione originale.
6. Sapevano scrivere una canzone decente
La loro reputazione era basata all'epoca su molte cose ma non, come si potrebbe pensare, sulla loro capacità di scrivere. Avevano un repertorio vasto e vario con qualche sporadica aggiunta di brani originali. Ricordo di averli sentiti suonare "Love Me Do", "P.S. I Love You", "Please Please Me" e "The Tip of My Tongue". Fu una inaspettata e gradita sorpresa quando uscì il primo album con ben otto originali. Il resto è, come si suol dire, storia.
Ai tempi del Cavern "P.S. I Love You" era una delle preferite dalle ragazze, ma conquistò anche molti dei ragazzi. Ciò perché questo gruppo di ragazzi proveniente dalla nostra stessa realtà scriveva le proprie canzoni. Fino a quel momento credevamo che si dovesse essere un 'vero' musicista scelto da Dio per comporre nel 'Brill Building' o a 'Tin Pan Alley' o in una sala da concerto. Ma nessuno dei 'nostri amici' lo fece perché loro potevano.
"P.S. I Love You" era la canzone che tutti ci saremmo aspettati come lato A di un singolo quando scoprimmo che i Beatles stavano per fare un disco. "Love Me Do" era di certo più forte e adatta ad essere il lato A per un singolo di debutto, singolo che io comprai la mattina stessa che uscì.
"Please Please Me" al Cavern era suonata molto più lenta, con George che suonava il riff ad ottave e senza armonica. Il ritornello «Come on, come on» e quella favolosa parte centrale che riportavano sui versi iniziali la rendevano davvero speciale.
"The Tip of My Tongue", che divenne un singolo di Tommy Quickly, fu memorabile, se la memoria mi aiuta, per John che suonava le maracas. Non era certo suonata quanto gli altri originali in quel periodo del Cavern.
Quindi, se avete o conoscete qualcuno che abbia i sei ingredienti…
Prossimamente: cosa suonavano, come lo suonavano, con chi suonavano, cosa dicevano.
(4 – continua)
Buses and Submarines
As we are having to talk about thirteen albums within a year's agenda that's made up of only twelve months, we've decided to deal with two albums in one go (although in reality they were not released one after the other). We've chosen two that have been considered 'less important', they are both connected with a film and answer to the titles of Magical Mystery Tour and Yellow Submarine.
They are works that have been much debated: Magical Mystery Tour owing to the definitely uninspiring quality of the film, even though the record contains masterpieces of indisputable beauty; the other because, although it's true that the yellow submarine is an icon of the psychedelic world, the quality of the work is not to the same standard as any other album by the Fab Four. Apart from anything else, there are only songs – and not very important ones – on one side; the B-side has been given over to music written and orchestrated by George Martin as the film's soundtrack.
So this time we will limit ourselves to compiling a list of tracks from both of the albums and briefly discussing them. What with the ones that have been released as singles in their own right and the various versions that have been published of MMT, there's quite some confusion going on!
At this point we hardly need to highlight the fact that "All You Need Is Love" came out just five weeks after Sgt. Pepper's, and was written only a couple of days before the live world TV show was broadcast that made its fame! Whenever you try to emphasise the band's incredible capacity for composing, it is these kinds of details that should be remembered. But here are the songs from the two albums.
1.    Magical Mystery Tour
2.    The Fool on the Hill
3.    Flying
4.    Blue Jay Way
5.    Your Mother Should Know
6.    I Am The Walrus
7.    Hello, Goodbye
8.    Baby, You're a Rich Man
9.    All You Need Is Love
10.  Yellow Submarine
11.  Only a Northern Song
12.  All Together Now
13.  Hey Bulldog
14.  It's All Too Much
They may be two albums that don't excel, but they could have made one album out of it quite easily! There are moments of excellent composing and arrangements such as in "I Am the Walrus", "Hello Goodbye", "The Fool on the Hill" and "All You Need Is Love". The majority of musicians on this planet would pay gold to have just one of these pieces in their name, but in actual fact this time two albums are needed just to make one decent one. Even though it must be said that actually they came about as parallel projects to the films, and so there wasn't the driving force of creating an official album.
The guitar is present but not always audible, often hidden behind woodwind sections, such as is the case in the title track of the first film: the piece is a rather pushed rock piece but the rhythmic guitar that carries the beat is hidden in the mix. On the other hand, the guitar is more than evident in "Flying", with a lovely opening that is the richer to listen to thanks to a vibrato.
The rhythmic acoustic part that marks the beat in "Yellow Submarine" is very obvious indeed, as is also the case in "All Together Now": these are two light-hearted pieces that reap the benefits of a six-string acoustic.
"Hey Bulldog" is another piece with a rather strong taste of rock characterised by a distorted electric riff, as well as by the solo half-way through the piece. "It's All Too Much" seems like a Jimi Hendrix piece if you listen to the opening, played by a distorted electric guitar that immediately produces a mighty electric feedback, that continues to play responding to Harrison's voice and accompanying it. If you exclude "Revolution #9", "I Want You" and "Hey Jude", it is the longest piece to have appeared on a Beatles' album.
"All You Need Is Love" has a beautiful electric guitar solo, although the rest of the piece is full of orchestral instruments that play all the most important parts.
Arrangements
It can't be emphasised enough how the great work of George Martin in arranging the pieces made everything splendidly cohesive: the four of them (above all John and Paul, for obvious reasons) demanded what was seemingly impossible, always expecting a ready solution for technical problems as well as musical ones. But their original instruments continued to feature less and less in the overall sound, and although it's true that their minds pushed to create the things that they 'felt' in their heads but didn't know how to make happen in practice, it's also true that without the contribution of their producer many of these albums would never have existed, or would have had a very different form. Each of them experimented with new instruments, and it must be highlighted that the standard of Paul McCartney's bass lines has never gone below excellent: his sound became more full-bodied with every song thanks to the new recording techniques; and the lyricism of many passages should be studied by anybody trying their hand at this instrument. As for all the arrangements, pop as we know it today was born in those months, in those years and in those albums. There's no artifice or combination of instruments that wasn't experimented with by those four, even with an incredible poverty of technical means. Today any teenager with a computer has access to a number a thousand times higher of possibilities… if only that was enough to produce masterpieces!
Voices
The matter is similar to that already discussed in the previous chapters: they treated voices as instruments in their own right; each passage is fitted perfectly into the spaces left by the orchestra or by guitars, pianos, percussion or what have you. Practically every piece has been embellished by one chorus or another, so that one hardly notices anymore – it's become standard practice. And the best is yet to come.
---
Winston's Thoughts
---
by Davide Canazza
Magical Mystery Tour and Yellow Submarine are certainly the two records in the history of the Beatles with less guitar parts. At that time, George Harrison was envolved in the sitar playing and he was neglecting his main instrument. But in a late May evening of 1967 he happened to attend a live concert of Jimi Hendrix, and after hearing what he could get out of a Stratocaster, he decided it was the time to take back the guitar.
The result was that the day after he recorded "It's All Too Much", a song with a Hendrix-style guitar introduction with lots of feedback effects, distorted sounds and a massive use of the tremolo bar of his Sonic Blue Strat. A few days after this guitar would receive its famous psychedelic painting and it was soon renamed 'Rocky'.
The most used guitar by Harrison in both albums is just the Fender Stratocaster, while Lennon remained devoted to his Epiphone Casino. From the videos made during the sessions of "Hey Buldog" and "Lady Madonna" you can realize that George used the Gibson SG guitar, a guitar that John also played in some degree. The sequences from the movie and the guitar style should let us suppose that "Hey Buldog" guitar solo could have been played (with the SG) by John!
However, the guitars will be again the stars of the Beatles recordings on the White Album, but we'll talk about between a month.
---
Manzoni vs. Lennon-McCartney
---
by Giuseppe Cesaro
My Italian literature teacher at Secondary School used to say with ill-concealed (and not completely unjustified) pride that, if all the books that had been published on The Betrothed were gathered together, they would fill Milan Cathedral. Well! I think that to gather up everything that has been published about the Beatles not even the Maracanã Stadium would be sufficient.
Of course, quantity is not necessarily a synonym of quality (even the Bay City Rollers have sold truck-loads of albums) but it's still a statistic to think about. In the Beatles' case (the most striking, but by no means the only one) quality and quantity are indisputably tied to a cause-effect relationship: the latter, in fact, depends directly upon the former.
Therefore, writing about the Beatles is almost impossible, if the objective is to say something that hasn't already been said, something new, something original. If this is what you're expecting, then stop here. Whoever decides to go on, does so at the risk of having more than one déjà vu. What I can offer is a reflection that develops from those visual corners that haven't been visited much. The idea is to highlight and juxtapose some aspects that aren't strictly speaking 'technical', but nevertheless allowed the ingredients to bind together in a unique and unrepeatable way, breathing life into the most astonishing, refined and nourishing dish in the history of culinary rock art. What can I say? Enjoy your meal!
Above… them… only sky…
Let's put it like this: if rock music was a skyscraper, then blues would have chosen and conquered the ground and got the design started, Elvis would have finished the design and built the skyscraper, and the Beatles would have opened, furnished and lived in all the rooms, showing the world how amazing it all was.
Of course, between then and now, the excellent 'tenants' that have lived in that skyscraper – enriching it with their culture, music, sensitivity and technique – are uncountable. I won't name names: it would be impossible. There's no space. And then everyone has their own list. The Fab Four, however, bask in a sort of 'ius primae notis' (in the sense of 'notes') that has earned them the right to reserve the penthouse suite – the floor closest to the enchanted empire in which great ideas live, waiting for some particularly enlightened souls to gather them up, give them a form and make them visible (or as in our case: audible) to common mortals, helping them to tackle those hailstones of question marks without answers that we call existence.
So what is so mind-blowing about the Beatles phenomenon? Just about everything. To look at it closely, in fact…
Before Them? The Deluge!
Above all, when speaking about contemporary popular music (a definition in which I personally would include any musical affiliation attributable to 'Grandfather Blues'), what is so astonishing is the fact that history has had to be divided into two great eras: before and after the Beatles.
There has never been such a net division or watershed in terms of distance between 'before' and 'after'. No-one played as they had, before. And, after, no-one played as they had before. «The release of each one of their albums» recalls Elvis Costello, sharing in the feeling of more than one generation of great artists «was a shock». In fact, a leap as big as this one had never been made before. And there hasn't been one since.
Nor (unfortunately) will there ever be one. Not only because of the fact that, forty years after the four from Liverpool have split up, all the rooms of that famous 'skyscraper' have been lived in and furnished in every imaginable and unimaginable way (many of which have been fascinating), but above all because contemporary popular music (and especially the apple of her eye – the song) exhausted its own revolutionary potential, a long time ago, and it's now become crystallised.
It's not at all a co-incidence that a good seven of the top ten in "The 500 Greatest Albums of All Time" (according to Rolling Stone magazine) were released in the sixties (four of these were Beatles' albums – out of their thirteen LPs they've got ten in the top 500, of which five are in the top fifteen!). Nor is it a co-incidence that eleven of the top twenty of "The 500 Greatest Songs of All Time" (once again according to Rolling Stone) were released in the sixties. A good four of these were by the Beatles, who have got nine in total amongst the top 100 (Elvis five, Dylan four and the Rolling Stones three, just to make things clearer), of which six are in the top thirty. The other decades have come out as follows: four amongst the best 500 belong to the '50s, three to the '70s, while the '80s and '90s have been judged with only one song each. It's as if the '50s represent the childhood of rock, the '60s are its adolescence (with all its creative turbulence) and the '70s its maturity. While everything that comes afterwards (apart from the rare exceptions, obviously) is nothing other than a gathering of the fruits of those precious seeds planted in those three extraordinarily fertile decades. It goes without saying that these classifications (however much, as in these two cases, they have been put together by artists, musicians, record labels, producers and specialised journalists) are always subject to a shower of (not completely unjustified) criticisms; but it's obvious that «There's no smoke without a fire»! Think about it, guys, just think about it.
Autobus e sottomarini
Avendo a che fare con una rubrica lunga un anno di dodici mesi e dovendo trattare di tredici album, ci siamo decisi a sistemare due dischi ritenuti 'minori' (usciti in realtà non di seguito) in un solo appuntamento. I due dischi sono entrambi legati a un film e rispondono ai titoli di Magical Mistery Tour e Yellow Submarine.
Sono lavori molto discussi: Magical Mistery Tour per la non certo esaltante qualità del film, anche se sul disco ci sono capolavori di indiscussa bellezza; l'altro perché, se è vero che il sottomarino giallo è un'icona del mondo psichedelico, la qualità del lavoro non è all'altezza di nessun album dei Fab Four. Se non altro perché ci sono canzoni – neanche troppo importanti – solamente su un lato, visto che il lato B è composto da musiche scritte e orchestrate da George Martin, come colonna sonora del film.
Quindi questa volta ci limiteremo a compilare una lista di brani, tratti dai due album, e a discuterne brevemente, anche perché fra i singoli usciti per conto loro e le varie versioni che sono state pubblicate di MMT c'è da fare davvero confusione!
A questo punto potremmo anche non sottolinearlo, ma "All You Need Is Love" uscì appena cinque settimane dopo Sgt. Pepper's, e fu scritta sì e no un paio di giorni prima della diretta televisiva mondiale che la vide protagonista! Quando si cerca di sottolineare l'incredibile produzione compositiva della band è a questi particolari che si deve fare attenzione. Ma ecco i brani tratti dai due album.
1.    Magical Mystery Tour
2.    The Fool on the Hill
3.    Flying
4.    Blue Jay Way
5.    Your Mother Should Know
6.    I Am The Walrus
7.    Hello, Goodbye
8.    Baby, You're a Rich Man
9.    All You Need Is Love
10.  Yellow Submarine
11.  Only a Northern Song
12.  All Together Now
13.  Hey Bulldog
14.  It's All Too Much
Saranno due album non eccelsi, ma a farne uno solo non si sbaglia mica! Ci sono momenti altissimi di composizione e arrangiamento, come "I Am the Walrus", "Hello Goodbye", "The Fool on the Hill", "All You Need Is Love". La maggior parte dei musicisti del pianeta pagherebbe oro per avere uno solo di questi brani a nome proprio, ma in effetti questa volta servono due lavori per farne uno. Anche se in effetti nascevano come progetti paralleli ai film, quindi non c'era l'impegno totalizzante dei dischi ufficiali.
C'è chitarra, ma non sempre in vista, spesso nascosta da arrangiamenti di fiati, come sulla title track del primo film: il brano è un pezzo rock piuttosto tirato ma la chitarra ritmica che porta il tempo è nascosta nel mix. C'è invece chitarra per nulla nascosta su "Flying": bella la prima che si ascolta, arricchita da un vibrato.
La ritmica acustica che porta il tempo su "Yellow Submarine" è in primissimo piano come quella su "All Together Now": sono due brani leggeri che traggono vantaggio dalla presenza della sei corde acustica.
"Hey Bulldog" è un altro pezzo dal sapore piuttosto rock con un riff elettrico distorto che lo caratterizza, come l'assolo a metà del brano. "It's All Too Much" sembra un brano di Jimi Hendrix se si ascolta l'inizio, suonato da una chitarra elettrica distorta che produce subito un poderoso feedback; elettrica che continua a suonare rispondendo e accompagnando la voce di Harrison. Se si escludono "Revolution #9", "I Want You" e "Hey Jude", è il brano più lungo mai apparso in un album dei Beatles.
"All You Need Is Love" ha un bell'assolo di chitarra elettrica, ma per il resto il brano è pieno di strumenti da orchestra che suonano tutte le parti più importanti.
Arrangiamenti
Sempre più va sottolineato come il grande lavoro di George Martin in fase di arrangiamento rendesse tutto splendidamente coeso: i quattro (soprattutto John e Paul, per ovvie ragioni) chiedevano cose apparentemente impossibili, aspettandosi sempre una pronta risposta sia per quanto riguardava i problemi tecnici che quelli musicali. Ma i loro strumenti originali erano sempre meno protagonisti nel sound complessivo, e se è vero che le loro menti spingevano per realizzare cose che 'sentivano' in testa ma non sapevano come mettere in pratica, è anche vero che senza il contributo del produttore molti di questi dischi non sarebbero esistiti, o avrebbero avuto forme del tutto differenti. Ognuno di loro sperimentava con strumenti nuovi, e va sottolineato che il valore delle linee di basso di Paul McCartney non è mai sceso sotto l'eccellenza: il suo suono era sempre più corposo grazie alle nuove tecniche di registrazione e il lirismo di molti passaggi dovrebbe essere studiato da chiunque si cimenti con questo strumento. Come tutti gli arrangiamenti, del resto, il pop come lo conosciamo oggi nasceva in quei mesi, in quegli anni, su quei dischi. Non c'è artificio o combinazione di strumenti che non sia stata sperimentata dai quattro, e con una povertà di mezzi tecnici impressionante; oggi qualunque ragazzo con un computer ha accesso a un numero migliaia di volte maggiore di possibilità… se solo fosse sufficiente a produrre capolavori!
Voci
Il discorso è simile a quello già affrontato nei capitoli precedenti: le voci sono trattate come veri e propri strumenti, ogni passaggio è incastrato alla perfezione negli spazi lasciati dall'orchestra o da chitarre, pianoforti, percussioni. Praticamente ogni brano è impreziosito da questo o quel coro, non ci si fa più caso, oramai è la prassi. E il meglio deve ancora arrivare.
---
I pensieri di Winston
---
di Davide Canazza
Magical Mystery Tour e Yellow Submarine sono sicuramente i dischi con meno chitarre nella storia dei Beatles. In quel periodo George Harrison suonava molto il sitar e stava trascurando il suo strumento principale. Ma una sera di maggio del 1967 gli capitò di assistere a un concerto di Jimi Hendrix e, dopo aver ascoltato cosa poteva uscire da una Stratocaster, decise che forse valeva la pena di riprendere in mano la chitarra.
Il risultato fu che il giorno dopo incise "It's All Too Much", brano con un'introduzione di chitarra in stile Hendrix con tanto di effetti feedback, suoni distorti e uso della leva del tremolo della sua Stratocaster Sonic Blue, che dopo pochi giorni avrebbe subìto la ormai famosa colorazione psichedelica e sarebbe stata ribattezzata 'Rocky'.
La chitarra più utilizzata da Harrison in entrambi gli album è proprio la Fender Stratocaster, mentre Lennon rimane fedele alla sua Epiphone Casino. Dai filmati realizzati durante le session di "Hey Buldog" e "Lady Madonna" si può vedere che qui George usa la Gibson SG, chitarra in parte suonata anche da John. Sia dalle sequenze del filmato che dallo stile che emerge dall'ascolto, si potrebbe addirittura ipotizzare che sia proprio Lennon a suonare (con la SG) l'assolo di "Hey Buldog".
Comunque sia, le chitarre torneranno a essere protagoniste delle registrazioni dei Beatles nel White Album, ma di questo parleremo tra un mese.
---
Manzoni vs. Lennon-McCartney
---
di Giuseppe Cesaro
Il mio professore di lettere del ginnasio raccontava con malcelato (e non del tutto ingiustificato) orgoglio che, se si fossero raccolti tutti i saggi pubblicati su I promessi sposi, si sarebbe riempito il Duomo di Milano. Beh, credo che per raccogliere quanto pubblicato a proposito dei Beatles, probabilmente non sarebbe sufficiente nemmeno il Maracanã.
Non che la quantità sia, necessariamente, sinonimo di qualità (anche i Bay City Rollers hanno venduto vagonate di dischi) ma è comunque un dato che fa riflettere. Nel caso dei Beatles (il più eclatante, ma certo non l'unico) qualità e quantità sono indissolubilmente legate da un rapporto causa-effetto: la seconda, infatti, dipende direttamente dalla prima.
Scrivere dei Beatles, dunque, è praticamente impossibile, se l'obiettivo è dire qualcosa di non detto, di nuovo, di originale. Se è questo che vi aspettate, fermatevi qui. Chi decide di proseguire lo fa a rischio di più di un déjà vu. Ciò che posso offrire è una riflessione che si sviluppa da angoli visuali non troppo frequentati. L'idea è quella di evidenziare e porre in relazione tra loro alcuni aspetti non propriamente 'tecnici', che hanno consentito agli ingredienti di legarsi in un modo unico e irripetibile e di dar vita al piatto più sorprendente, raffinato e nutriente della storia dell'arte culinaria rock. Che dire? Buon appetito!
Above… them… only sky…
Mettiamola così: se la musica rock fosse un grattacielo, il blues avrebbe scelto e acquistato il terreno e avviato il progetto, Elvis avrebbe ultimato il progetto e costruito il grattacielo, e i Beatles avrebbero aperto, arredato e abitato tutte le stanze, mostrandone al mondo ogni meraviglia.
Naturalmente, da allora ad oggi, gli 'inquilini' eccellenti che hanno vissuto in quel grattacielo – arricchendolo con la propria cultura, musicalità, sensibilità e tecnica – non si contano. Non faccio nomi: sarebbe impossibile. Non c'è spazio. E poi, ognuno ha la propria lista. I Fab Four, però, godono di una sorta di 'ius primae notis' (nel senso di 'nota') che è valso loro il diritto di riservare per sé attico e superattico. I due piani più vicini a quell'empireo incantato nel quale le grandi idee abitano, in attesa che alcune anime particolarmente illuminate le captino, diano loro forma e le rendano visibili (nel nostro caso: udibili) ai comuni mortali, aiutandoli ad affrontare quella grandine di punti interrogativi senza risposta che chiamiamo esistenza.
Cosa c'è, dunque, di così tanto sconvolgente nel fenomeno Beatles? Quasi tutto. A ben guardare, infatti…
Prima di loro? Il diluvio!
Innanzitutto sconvolge il fatto che, parlando di musica popolare contemporanea (definizione nella quale, personalmente, includo qualunque filiazione musicale attribuibile a 'nonno Blues'), la storia si debba dividere in due grandi ere: prima e dopo i Beatles.
Uno spartiacque così netto e così dirompente in termini di distanza tra il 'prima' e il 'dopo', non c'era mai stato. Niente suonava come loro, prima. E, dopo, niente suonava più come prima. «L'uscita di ogni loro album» ricorda Elvis Costello, facendo proprio il sentire di più di una generazione di grandi artisti «era uno shock». Un salto così, infatti, non c'era mai stato prima. E non c'è più stato nemmeno dopo.
Né (purtroppo) ci sarà mai più. Non solo per il fatto che, a quaranta anni dallo scioglimento dei quattro di Liverpool, tutte le stanze di quel famoso 'grattacielo' sono state vissute e arredate in tutti i modi immaginabili e inimmaginabili (molti dei quali, affascinanti), ma soprattutto perché la musica popolare contemporanea (e, in particolare, la sua creatura più fortunata: la 'forma canzone') ha, da tempo, esaurito la propria portata rivoluzionaria e si è, ormai, cristallizzata.
Non è affatto un caso che tra i primi dieci fra "The 500 Greatest Albums of All Time" (secondo Rolling Stone) ben sette siano usciti negli anni '60 (quattro di questi sono album dei Beatles, che dei loro tredici LP ne piazzano addirittura dieci nei primi cinquecento, di cui cinque nei primi quindici!). Così come non è un caso che undici delle prime venti tra "The 500 Greatest Songs of All Time" (sempre secondo Rolling Stone) siano uscite negli anni '60. Ben quattro di queste sono firmate dai Beatles, che ne piazzano nove nelle prime cento (Elvis cinque, Dylan quattro e i Rolling Stones tre, tanto per capirci), di cui sei nelle prime trenta. Le altre decadi risultano così accreditate: quattro tra le migliori cinquecento appartengono agli anni '50, tre agli anni '70, mentre anni '80 e '90 si 'aggiudicano' una sola canzone ciascuno. È come se gli anni '50 rappresentassero la fanciullezza del rock, gli anni '60 l'adolescenza (con tutte le sue turbolenze creative) e i '70 la maturità. Mentre tutto quello che viene dopo (a parte qualche rara eccezione, s'intende) non sembra altro che un raccogliere i frutti dei semi pregiati piantati in quelle tre decadi straordinariamente fertili. Va da sé che queste classifiche (per quanto, in questi due casi, redatte da artisti, musicisti, discografici, produttori e giornalisti specializzati) sono sempre soggette a una valanga di critiche (non tutte infondate); ma è chiaro – come recita un proverbio inglese – che «Non c'è fumo, senza fuoco»! Meditate, gente, meditate.
«I'd love to turn you on»
The series of articles of which you're reading the eighth episode, dedicated to the four boys from Liverpool that changed the music world, began with a purpose, above all: to analyze and give importance to the role of guitar in their band, and then in pop music. John Lennon and George Harrison, along with Paul McCartney, bass player but excellent guitarist himself, were members of a band totally based on the use of six strings instruments, there were few other additions in the first period. Why do we say this? Because their more meaningful work – even if who's writing doesn't entirely agree, but this counts for little – is that Sgt. Pepper's Lonely Hearts Club Band, that unlike the previous ones has very little guitar.

What can this mean? Many things, first of all that their role as "guitar players" could also be marginal, but the quality of the music did not change, and if it did, it was better. This work is full of hidden and clear meanings, it comes after months of recordings, the four used the freedom they never had before, without having to stop to "go around playing, " which they did without a break for many, too many years.
The cover picture told everybody that something was new and forever, with a photo so full of characters that needed a guide or a private investigator to be discovered; and the flowers and the mustache and the long hair; with the record that opened and revealed a set of boundary elements which also changed the world of marketing, in addition to the music one.
Let's start with the usual game, which in this case is supported by the authoritative opinion of George Martin, who later revealed that he regrets the fact that the single "Strawberry Fields Forever/Penny Lane" was not included in the album; and it's strange to think that everything started from there, it their minds it had to be a concept album tied to the places of their childhood, and became something else. Our game is the inclusion of the two songs in the tracklist, let's see how.
1.       Sgt. Pepper's Lonely Hearts Club Band
2.       With a Little Help from My Friends
3.       Lucy in the Sky with Diamonds
4.       Strawberry Fields Forever
5.       Getting Better
6.       Fixing a Hole
7.       She's Leaving Home
8.       Being for the Benefit of Mr. Kite!
9.       Penny Lane
10.     Within You Without You (Harrison)
11.     When I'm Sixty-Four
12.     Lovely Rita
13.     Good Morning Good Morning
14.     Sgt. Pepper's Lonely Hearts Club Band (Reprise)
15.     A Day in the Life
Here's that the "most beautiful record ever" is even better, considering how beautiful are the two songs. That single has a record: it's first that didn't go #1 on the charts, but only for a defect. The band, unsure about which was the B-side, released the first 45 in history with two A-sides, and the charts count divided by half the total sales without realizing that they should be added instead!
What can be written about a record to which entire books have been dedicated and that was discussed among different generations? We usually talk about the importance of guitars in their work, also trying to highlight things related to the arrangements or the vocal parts, in this case it becomes difficult and we will concentrate on the rest, as the orchestrations are the true stars and there's little guitar.
We could be fooled by the guitaristic rockin' intro and by the first notes that can be heard on the title track, but the road bends almost immediately. It's not to say that guitar is absent, but is really hard to find things to write about, this time.
We notice, by the way, that where there is a guitar, its sound is always more acid than in the past, opening the way to what will happen in the near future.
On "Fixing A Hole" there's a couple of interesting passages, including George' solo in the middle, but their freedom in the Emi studios as they were almost theirs, brought the band's history, as many others then, to a radical change.
Sgt. Pepper's
is a watershed work, and despite the obvious influences, with particular attention to certain sounds inspired by the Beach Boys'
Pet Sounds
, is one of the records (maybe "the" record) that brought pop music into modern times.
To think that a band that until two years before was "beat" and "rock'n'roll" and then started to write more mature and innovative things, always apparently following the rails, could produce something like this new album, was unthinkable.
It would really be interesting to understand George Martin's role, orchestrations are something we would assign to him, arrangements are elegant and always fresh, it's only left to decide how much the four guys had a role in the final product, because they had one for sure.
Arrangements
Variety is not lacking, if we think of how different are songs like "When I'm 64″ or "Lucy In The Sky With Diamonds," "A Day In The Life" or "Lovely Rita". Maybe is this that impress today, other than the overall quality of the songs, no one ever produced such different music, apparently without a connection, perfectly glued to the record.
Today is easy to write about it, but probably only who lived the release of the album can really tell us how it felt, at the time, to hear something so new.
It could be enough to say that, the day after the LP was released, a gentleman called Jimi Hendrix played the title track with his band in a live show.
Studio work was always more challenging, the Beatles understood they could ask almost every possible and impossible thing, and when John realised that there were two good versions of "Strawberry Fields Forever", but one was good until a certain point, and the other only in the final part, he asked to put them together. Problem was that they were played at different speed and tuning! But he, regardless of technical barriers – today such a thing would not represent any problem – he said to George Martin that he knew he was going to make it. This shows how the work of the band in the writing phase was connected to studio time, the results were given by an incredible mix of efforts, one wonders if those restrictions – it was almost the stone age for what concerns recordings – were not a stimulus instead of a limit. We will never have the answer, and it's okay.
Vocals
Vocals gain a more orchestral role, the attitude of the band toward their main instrument was changing, and the abundance of real orchestrations put their famous vocal parts in some kind of shade; we find them as part of the songs sometimes almost unobserved as on "With A Little Help From My Friends", where the band and the soloist sing changing roles as if they were one, something like that happens on "She's Leaving Home". It appears evident as they left the usual "I sing, you answer", in favor of a more orchestral use of the voices.
---
Winston's Thoughts
---
by Davide Canazza
About Sgt. Pepper's was written everything and more. And the more interesting the book is undoubtedly "Summer of Love" by George Martin, the legendary Beatles producer, who more closely followed the creation of this masterpiece.
It's been said that this album is the less guitaristic among Beatles' production, but the guitars are still there, and when present, they hit with their essential and characteristic touch.
In the title track there are actually three different guitars: a rhythmic one played by McCartney, Harrison's first solo and a second soloist, the more marked, again by Paul who performs his parts with his Epiphone Casino and a new Selmer Thunderbird 50-watt amp.
George plays rthythm and lead guitars on "With a little help from my friends", "Lucy in the sky with diamonds " (here he plays an Indian Tamboura too),"Getting Better" and "Fixing a Hole", a song in which he performs the beautiful and distinctive solo. Electric guitarsused by Harrison in the whole album are mainly the Epiphone Casino and the Stratocaster.
The solo on "Good morning, good morning" is played by Paul, performed here with his new Fender Esquire Custom (a Telecaster with only the bridge pickup, in sunburst finish and a double binding). This is also the only song in which
Lennon plays an electric rhythm guitar. John plays the acoustic in "A Day In The Life" and "Lovely Rita", doubled here by another acoustic played by Harrison in slide style.
On all the other songs Lennon records only the vocals, and he plays percussions and some keyboards (Hammond organ, Lowrey, harmonium). Other parts of keyboards are played by McCartney and George Martin who plays the piano solo in "Lovely Rita".
The amplifiers used in addition to the previously mentioned Selmer, are two Fender Showman and the Blond Bassman. Paul uses only the Rickenbacker 4001, which marks the bass sound of the whole album.
---
The record that came from the future
---
by Marco Bonfiglio
This episode is enriched by the contribution of Marco Bonfiglio, writer, journalist, musician and deep connoisseur of the Fab Four's music.
So Lennon and McCartney were one next to the other, legend has it in the magical cave on Abbey Road, pondering on the lyrics of a song that was promising quite well, "A Day In The Life": the last real moment of equal collaboration between the sun and the moon in Beatles. It must have been one of the first days of winter in 1967 and those two, together with those other two a little less in the public eye but not less important within the economy of Beatles, had already changed the world. Nonetheless they could not imagine what they would unleash with that and twelve more songs, approximately six months later. They did sense it, though. They were pondering on the lyrics and then a verse came to their minds: 'I'd like to turn you on'. Hang on a second, though: nobody had ever used such daring words, direct and impudent, within a popular song. Would not it be unconsidered? They thought about it for a couple of seconds, right about the time to blink and say 'Fuck it, let's do it'.
Well, they did do it. Beatles could do anything, once they got to that point. They knew it, other musicians knew it, the whole world knew it. This is the starting point in order to realize what Sgt. Pepper's meant. More than forty years have gone by but we still have not understood it completely. Probably because trying to understand such an album is a mistake. It understands you.
Similarly it is obvious that such a masterpiece could only happen in the Sixties, but mostly and especially between 1967 and 1968. Then music culture and social counterculture that were exploding between the old and the new continent came in touch and literally exploded. Earlier on they had just smelled each other, listened to each other in the distance with vinyls crossing the ocean on transatlantic and then, in a tighter and quicker tangle, mixed together in what is superficially and quickly defined as psychedelia. Acids and other substances that could open your mind: this stereotype is the first thing it gets to your mind when you think of the primary influences of Sgt. Pepper's. True, but you also need those four minds to do such a thing.
That is, you need McCartney's mind, although it was expanded by acid, to think of a name such as Sgt. Pepper's Lonely Hearts Club Band for his imaginary band. It was not by accident that the idea came to him after a trip to the West coast of the United States, where eyes and ear are filled with colours that splash everywhere and unlikely names for little orchestras tilting on stages in front of the Pacific. Not forgetting that the original idea was the one of a concept album with a taste of Liverpool, dedicated to the childhood memories of the four, for which a couple of songs had already been written: Strawberry Field Forever and Penny Lane, later diverted to LP, just to remember to what extent the prolificity of the sun and the moon in Beatles allowed to waste 'a whole series of small jewels' (quote by George Martin) on the singles market.
You need Lennon's mind in order to get inspiration for a song such as "Being For The Benefit Of Mr Kite" from the poster of a circus show from the Victorian Age, discovered at a flea market. Or, as far as "A Day in the Life" is concerned, to throw among the verses the story of a friend of them who was a millionaire and crashed his sporty car while on drugs, after reading the story of the accident on the Daili Mail, right next to the paragraph saying 'There are four thousand holes on the streets of Blackburn, in Lancashire'. You need George Harrison's Indian mind in order to write 'We could save the world, if they only knew'. Where the 'if they only knew' is the symbol of the effect that Sgt. Pepper's had on the world. Because according to the rest of the population, in that historical moment, those who really knew where the four from Liverpool. They stood forward. They came from the future, just like that album, in order to bring the word, the Word, the voice of music at the top of the illusion that music could really change the world and save it.
When it was released, Sgt. Pepper's was broadcasted on the radios all over the planet. People organized group listenings, all silently sitting in living rooms or conference rooms, because the music gurus were talking through sounds and words that nobody had ever heard before. You just needed to be lead and listen, in order to get to know as ordinary human beings. It is so complicated, Sgt. Pepper's, that according to somebody it is not even nice. It is so varied that according to somebody else, such as Beach Boys' Brian Wilson, he lost his mind about it, because he was still on Revolver, the previous album, when they released such stuff.
There was so much stuff that it cannot be squeezed into a univocal explanation. It is the album that squeezes you. With the science fictional production by George Martin, its cover rich in clues for Paul's death, the insane concern about the details – so insane that Abbey Road suddenly appeared to be a zoo (online you may find the image of the piece of paper that Geoff Emerick, the sound technician, used to decide how to put in circular rotation the sounds of the animals for Good Morning Good Morning). With the discovery that you may write a song from a police woman who gives you a ticket ("Lovely Rita"), with the acronym LSD for "Lucy In The Sky with Diamonds" and the sudden sweetness full of regret of She's Leaving Home, with its harp and its 'happiness is the only thing that money can't buy'. Yeah, right, Beatles were those who wrote silly lyrics, made for naïve girls. Right, but here is a whole lot of intense meaning upon which we still discuss nowadays, also in educational circles. There is "With a Little Help From My Friends" – try and think about the meaning of a sentence such as 'What do you see when you turn out the light?
I can't tell you, but I know it's mine'. See where they take you, the songs by Sergeant Pepper played by his Lonely Hearts band. In a different place every time, for sure. And again, "A Day In The Life", probably, with its whispered 'I'd love to turn you on', reprised by the rising notes of an orchestra, which had to count 90 elements and was then reduced to 'just' 45 members, leading the ear towards an aural orgasm and that final E major, another orgasm made by four pianos playing with one voice. It is not music anymore. It's high class art, with a capital A, and it is accessible to every social class. Not only teenagers, not only music lovers. It is for everybody, and that is why it enters the public imagination also as the 'twentieth century version of classical music'. Sgt. Pepper's did not come in order to just be, it was there to stay. As a matter of fact, it is still here, now. Since also in 2011 it may well come from the future, it is still a mistery how it could be born in 1967.
History changes right there in that moment. Those four already knew, of course. They were not the same themselves, afterwards. They turned from sweethearts to dangerous hippies to censor, because their lyrics mentioned drugs and sex. From the infinite optimism of what would become the Summer Of Love in 1967 to the stormy riots of 1968 that was just around the corner. Get back to the end of "A Day In The Life", after the E major, and listen to that terrifying squeaking, later on known as The Inner Groove, a loop recorded in the track at the end of the side, which runs ad libitum until the needle is lifted from the vinyl. Almost as if the Beatles knew what was going to happen in the next few months, even though they simply wanted to occupy all possible spaces in order to be as innovative as they could. To the world and to themselves. But this is the following story. George Harrison said that he could not remember those days well, because 'who really lived during the Sixties cannot remember them'. Also Lennon said something similar, when he was asked to recall the recording steps of the album. Here is another paradox. Such work should be just like at Ikea, they should give you the instructions to follow step by step, in order to understand how it is possible to do it. Whereas not even who built it could recall how they did it. It is too easy to reduce it to simple dizziness due to drugs and a rock-star life. Maybe it really comes from the future.

«I'd love to turn you on»
La serie di cui state leggendo l'ottava puntata, lunga un anno e dedicata ai quattro ragazzi di Liverpool che hanno cambiato il mondo della musica, è iniziata con uno scopo, su tutti: analizzare e dare importanza al ruolo della chitarra nella loro band, e quindi nella musica pop. John Lennon e George Harrison, insieme a Paul McCartney, bassista ma eccellente chitarrista lui stesso, erano i componenti di una band assolutamente fondata sull'utilizzo delle sei corde, poche erano le aggiunte di altri strumenti nel primo periodo. Perché diciamo questo? Perché il loro lavoro più significativo (anche se chi scrive non è del tutto d'accordo, ma questo conta poco) è quel Sgt. Pepper's Lonely Hearts Club Band che di chitarra, a differenza dei precedenti, ne ha davvero poca.

Cosa può significare? Molte cose, prima fra tutte che il loro ruolo come "chitarristi" poteva anche diventare marginale, ma la qualità della musica non cambiava, anzi, se cambiava, lo faceva in meglio. Questo lavoro è denso di significati nascosti e non, arriva dopo mesi di studio, libertà che i quattro non si erano mai concessi prima, senza la rottura di dover "andare in giro a suonare", cosa che avevano fatto senza smettere da molti, troppi anni.
Già dalla copertina si intuiva che qualcosa sarebbe stato nuovo e per sempre, con quell'insieme di personaggi per cui serviva una guida o un investigatore privato per scoprirli tutti, e i fiori e i baffi e i capelli lunghi, con il disco che si apriva e rivelava un insieme di elementi di contorno che cambiarono anche il mondo del marketing, oltre a quello musicale.
Iniziamo con il consueto gioco, che in questo caso è supportato dall'autorevole parere di George Martin, che in seguito rivelò di aver rimpianto il fatto che il singolo "Strawberry Fields Forever/Penny Lane" non fosse stato incluso nell'album, e pensare che iniziò tutto da lì, doveva essere un concept album legato ai luoghi della loro infanzia, e invece divenne altro. Il nostro gioco ci porta all'inclusione dei due brani nella scaletta finale in maniera assolutamente casuale, vediamo come.
1.       Sgt. Pepper's Lonely Hearts Club Band
2.       With a Little Help from My Friends
3.       Lucy in the Sky with Diamonds
4.       Strawberry Fields Forever
5.       Getting Better
6.       Fixing a Hole
7.       She's Leaving Home
8.       Being for the Benefit of Mr. Kite!
9.       Penny Lane
10.     Within You Without You (Harrison)
11.     When I'm Sixty-Four
12.     Lovely Rita
13.     Good Morning Good Morning
14.     Sgt. Pepper's Lonely Hearts Club Band (Reprise)
15.     A Day in the Life
Ecco che il "disco più bello della storia" migliora, e anche di molto, vista la grandezza dei due singoli! Singoli che hanno un primato: sono i loro primi a non essere andati al numero 1 delle classifiche, ma solo per un vizio di forma. La band, indecisa su quale fosse il lato B, fece il primo 45 giri della storia a due facciate A, quindi le classifiche divisero a metà il totale delle vendite e non si resero conto che andavano invece sommate, ecco allora che in testa alle charts ci sarebbero andati, infrangendo anche qualche record!
Cosa si può scrivere di un disco a cui sono stati dedicati interi libri e che ha fatto discutere diverse generazioni? Noi di solito ci soffermiamo sull'aspetto chitarristico cercando anche di mettere in evidenza particolarità legate agli arrangiamenti o ai cori, in questo caso il lavoro si fa difficile e dovremo concentrarci sul resto, visto che le orchestrazioni sono le vere protagoniste e di chitarra ce n'è poca.
Potremmo essere tratti in inganno dall'inizio rockeggiante e dalle prime note di chitarra che lanciano la title track, ma la strada prende subito una piega differente. Non vogliamo dire che non ci sia traccia di chitarra, ma davvero su molte canzoni fatichiamo a trovare cose da scrivere.
Notiamo però che dove c'è la chitarra i suoni si fanno sempre più acidi, aprendo la strada a ciò che succederà di lì a poco.
Di sicuro su "Fixing A Hole" abbiamo degli interventi interessanti, incluso l'assolo che George suona nel mezzo, ma il fatto che i quattro avessero ormai libero accesso agli studi della Emi quasi fossero di loro proprietà, e avessero abbastanza tempo da occuparli a lungo, portò la storia di questa band, e di molte altre in seguito, a cambiare radicalmente.
Sgt. Pepper
è un lavoro spartiacque, e nonostante sia evidente l'influenza, soprattutto per quanto riguarda alcuni suoni, di
Pet Sounds
dei Beach Boys di Brian Wilson, è uno dei dischi (forse "il" disco) che traghetta il pop della prima era in quella moderna.
Pensare che un gruppo che fino a due anni prima era"beat", "rock'n'roll" e poi iniziava a scrivere cose più impegnate e innovative, ma sempre apparentemente nei binari, potesse produrre qualcosa di simile, era davvero impensabile.
In questo sarebbe interessante capire che ruolo ebbe George Martin, le orchestrazioni sono qualcosa che senza pensarci attribuiremmo a lui, gli arrangiamenti sono ricercati e sempre originali, va solo stabilito quanto i quattro avessero un ruolo, e di certo lo avevano, nel prodotto finale.
Gli arrangiamenti
Non manca di certo la varietà, se pensiamo a quanto siano differenti brani come "When I'm 64" o "Lucy In The Sky With Diamonds", "A Day In The Life" o "Lovely Rita". Forse è proprio questo, oltre alla qualità del materiale, ad impressionare, tanta musica così apparentemente senza un legame, ma perfettamente incollata al disco, non era ancora mai capitato di trovarla. Oggi è facile scriverne, ma forse solo chi visse in diretta l'uscita di questo capolavoro può davvero dirci cosa sentì in quel momento, cosa si poteva provare ad ascoltare qualcosa di così nuovo.
Basti pensare che, il giorno dopo l'uscita dell'album, un certo Jimi Hendrix suonò dal vivo con la sua la canzone che dà il titolo all'album.
Il lavoro in studio si faceva sempre più importante, i Beatles avevano capito che potevano chiedere quasi ogni cosa, possibile e non, e quando John capì che di "Strawberry Fields Forever" c'erano due versioni buone, ma una andava per la prima parte e una solo per il finale, chiese di unirle. Il problema è che erano eseguite a velocità e tonalità diverse! Ma lui, incurante degli ostacoli tecnici – oggi una cosa del genere non rappresenterebbe il minimo problema – disse a George Martin che era sicuro ce l'avrebbe fatta. Questo dimostra quanto il lavoro della band in fase di scrittura fosse un tutt'uno con quello in studio, i risultati erano dati da un'incredibile mix di sforzi, viene da chiedersi se quelle limitazioni – si era quasi nell'età della pietra per quanto riguarda le registrazioni – non furono invece uno stimolo così grande da risultare fondamentali. Non avremo mai la risposta, e ci va bene così.
Le voci
I cori assumono un ruolo quasi orchestrale anche loro, l'atteggiamento del gruppo nei confronti del loro strumento principe si andava modificando, e la grande abbondanza di orchestrazioni vere metteva leggermente in secondo piano i loro celebri cori; ce ne sono ma vanno a far parte del brano restando in molti casi quasi inosservati, come su "With A Little Help From My Friends" in cui la band e il solista si alternano come fossero un solo cantante, qualcosa di simile accade su "She's Leaving Home". Nel complesso notiamo come si perda un po' la concezione del "io canto, tu rispondi", in favore di un utilizzo delle voci come veri e propri strumenti.
---
I pensieri di Winston
---
di Davide Canazza
Su Sgt. Pepper's è stato scritto di tutto e di più e il libro più interessante è senz'altro Summer of Love di George Martin, il mitico produttore dei Beatles, colui che più da vicino seguì la creazione di questo capolavoro.
È già stato detto che questo è l'album meno chitarristico tra gli LP dei Beatles, ma le chitarre comunque ci sono, e quando sono presenti, colpiscono con il tocco caratteristico e imprescindibile di sempre.
Nella title track ce ne sono addirittura tre: una ritmica di McCartney, una prima solista di Harrison e una seconda solista, quella più marcata, nuovamente di Paul. Le sue parti sono eseguite con la sua Epiphone Casino e il nuovo ampli Selmer Thunderbird da 50 watt.
Sono di George le chitarre elettriche, sia ritmiche che soliste, in "With A Little Help From My Friends", "Lucy In The Sky With Diamonds" (qui suona anche un Tamboura indiano), "Getting Better" e "Fixing A Hole", canzone nella quale esegue il bellissimo e caratteristico assolo. Le chitarre elettriche utilizzate da Harrison sull'album sono
pevalentemente la Epiphone Casino e la Stratocaster.
Il solo di "Good Morning, Good Morning" è di Paul, eseguito qui con la sua nuova Fender Esquire Custom (una Telecaster col solo pickup al ponte, in colorazione sunburst e doppio binding). Questo è anche l'unico brano in cui Lennon suona la ritmica con l'elettrica. John imbraccia invece l'acustica in "A Day In The Life" e in "Lovely Rita",
raddoppiata qui da un'altra acustica suonata con lo slide da Harrison.
In tutte le altre canzoni Lennon si occupa solo delle parti vocali; in alcuni casi suona le percussioni e le tastiere (organi Hammond, Lowrey, armonium).
Altre parti di tastiera sono suonate da McCartney e da George Martin: suo è l'assolo di piano in "Lovely Rita".
Gli amplificatori utilizzati, oltre al già citato Selmer, sono i Fender Showman e Bassman già introdotti nelle puntate precedenti.
Paul usa esclusivamente il Rickenbacker 4001 che segna il sound di basso di tutto l'album.
---
Il disco che venne dal futuro
---
di Marco Bonfiglio
Arricchisce questa puntata il contributo di Marco Bonfiglio, scrittore, giornalista, musicista e profondo conoscitore della musica dei Fab Four.
Dunque Lennon e McCartney se ne stavano uno accanto all'altro, la leggenda vuole nell'antro magico di Abbey Road, a ragionare sul testo di una canzone che prometteva particolarmente bene, "A Day In The Life": l'ultimo vero momento di collaborazione alla pari tra il sole e la luna dei Beatles. Doveva essere uno dei primi giorni dell'inverno del 1967 e quei due, insieme a quegli altri due un po' meno in vista ma non meno importanti nell'economia dei Beatles, il mondo l'avevano già cambiato. E nemmeno loro, però, immaginavano cosa avrebbero scatenato con quella e altre dodici canzoni, circa sei mesi più tardi. Lo intuivano, questo sì. Ragionavano sul testo e a un certo punto gli venne un verso: 'I'd like to turn you on'. Mi piacerebbe eccitarti. Un momento, però: nessuno aveva mai usato parole così audaci, dirette e sfacciate dentro un pezzo di musica popolare. Non sarebbe stato azzardato? Ci pensarono un paio di secondi, giusto il tempo di strizzarsi un occhio e dirsi 'Vaffanculo, facciamolo'.
Eccome, se lo fecero. I Beatles potevano fare tutto, arrivati a quel punto. Lo sapevano loro, lo sapevano gli altri musicisti, lo sapeva tutto il mondo. E' da qui che bisogna partire, per rendersi conto di cosa ha significato Sgt. Pepper's. Ci sono passati una quarantina d'anni, ma ancora non lo si è capito completamente. Probabilmente perché è un errore cercare di capire un album del genere. E' lui che capisce te. Ed è altrettanto ovvio che un simile capolavoro poteva succedere non semplicemente e soltanto negli anni '60, ma soprattutto e particolarmente tra il 1967 e il 1968. Lì la cultura musicale e la controcultura sociale che stava esplodendo tra il vecchio e il nuovo continente vennero a contatto, ed esplosero letteralmente. Prima si erano soltanto annusate, si erano ascoltate a distanza coi vinili che attraversavano l'oceano sui transatlantici e poi, in un groviglio sempre più stretto e veloce, si mescolarono insieme in quella che superficialmente e rapidamente viene chiamata psichedelia. Acidi e sostanze in grado di aprire la mente: se si vuole uno stereotipo è la prima cosa che viene in mente quando si pensa alle influenze primarie di Sgt. Pepper's.
Sì, ma poi ci vuole comunque la mente di quei quattro per fare una cosa del genere. Per dire, ci vuole la mente di McCartney, sia pure espansa dall'acido, per pensare a un nome come Sgt. Pepper's Lonely Hearts Club Band per la sua band immaginaria e non è un caso che l'idea gli venne dopo un viaggio sulla West Coast statunitense, dove gli occhi e le orecchie gli si riempirono di colori che schizzavano da tutte le parti e nomi improbabili di orchestrine che giostravano su palchi davanti al Pacifico. Senza dimenticare che l'idea originale era di un concept album dal sapore liverpoliano, dedicato ai ricordi di infanzia dei quattro, per il quale un paio di pezzi erano già stati scritti:" Strawberry Fields Forever" e "Penny Lane", poi dirottate su 45 giri, tanto per ricordare quanto la prolificità del sole e la luna dei Beatles permettesse di sprecare 'tutta una serie di piccoli gioielli' (cit. George Martin) sul mercato dei singoli. Ci vuole la mente di Lennon, dicevamo, per farsi ispirare un pezzo come "Being For The Benefit Of Mr. Kite" dal manifesto di uno spettacolo circense dell'epoca vittoriana, scovato in un mercato delle pulci. O, rimanendo su "A Day In The Life", buttare in mezzo alle strofe la storia di un loro amico miliardario che imbottito di droga va a schiantarsi con la sua auto sportiva dopo avere letto la cronaca dell'incidente sul Daily Mail, proprio accanto a un trafiletto che diceva 'Ci sono 4000 buche sulle strade di Blackburn, nel Lancashire'.
Ci vuole la mente indianizzata di George Harrison per scrivere 'Potremmo salvare il mondo, se soltanto loro sapessero'. Dove quel 'se soltanto loro sapessero' è l'emblema dell'effetto che Sgt. Pepper's fece nel mondo. Perché per il resto della popolazione, in quel momento storico, quelli che sapevano veramente erano i quattro di Liverpool. Erano avanti. Venivano dal futuro proprio come quell'album a portare la parola, il verbo, la voce della musica all'apice dell'illusione che, davvero, la musica potesse cambiare il mondo e salvarlo. Quando uscì, Sgt. Pepper's fu trasmesso a manetta dalle radio di tutto il pianeta. Si organizzavano ascolti collettivi, seduti in religioso silenzio nei salotti o nelle sale da conferenza, perché i guru della musica stavano parlando con suoni e parole che nessuno aveva mai sentito prima. Bisognava solo lasciarsi guidare e ascoltarli, per fare in modo che anche noi comuni mortali potessimo finalmente sapere E' talmente complicato, Sgt. Pepper's, che per qualcuno non è nemmeno bello. E' talmente variegato che qualcun altro, come Brian Wilson dei Beach Boys, ci perse completamente il senno perché stava ancora elaborando come superare Revolver, l'album precedente, quando loro se ne vennero fuori con quella roba.
Di roba ce n'è talmente tanta che non si può comprimere in una spiegazione univoca. Ancora, è il disco che comprime te. Con la produzione fantascientifica di George Martin, la copertina ricca di indizi sulla presunta morte di Paul, con la cura maniacale dei dettagli al punto che Abbey Road sembrò trasformarsi in uno zoo (e se andate in rete è reperibile l'immagine del foglio che Geoff Emerick, il tecnico del suono, utilizzò per stabilire in che modo mettere in rotazione circolare i versi degli animali utilizzati per "Good Morning Good Morning"), con la scoperta che si può scrivere una canzone partendo da una poliziotta che ti fa la multa (Lovely Rita), l'acronimo LSD di "Lucy In The Sky With Diamonds" e l'improvvisa dolcezza carica di rimpianto di "She's Leaving Home", con la sua arpa e il suo 'la felicità è l'unica cosa che i soldi non possono comprare'. Ah già, i Beatles erano quelli dei testi sciocchini, confezionati per le ragazzine ingenue. Sì, ma qui c'è anche un'intensità di significati su cui ancora oggi si discute in ambito perfino accademico.
C'è "With A Little Help From My Friends" e provate a soffermarvi sul significato di una frase come 'Cosa vedi quando spengi la luce? Non saprei spiegarlo, ma so che è mio'. Vedete dove vi portano, le canzoni del Sergente Pepe eseguite dalla sua Banda dei Cuori Solitari. In un posto diverso ogni volta, sicuramente. Ancora a quella "A Day In The Life", probabilmente, con quel suo 'Mi piacerebbe eccitarti' sussurrato, ripreso dalle noti montanti di un'orchestra he doveva essere di 90 elementi e poi ridotta a 'soli' 45 che accompagnano l'orecchio verso l'amplesso uditivo e quel mi maggiore finale, un orgasmo prodotto da tre pianoforti suonati all'unisono. Non è più musica. E' arte alta, di quella con la maiuscola, e diventa accessibile a ogni strato sociale. Non più solo agli adolescenti, non più solo agli appassionati di musica. E' di tutti, ed è per questo che entra nell'immaginario collettivo anche come 'la versione Novecentesca della musica classica'. Sgt Pepper's non venne solo per esserci, ma per rimanere. E infatti è ancora qui, adesso. E siccome anche nel 2011 potrebbe venire dal futuro, rimane misterioso come sia potuto venire alla luce nel 1967.
Cambia proprio la storia, in quel momento. Quei quattro lo sapevano prima. Anche loro non furono più gli stessi, dopo. Da bravi ragazzi da sposare a pericolosi capelloni da censurare perché i loro testi facevano allusioni troppo evidenti alle droghe e al sesso. Dall'ottimismo smisurato di quella che poi sarebbe diventata l'Estate dell'Amore, nel 1967, ai tumulti tempestosi del 1968 che era alle porte. Tornate alla fine di "A Day In The Life", dopo il mi maggiore, e ascoltate quel terrificante scricchiolio, poi noto come The Inner Groove, un loop inciso nel solco alle fine della facciata che scorre ad libitum fino a quando la puntina non viene sollevata dal vinile. E una voce che dice 'Never could be any other way'. Non potrebbe andare diversamente. Quasi come se i Beatles, benché volessero semplicemente occupare tutti gli spazi disponibili nel tentativo di essere quanto più innovativi, sapessero cosa stava per succedere nei mesi successivi. Al mondo e a loro stessi.
Ma questa è cronaca successiva. George Harrison spiegò che aveva poca memoria di quei giorni, perché 'chi ha vissuto davvero negli anni '60 non se li può ricordare'. Qualcosa di simile lo disse anche Lennon, quando gli fu chiesto di ricordare le fasi della registrazione dell'album. Ecco un altro paradosso. Che un lavoro del genere dovrebbe essere come i mobili Ikea, con le istruzioni passo passo per capire come è possibile realizzarlo. E invece nemmeno chi l'ha costruito sapeva ricordare come ci era riuscito. Troppo semplicistico ridurlo a un semplice stordimento da droghe e vita da rockstar. Forse viene veramente dal futuro.
«Turn off your mind, relax and float downstream»
On thirteen albums, the seventh is the center of the course, ideal turning point of the Fab Four's career, and music throughout.
Still makes us smile to hear the detractors of the Beatles accusing them of "simplicity" or "lightness", talking about this or that group when it comes to experimentation and innovations to pop.
Just listen to the last track of Revolver, that "Tomorrow Never Knows" which was actually the first one recorded on the album, to understand how much the four 25 year old guys were just ahead.
Vocals recorded in the weirdest ways, modal one-chord track, loops of any kind included in the mix, with pieces of tape played backwards. There is everything you could only imagine at the time, and much more.
The cover is another small miracle, after the distorted faces of Rubber Soul, here is the famous drawing by Klaus Voorman, an artist friend of the band since the days of their concerts in Hamburg.
It must be said that more and more you can appreciate the importance of the producer, George Martin has for many a dark role, it seems almost absent, but had an open mind and a past that helped him to relate to new demands imposed by the band. He was equally prepared to cut tapes and build loops, or to arrange in an excellent way a string section as he did on "Eleanor Rigby. "
Let's go on with the usual game, inserting the singles not included in the album, here's that two pearls left out appear as if by magic in the tracklist, if you don't like the order change it as well, it's just for fun. Can Revolver be even more beautiful than it actually is? If you add "Paperback Writer" and "Rain", the answer is definitely yes.
1.     Taxman (Harrison)
2.     Eleanor Rigby
3.     I'm Only Sleeping
4.     Love You To (Harrison)
5.     Paperback Writer
6.     Here, There and Everywhere
7.     Yellow Submarine
8.     She Said She Said
9.     Good Day Sunshine
10.   And Your Bird Can Sing
11.   For No One
12.   Doctor Robert
13.   Rain
14.   I Want to Tell You (Harrison)
15.   Got to Get You into My Life
16.   Tomorrow Never Knows
Although we already defined Rubber Soul as the turning point album, this work probably gives the most significant steering, and the opening track, signed by Harrison, says a lot, if only for the fact that the other two had left him the honor of opening the dance.
While those who now sings solo has often written much of the song (although we know that this is not always completely true), the opening sequence is impressive for quality and freshness, "Eleanor Rigby" by Paul and "I'm Only Sleeping" by John, closely followed by another piece with an Indian mood signed by George, is an hard to forget entry. How hard to forget is the rest of the album, needless to mention all the songs as they are too numerous and too interesting.
We can say that the psychedelic mood of "Rain" (though not on the album), "She Said, She Said" and the aforementioned "Tomorrow Never Knows" is an essential key to understand the album, like the beautiful melodies of "Here, There and Everywhere" and "For No One ", or the catchy grooves of "Paperback Writer" and "Got To Get You Into My Life", everything is assembled ​​in a perfect mosaic, colorful, masterfully composed. The album still sounds modern today, we can just imagine what could trigger in the minds of listeners back then.
This is the highest level that a band can aspire, few records in the '900 marked pop music as this, the four formed a perfect team with their producer and sound engineers, everyone was ready to satisfy even the most bizarre of demands of musicians.
Like John, who wanted to be hanging from the ceiling swinging in front of the microphone to simulate the Leslie effect! Or as the real-time mixing of several loops that made ​​up "Tomorrow Never Knows", mix edited by several engineers at the same time, each one on a machine, with the Beatles ready to raise this or that fader. The stories are a lot and you can find them on the best known books available on the market, reading what happened in the studio in those years is really interesting, even not being musicians.
Electric guitar
The guitar retains a key role, the distorted sounds, though still contained, came more and more as a part of the picture, the parts are written with more attention, just listen to the two harmonized guitars on the beautiful "And Your Bird Can Sing."
There is no doubt that a song like "She Said, She Said" with its distorted guitars and the sound so characteristic has had a fundamental influence on modern Brit-pop groups, bands like Oasis have never hidden their admiration for The Beatles.
"Taxman"is literally full of guitars with Paul playing the main solo, "I'm Only Sleeping" has guitars played normally but the tapes were played backwards; "Doctor Robert" has a nice riff and on "Tomorrow Never Knows" what appear to be birds singing are actually guitars with the tape played backwards!
Acoustic guitar
There isn't great use of acoustic six-strings on Revolver, it's usually strummed parts that help the rhythm section of the song, as on "Yellow Submarine".
Arrangements
The question becomes pretty complex, we are no longer in the presence of the live-band counting four and playing and then recorded, every single note is worked out and finally set on tape, not everything is as spontaneous as it sounds, as evidenced by the very different versions of many songs we can hear today on bootlegs and on collections like The Beatles Anthology.
Although many pieces are built upon the usual bass-drums rhythm section enriched by the guitars, these are played in a more articulated way, just listen to "She Said, She Said" or "And Your Bird Can Sing." Guitars are completely absent on "Good Day Sunshine", which is dominated by Paul's piano, he shows off his influences coming from the music of the early decades of the century, it will happen again in the future. Almost needless to emphasize the beauty of "For No One" with the French horn solo or "Eleanor Rigby" with strings to accompany the voice.
Vocals
There is no song that is not embellished with backing vocals, with a harmonized answer to the lead singer, or with always different choirs. From the light "ooohs" on "Here, There And Everywhere" to the ironic verses on "Taxman", each song has a more or less important vocal part.
---
Winston's Thoughts
---
by Davide Canazza
In 1966 the Beatles made their last live tour. On 29 August, at Candlestick Park in San Francisco, they held their last concert and then they devote themselves permanently to their music in studio.
The main reason to quit the live gigs was the difficult to hear themselves on stage; actually they could play anything that the audience wouldn't have distinguished any sound because the noise made by thousands of screaming girls. I feel bound to recognize that the new songs were increasingly elaborate and full of new musical instruments and therefore it was very hard to reproduce them on stage with the technology of that time and it was not conceivable for Beatles management the live contribution of additional external players.
It isn't a coincidence that any Revolver's song was then inserted into the tracklist of that tour; among the new compositions they played only the single hit "Paperback Writer" while they proposed some 1964 hit again.
We can say that Revolver is just like the continuation of Rubber Soul. It sounds richer and it presents a great variety of musical instruments, but Soul music is turning into psychedelia. If Rubber Soul was Motown, in Revolver you can feel San Francisco spirit coming up: from the Midwest to the Westcoast with flavors of Orient.
California wind is heard in "Doctor Robert" (the main character of the song is a californian doctor) and in "And your bird can sing" where the guitars play a riff that recalls other Byrds!
Harrison improved his sitar study: you can fell the Indian influences in his "Love You To" – the whole song is played with eastern musical instruments – and even in the guitars on "I'm Only Sleeping" and "Tomorrow Never Knows". In this last Lennon's song the voice passes through a Leslie, but according to his original idea, John was to be tied by the legs, hanged upside down as he sang and recorded while spinning around a microphone inside Abbey Road studio 2!
McCartney writes the track we can consider a bridge between this and the previous album: "Got To Get You Into My Life" is pure soul, with a brass section in Stax style. There is also one of the most beautiful songs the Beatles bass player ever wrote, maybe "the best" (according with sir Paul's word): "Here, There And Everywhere".
Harrison signs three songs: the aforementioned "Love You To", the LP opening track Taxman in wich Paul performs an original guitar solo and "I Want To Tell You".
From the instrumental point of view there are a lot of news. Two Fender Showman amps (head and cabinet with a single JBL 15″ speaker), practically the piggieback version of the Twin Reverb amp, arrived at Abbey Road in the spring of 1966, while VOX provided them with two brand new 7120 guitar amplifiers (120-Watt) and a 4120 for the bass accompanied by three 4×12 cabinet (both models had a solid state preamplifier section and tubes powered).
Even among the guitars there are important new arrives. First of all, both John and George buy an Epiphone Casino, guitars they brought on tour too. Harrison also uses a new Gibson SG with Vibrola tremolo which supports the Stratocaster on the recording sessions.
Lennon, finally give the Rickenbacker 325 up and uses as well the Casino and a Gretsch 6120 Nashville on "She Said, She Said" and perhaps in "Rain" and "Paperback Writer".
In the studio McCartney now seems to prefer the Rickenbacker 4001 bass; a new right handed bass guitar, a Burns Nu-sonic, is now avaible for Harrison too as you can see in some shot from the "Paperback Writer – Rain" recording sessions.
---
I Saw The Beatles Live – 3
---
By Dennis Conroy
At a time when Liverpool was teeming with "beat groups", what was it that put the Beatles at the top of the pile attracting the attention of, the owner of a record store in the centre of Liverpool; a record label, who's owner's EMI considered a "joke" only to be used for EMI's "insignificant acts"; a talented producer who's work prior to the Beatles had included recording, The Goons and My Boomerang Won't Come Back?
These three factors hardly fit into todays X – Factor type conveyor belt of rags to multi-million pound riches on a global scale, for every bedroom/karaoke singer who sells their soul to a Simon Cowell of the world. And while I have no wish to diminish the undoubted contribution made by the three, let know one tell you the Beatles would not have made it without them. They would have. But the world of popular music in the early sixties was a very different place then to what we know now.
Ok, why the Beatles? To really understand my answers you would need to have sat or stood with me on numerous occasions in the Cavern almost fifty years ago.  The nearest you'll get to that is to listen to the following. The Beatles Live at the Star-Club –Hamburg Germany 1962 and The Beatles Live at the BBC . These recording are vital for anyone researching the Beatles music. The cultural and social significance of the Beatles is another issue.
Anyway the answer is simple. The Beatles could sing, play their instruments, had attitude, looked great and were unbelievably exciting. Oh, and they could write a decent tune.
Let's go through the above six factors.
1. The Beatles could sing
The Beatles had two outstanding vocalists in John Lennon and Paul McCartney.  In those early days George Harrison was a competent singer, whose vital contribution to the Beatles vocal harmony sound can not be overstated. George went on to develop as an excellent lead vocalist in his own write.
Paul possessed two voices, the screaming rock n roller on the likes of "Hippy Hippy Shake" and the crystal clear romantic lead on songs like "A Taste Of Honey". John Lennon had one of the great rock n roll voices of all time; a fact, which we found out later, escaped John at the time. A John Lennon vocal can be identified as easily as an Elvis, Little Richard and Ray Charles vocal can.
2. The Beatles could play their instruments
The range of cover versions on the two recommended albums show what highly competent musicians the Beatles were at a very young age. Pete Best must be included here as there was no noticeable difference to the groups sound and delivery after he was replaced by Ringo Starr.
George's many and varied instrumental breaks on covers were the forerunner to him, in his post Beatle years, being recognised by his peers as one the world's most creative musicians and writers.  John's driving rhythm guitar providing the perfect bed for Georges lead guitar while Paul McCartney's bass playing alone would win him a place in any band.
3. The Beatles had attitude
The Beatles Cavern stage show was one to behold. Unusual for the time the Beatles had built up a following of both male and female fans. They were supremely confident in their position as Liverpool's top group. When they had finish a lunchtime session at the Cavern you could often see them walking through the city centre as a group, looking ultra cool and consciously aware of the attention that followed them. They oozed rock n roll. Not for them the insipid British take on American music in an era proliferated by pop stars with names like, Cliff, Marty and Adam whose desire was to become "all round family entertainers" The Beatles sort and found parity with their American heroes.
(3- to be continued)

«Turn off your mind, relax and float downstream»
Su tredici album, il settimo è al centro del percorso, ideale punto di svolta, giro di boa della carriera dei Fab Four, e della musica tutta.
Fa sorridere sentire parlare i detrattori dei Beatles tacciandoli di "semplicità" o "leggerezza", parlando invece di questo o quel gruppo quando si tratta di sperimentazione e innovazioni apportate al pop.
Basterebbe ascoltare l'ultima traccia di Revolver, quella "Tomorrow Never Knows" che fu in realtà la prima del disco ad essere incisa, per capire quanto gli allora appena 25enni fossero avanti.
Voce ripresa nei modi più strani, brano su un solo accordo, praticamente modale, loop di ogni tipo inseriti nel missaggio, pezzi di nastro con suoni al contrario. C'è tutto quello che allora si poteva solo immaginare, e molto di più.
La copertina è un altro piccolo miracolo, dopo i volti distorti di Rubber Soul, ecco il celebre disegno di Klaus Voorman, artista amico della band dai tempi dei concerti di Amburgo.
Va anche detto che sempre più si può apprezzare l'importanza del produttore, George Martin ha per molti un ruolo oscuro, sembra quasi assente, ma aveva una mente aperta e un passato che lo aiutò poi a relazionarsi con le novità imposte dalle richieste della band. Era allo stesso modo disposto a tagliare nastri per costruire loop, come ad arrangiare in modo eccellente sezioni di archi come fece su "Eleanor Rigby".
Continuiamo il consueto gioco, inserendo i singoli non inclusi negli album, ecco che due perle rimaste fuori appaiono come per magia in scaletta, a nostro piacere, se non vi piace l'ordine cambiatelo pure, tanto è finto. Può Revolver essere addirittura più bello di quanto non sia? Se si aggiungono "Paperback Writer" e "Rain" la risposta è decisamente si.
1.    Taxman (Harrison)
2.     Eleanor Rigby
3.     I'm Only Sleeping
4.     Love You To (Harrison)
5.     Paperback Writer
6.     Here, There and Everywhere
7.     Yellow Submarine
8.     She Said She Said
9.     Good Day Sunshine
10.   And Your Bird Can Sing
11.   For No One
12.   Doctor Robert
13.   Rain
14.   I Want to Tell You (Harrison)
15.   Got to Get You into My Life
16.   Tomorrow Never Knows
Sebbene avessimo già definito Rubber Soul l'album della svolta, è con questo lavoro che probabilmente si ha la sterzata più significativa, e il brano di apertura, firmato Harrison, la dice lunga, già solo per il fatto che gli altri due avessero lasciato a lui l'onore di aprire le danze.
Se è vero che oramai chi canta da solista ha spesso scritto gran parte del brano (anche se sappiamo che la cosa non è mai reale fino in fondo), la sequenza iniziale è impressionante, per qualità e freschezza: "Eleanor Rigby" di Paul e "I'm Only Sleeping" di John, seguite a ruota da un altro pezzo in chiave indiana firmato da George, sono un'entrata difficile da dimenticare. Come difficile da dimenticare è il resto dell'album, inutile citare tutti i brani, sono troppi e troppo interessanti.
Possiamo però dire che la vena psichedelica di "Rain" (anche se non presente sul disco), "She Said, She Said" e la già citata "Tomorrow Never Knows" è una chiave di lettura essenziale dell'album, come le bellissime melodie di "Here, There And Everywhere"  e "For No One", o i groove trascinanti di "Paperback Writer" o "Got To Get You Into My Life", tutto si compone in un mosaico perfetto, variopinto, magistralmente composto. Il disco suona moderno ancora oggi, immaginiamo cosa potesse scatenare allora nella mente degli ascoltatori.
Siamo ormai ai livelli più alti cui una band possa aspirare, pochi dischi nel '900 hanno segnato la musica quanto questo, i quattro formavano una squadra perfetta con il loro produttore e gli ingegneri del suono, ognuno era pronto ad assecondare anche la più bizzarra delle richieste dei musicisti.
Come quella di John, che volle farsi appendere al soffitto oscillando davanti al microfono per ricreare l'effetto Leslie! O come il missaggio in tempo reale dei molti loop che componevano "Tomorrow Never Knows", missaggio curato da molti tecnici allo stesso tempo, ognuno su una macchina, con i Beatles pronti ad alzare questo o quel volume. Gli aneddoti sono molti e si trovano sui testi più noti facilmente reperibili in commercio, andare a leggere ciò che accadde in studio in quegli anni è davvero interessante, anche non essendo musicisti.
Chitarra elettrica
La chitarra mantiene un ruolo fondamentale, i suoni distorti, anche se ancora contenuti, entrano sempre più a far parte del quadro, le parti sono scritte con maggior attenzione, basti ascoltare le due linee di chitarra armonizzate sulla splendida "And Your Bird Can Sing".
È fuori di dubbio che un brano come "She Said, She Said" con le sue chitarre distorte e il sound così caratteristico abbia avuto un influsso fondamentale sul brit-pop dei nostri gironi, gruppi come gli Oasis non hanno mai nascosto la loro ammirazione per i Beatles.
"Taxman" è letteralmente piena di chitarre con Paul che suona l'assolo principale, "I'm Only Sleeping" ha parti di elettrica con i nastri suonati al contrario; "Doctor Robert" ha un bel riff portante, su "Tomorrow Never Knows" quelli che sembrano canti di uccelli sono in realtà chitarre elettriche con il nastro mandato al contrario!
Chitarra acustica
Non c'è grande utilizzo di sei corde acustiche su Revolver, in genere sono parti ritmiche che aiutano la sezione ritmica del brano, come su "Yellow Submarine".
Arrangiamenti
Il discorso si fa molto complesso, non siamo più in presenza della live-band che attaccava a suonare e veniva registrata, ogni singola nota è pensata, provata e infine fissata su nastro, non tutto è così spontaneo come potrebbe sembrare, come dimostrano le versioni anche molto diverse degli stessi brani che oggi possiamo ascoltare sui molti bootleg e sulle raccolte The Beatles Anthology. Nonostante molti brani abbiano come base la consueta sezione ritmica basso-batteria arricchita dalle chitarre, proprio queste ultime sono suonate in maniera più articolata, basti ascoltare "She Said, She Said" o "And Your Bird Can Sing". Sono del tutto assenti su "Good Day Sunshine", dominata dal piano di Paul, che sfoggia la sua vena legata alla musica dei primi decenni del secolo, vena ripresa in futuro. Quasi inutile sottolineare la bellezza di "For No One" con il solo di corno francese o di "Eleanor Rigby" con gli archi ad accompagnare la voce.
Voci
Non c'è canzone che non sia impreziosita da una doppia voce, da una risposta armonizzata al solista, o da cori sempre diversi. Dal leggero tappeto su "Here, There and Everywhere" agli ironici versi di risposta su "Taxman", ogni brano ha un intervento più o meno importante.
---
I pensieri di Winston
---
di Davide Canazza
Il 1966 è l'anno anno in cui i Beatles fecero l'ultimo tour. Il 30 agosto, al Candlestick Park di San Francisco tennero il loro ultimo concerto per poi dedicarsi definitivamente alla musica in studio.
La motivazione principale era difficoltà di sentirsi sul palco, il fatto che potessero suonare qualsiasi cosa che tanto il pubblico non avrebbe distinto alcun suono a causa del chiasso fatto dalle migliaia di ragazzine urlanti. A ciò è doveroso aggiungere che le nuove composizioni erano sempre più elaborate e ricche di strumenti e quindi impossibili da riproporre sul palco con i mezzi dell'epoca e non era concepibile servirsi di strumentisti aggiuntivi.
Non è un caso che nessun pezzo di Revolver fosse quindi inserito nella scaletta di quel tour; delle nuove composizioni compariva solo il singolo "Paperback Writer", mentre venivano riproposti addirittura hit del 1964.
Revolver è un po' la continuazione di Rubber Soul. Sonorità più ricche, varietà di strumenti. Ma il soul si sta trasformando in psichedelia. Se Rubber Soul era la Motown, in Revolver si preannuncia la San Francisco che verrà, dal Midwest alla Westcoast con sapori d'oriente.
Il vento della California lo si ascolta in "Doctor Robert" (californiano è proprio il protagonista della canzone) e in "And Your Bird Can Sing" dove le chitarre eseguono un riff che ricorda altri Byrds!
Harrison ha approfondito lo studio del sitar: oltre alla sua "Love You To", tutta suonata con strumenti orientali, le influenze indiane si sentono anche nelle chitarre di "I'm Only Sleeping" e "Tomorrow Never Knows". In quest'ultimo brano la voce di Lennon passa attraverso un Leslie, ma secondo la sua idea originale avrebbe dovuto essere legato per le gambe, appeso a testa in giù e poi registrato mentre cantava volteggiando per lo studio 2 di Abbey Road ruotando intorno a un microfono!
McCartney firma il pezzo ponte tra questo e l'album precedente: "Got To Get You Into My Life" è soul puro, con una sezione di ottoni da far invidia alla Stax. Ma sua è anche una delle più belle canzoni che il bassista dei Beatles abbia mai scritto, forse "la migliore" (anche a detta sell'autore stesso): "Here, There And Everywhere".
Harrison scrive addirittura tre brani: oltre alla già citata "Love You To", entrano nell'LP anche "I Want To Tell You" e "Taxman", pezzo d'apertura con un originalissimo assolo di chitarra eseguito da Paul!
Dal punto di vista strumentale ci sono un sacco di novità. Arrivano due amplificatori Fender Showman (cassa con un cono JBL da 15″), praticamente la versione piggieback del Twin, mentre la Vox fornisce loro due nuovissimi 7120 da 120 Watt per le chitarre e un 4120 per il basso corredati da cassa 4×12 (entrambi i modelli avevano il preamplificatore a stato solido e il finale a valvole).
Anche tra le chitarre ci sono importanti novità. Innanzitutto John e George acquistano una Epiphone Casino ciascuno, strumenti che li seguiranno in tour. Harrison utilizza anche una nuova Gibson SG con tremolo Vibrola a cui affianca la Stratocaster.
Lennon, abbandonata definitivamente la Rickenbacker 325, in studio, oltre alla Casino, utilizza una Gretsch 6120 Nashville in "She Said, She Said" e forse in "Rain" e "Paperback Writer".
McCartney in studio sembra ora prediligere il basso Rickenbacker 4001 e un basso destro, un Burns Nu-sonic viene utilizzato da Harrison durante alcune session relative all'album e al singolo "Paperback Writer – Rain".
---
Ho visto i Beatles dal vivo – 3
---
di Dennis Conroy
In un'epoca in cui Liverpool era piena di "gruppi beat", cosa è stato che ha messo i Beatles in cima al mucchio attirando l'attenzione del proprietario di un negozio di dischi nel centro di Liverpool, di una casa discografica londinese che all'inizio li considerava inutili, di un produttore di talento il cui lavoro prima dei Beatles aveva incluso la registrazione dei Goons e "My Boomerang Won't Come Back"?
Questi tre elementi difficilmente rientrano nei parametri odierni governati da fattori tipo i noti show televisivi alla X-Factor, dove produttori televisivi senza scrupoli e con un potere enorme riescono a tramutare dei non-musicisti in star (apparentemente) di prima grandezza. Con questo non vogliamo sminuire il lavoro dei tre, ma il loro ruolo allora era molto differente da quello dei produttori e dei manager di oggi. Il mondo della musica pop nei primi anni sessanta era un posto molto diverso allora da quello che è oggi.
Ok, perché i Beatles? Per capire veramente le mie risposte avreste bisogno di essere stati seduti o in piedi con me in numerose occasioni al Cavern quasi cinquanta anni fa. Il modo di avvicinarvi di più è quello di ascoltare The Beatles Live at the Star-Club – Amburgo 1962 e The Beatles Live at the BBC . Queste registrazioni sono di vitale importanza per qualunque ricerca sulla musica dei Beatles. Il significato culturale e sociale dei Beatles è un altro problema.
In ogni caso la risposta è semplice. I Beatles sapevano cantare, suonare i loro strumenti, avevano l'atteggiamento giusto, avevano un look fantastico ed erano incredibilmente emozionanti. Oh, e sapevano scrivere una canzone decente.
Passiamo ai sei fattori.
1. I Beatles sapevano cantare
I Beatles avevano due incredibili cantanti in John Lennon e Paul McCartney. A quei tempi George Harrison era un cantante passabile, il cui fondamentale contributo alle armonie vocali dei Beatles non può essere sottovalutato. George continuò a migliorare e fu un cantante eccellente delle sue canzoni. Paul aveva due voci, l'urlatore rock'n'roll di "Hippy Hippy Shake" e il romantico cristallino di "A Taste Of Honey". John Lennon aveva una delle più belle voci rock'n'roll di sempre, c'era qualcosa, come scoprimmo in seguito, che sfuggiva a John a quel tempo. Una canzone cantata da lui era facilmente identificabile come una di Elvis, Little Richard o Ray Charles.
2. I Beatles sapevano suonare
I diversi stili suonati nei due album suggeriti sopra dimostrano quanto i Beatles sapessero suonare bene ad un'età così giovane. Pete Best dovrebbe essere citato anche perché il sound del gruppo non cambiò in maniera particolare dopo che fu sostituito da Ringo Starr. I molti e diversi break strumentali di George furono quelli che, al termine della carriera con i Beatles, lo fecero riconoscere come uno dei più creativi e influenti chitarristi del mondo. Le ritmiche suonate da John erano il terreno perfetto per le parti soliste di George, mentre già solo il modo di suonare il basso che aveva Paul gli sarebbe valso il posto in qualunque band.
3. I Beatles avevano il giusto atteggiamento
Il loro  spettacolo ai tempi del Cavern era da vedersi. Inusuale per il tempo era che i Beatles si fossero costruiti un seguito sia maschile che femminile, erano incredibilmente a loro agio con la loro posizione di miglior band di Liverpool.
Dopo aver terminato un concerto all'ora di pranzo li si poteva vedere camminare per le vie del centro come un gruppo, vestiti in maniera super-figa e assolutamente consapevoli dell'attenzione che li seguiva. Trasudavano rock'n'roll. Non era per loro lo scialbo modo dei cantanti inglesi che proliferavano allora, nomi come Cliff, Marty e Adam aspiravano a diventare intrattenitori di famiglie. I Beatles arrivarono a confrontarsi e vincere con i loro eroi americani.
(3- continua)
«Is there anybody going to listen to my story»
When the going gets tough, the tough start to play. And if the tough answer to the names of the Fab Four, the game can be really hard.
Rubber Soul came out four months after Help!
The article could also end up here.
Their sixth album is the first for which the boys took a real break, a month in the studio with no hassle, just work closely related to the new release. And to say that 'it's hearable' is an understatement. We probably already defined Help! the turning point album, but thinking about it, and thinking about what we will analyze in the coming months, Rubber Soul may be considered a true bridge between the Beatles 'before' and 'after', a link between the first part of their musical life and the second, which will lead them straight to notes' Olympus.
So little time had passed since the fifth album, they didn't even have time to release the usual single before the sixth LP. The 45 came out the same day of the album, but they let it out of it, as always: so today two absolute masterpieces like "Day Tripper" and "We Can Work It Out " are not on any Beatles album!
Those who followed us up here know that we are about to launch in the usual game, let's see how one of the most important recordings in pop's history would be if the left out single was in the tracklist (we wanted to leave out "Run for Your Life", a song John Lennon said he hated, but we couldn't, do it yourself):
"Day Tripper"
"Drive My Car"
"Norwegian Wood (This Bird Has Flown)"
"You Won't See Me"
"Nowhere Man"
"The Word"
"Michelle"
"What Goes On" (Lennon-McCartney-Starkey)
"Think for Yourself" (Harrison)
"Girl"
"We Can Work It Out"
"I'm Looking Through You"
"In My Life"
"Wait"
"If I Needed Someone" (Harrison)
"Run for Your Life"
Here's an LP that has been placed among the top 10 or 40 or 100 most important records of '900 (depending on who compiled the rankings) becomes even more beautiful.
Games aside, we are here to reflect on the work of the band, especially on a disk that was a turning point, not only in their careers, but for pop music as a whole. Even if in fact we realize that these words might be used for each future release of the band: everyone was a swerve and a significant breakthrough. Not to mention the quality.
What is certain is that the lyrics, even before the music and the arrangements, show that Lennon and McCartney are growing, artistically and humanly: they are no longer kids and their need to say different things, encouraged by the musical world surrounding them, can be clearly heard.
So "Norwegian Wood" and "Girl" talk about a love gone wrong. "In My Life" is a wonderful and nostalgic reflection on the past (made by a 25 year old!) and "Nowhere Man" introduces an entirely new type of character, apparently unrelated to their world.
The sound is more mature, choices are more rational, we start to hear that recording is no longer a way to fix things already existing but to create new, unexpected. So the sitar makes an appearance on "Norwegian Wood" and become a characteristic sound of the '60s, and rock'n'roll that followed them from the beginning is, for the first time, virtually absent.
Not to mention the two wonderful Lennon ballads, "In My Life" and "Girl", the first topped by a superb George Martin solo on piano, played at half speed and then sped up in the mix, the second with an interesting feature: Lennon's breath (inspiring and inspired) following the line «Ah girl» on the chorus is innovative and brave at the same time – could potentially make ridiculous a very intense verse, so it was not.
---
Only for Fingerpicking.net
---
Acoustic guitar is always present: "Michelle" certainly stands out on all the other parts, it's played by Paul and got into the legend through the front door. Hardly a song introduction was most appropriate, immediate and engaging.
Even "Norwegian Wood" is heavily marked by an unplugged sound, with the sitar and the acoustic steel-string, and the other Lennon's ballad, "Girl", sees an acoustic leader played with a capo at eighth fret (the song is in E-flat, but the guitar sounds in this way with the positions of G) and two other guitars that come on to play the final part before the last chorus. "I'm Looking through You" and "Run for Your Life" are both supported by the acoustics played in strumming, powerful and determined as ever happened from the beginning.
Arrangements
All the songs are under three minutes, only "You Won't See Me" is just a little longer: the era of psychedelia and of the never-ending sessions was starting but didn't touch their work, and will never do that, thankfully!
"Day Tripper" has a main riff played by guitar and bass in unison and an essential piano part answering to the voice. "We Can Work It Out" has a remarkable change of time on the bridge's ending. Paul McCartney builds bass lines that are real melodies below the vocals, listen to the bass guitar on "Nowhere Man" or "Michelle" to have a clear idea of how much his playing was crucial. On "The Word" he plays in R'n'B style holding the piece almost by himself, and at 1.15" of the song plays a lick worth of the best Jimi Hendrix!
Vocals
Background vocals are always present, supporting both the lead singer and the song. "You Won't See Me" and "Nowhere Man" are full of choirs, but it's hard to find a musical moment without supporting harmonies. Very well kwown are the «Beep beep mm, beep beep yeh!» on "Drive My Car" – the bluesy vocals are a trademark and almost every song has a harmonized part or answer to the singer.
---
Winston's Thoughts
---
by Davide Canazza
On the back cover of the first Beatles album was clearly written which was each member's role inside the band and what kind of musical instrument each one played: John on rhythm guitar, George on the lead, Paul on bass and Ringo on drums.
With Rubber Soul, cards are mixed and finally the Fab Four became completely interchangeable, if we consider that even Ringo is credited to play Hammond organ on "I'm Looking through You".
This LP is a real turning point, a border between the first and second Beatles period. And I must admit that this is also one of my favorites! Listening to this album, the atmosphere you can find is predominantly American, the sound is typical of the rhythm'n'blues, in fact it's called Rubber Soul! McCartney himself, in an old interview, had described it as «their tribute to the Motown»!
The arrangements are rich and varied, they used such different instruments that it became impossible to reproduce live most of the songs. In live shows that will follow, the Beatles will perform only two tracks off this album: "Nowhere Man" and "If I Needed Someone" in addition to the single tracks "Day Tripper" and "We Can Work It Out".
In studio they mainly played Hammond organ (an RT3 with a Leslie amp), harmonium, the Vox Continental Organ, the Hohner Pianet and two acoustic pianos, a Steinway grand and a Challen upright.
Meanwhile it ends the hegemony of Vox amplifiers. In the summer of 1965 a '63 Blonde Fender Bassman arrives at Abbey Road (a head and stack model, better known as Piggyback). Initially reserved for Paul, soon it will become Harrison's favorite amp and he will use it with the guitar throughout his career for most of his recordings.
---
Only for Fingerpicking.net
---
On
Rubber Soul
the acoustic guitars begin to find more and more space and it is no longer a simple rhythmic accompaniment. Lennon's guitar style heard on "You've Got To Hide Your Love Away" matures definitely on "Norwegian Wood." Here John doubles the vocal line with the guitar, he plays in E with the D chord shapes placing a capo at the second fret. Lennon's guitar is doubled by a 12-string acoustic played by Harrison, who also performs the sitar solo parts. Harrison plays the Indian instrument for the first time on this occasion, without knowing any rudiment, and his line was perfected after several attempts. This first experiment will start George's passion for Oriental music and in the following months he will take lessons from Ravi Shankar.
Lennon puts the capo on the second fret of his Gibson J-160 also for "Nowhere Man", and he plays the same guitar – with a capo on the eighth fret – on "Girl", a song in which George performs two solo parts with two different guitars: with a 12-string acoustic (John's Framus) he plays the solo in the middle (this solo is duplicated in final) and with a 6-string he performs a second solo inspired by the Greek music, so that it seems to be played with a bouzouki. The line was inspired by McCartney who a few weeks before had been on holiday just in Greece!
On "Michelle" acoustic guitars are played by John and George, while "I'm Looking Through You" intro is performed by Paul. In "We Can Work It Out" again we find Lennon on acoustic guitar; here he plays the harmonium too, while Harrison plays percussions.
---
I Saw The Beatles Live – 2
---
By Dennis Conroy
I had to tell the lovely Clare Kennedy that I hadn't seen this group she was talking about, while trying to maintain the coolness that my position as lead guitarist in The Premiers warranted.
I urged her to tell me all about them: did they have a lead singer like Elvis or Cliff? Did they play instrumentals like The Shadows? When she answered no to both questions I realised I had to check out this group with the strange name.
It is now almost fifty years since I took my first tentative steps into The Cavern and into the world down in that cellar which was ruled by The Beatles. I never kept diaries of when or how many times I saw The Beatles, or what they played on specific performances, so all I can give is my memory of random events, songs and happenings that I still hold dear, of five guys who changed not only my life in music but my life.
Coming out of the rain in Mathew Street, that much I do remember about my first visit on what was probably a Wednesday lunchtime, into entrance of the Cavern, I was struck by the feeling of expectation. Even now can I recall that feeling. I was with our bass guitarist, Alan Walton. We made our way down the steep, poorly lit slippery stone stairway to The Cavern, and about halfway down we heard them.
It was a sound, the likes of which I'd never heard before. The brick walls of The Cavern seemed to take hold of the sound of this yet unseen group (we called bands 'groups' in those days) and bounced it around its corners and up the stairway to greet us. I distinctly remember the harsh clanking sound of dry guitars (NO echo chambers) and drums hiding a muffled vocal. As we waited in line to pay, I think our one shilling and sixpence (about eight pence today), we could hear everything much clearer. I am pretty certain the group was playing "Red Hot (My Girl Is)".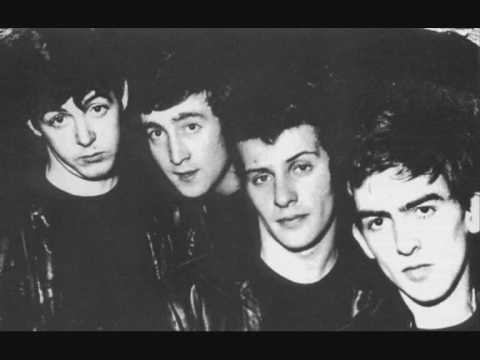 This video illustrates with period photos an audio clip, officially unreleased as a whole, that probably comes from the Hamburg Tapes recorded live at the Star Club
Eventually after what seemed an age, but was probably only the length of the group's opening number, we set eyes on The Beatles.
As we looked at the stage, to our left stood George with Paul in the centre, John to the right in front of a stand up piano and Pete on the drums behind. Amplifiers were on chairs behind John and George, with Paul's 'coffin' bass speaker on the raised drum section. The Beatles flouted the expected dress sense of the day for such performers by wearing a various assortment of shirts, jeans and Cuban heeled boots. At the time their hair seemed quite long but, looking back at photos of that period, they wore their hair quite short in comparison to what it would become.
This image of the four Beatles on stage was to us secondary to the music that was coming off the stage. Over the two year period I saw The Beatles at The Cavern that music was a mixture of the rockingest rock'n'roll you could ever imagine, some of the greatest Tamla/Motown tracks ever and songs as diverse as "Falling In Love Again", "A Taste of Honey", "Henry the Eight" as well as their own compositions, "P.S. I Love You", "Love Me Do" and "The Tip of My Tongue".
What I took away from that first visit to The Cavern to see The Beatles was a burning desire to change my whole attitude to the music I played and what I wanted out of music in my life. It was a life changing moment.
When Alan and I played our next gig, which was at the Chinese No. 1 in Berry Street, Liverpool, the group ties (our group's 'stage clothes') were left off and our shirt sleeves were rolled up. My echo chamber was only switched on for instrumentals.
Next – What they played, how they played, who they played with, what they said.
(1 – to be continued)
«Is there anybody going to listen to my story»
Quando il gioco si fa duro, i duri iniziano a giocare. E se i duri rispondono ai nomi dei quattro di Liverpool, il gioco può farsi duro sul serio.
Rubber Soul è uscito quattro mesi dopo Help!
L'articolo potrebbe anche finire qui.
Il loro sesto lavoro è il primo album per il quale i ragazzi si presero una vera pausa, un mese in studio senza scocciature, solo lavoro strettamente legato al prodotto in uscita. E dire che 'si sente' è poco. Abbiamo forse già definito Help! l'album della svolta, ma pensandoci su, e pensando a ciò che analizzeremo nei prossimi mesi, si può considerare Rubber Soul un vero e proprio ponte fra i Beatles 'prima' e 'dopo', un anello di congiunzione fra la loro prima parte di vita musicale e la seconda, quella che li condurrà direttamente nell'Olimpo delle note.
Era passato talmente poco dal quinto disco, che non ebbero neanche il tempo di far precedere il sesto dalla consueta uscita del singolo. Il 45 uscì nel medesimo giorno, ma si guardarono bene dall'inserirlo nell'album, come sempre: ecco quindi che due capolavori assoluti come "Day Tripper" e "We Can Work It Out" non sono su nessun long playing dei Beatles!
Chi ci ha seguiti fino a qui sa che stiamo per lanciarci nel consueto giochetto, vediamo come sarebbe uno dei più importanti dischi della storia del pop se in scaletta ci fosse anche il singolo pubblicato a parte (volevamo lasciar fuori "Run For Your Life", brano che Lennon ha dichiarato di odiare, ma non ce la siamo sentita, fatelo voi):
"Day Tripper"
"Drive My Car"
"Norwegian Wood (This Bird Has Flown)"
"You Won't See Me"
"Nowhere Man"
"The Word"
"Michelle"
"What Goes On" (Lennon-McCartney-Starkey)
"Think for Yourself" (Harrison)
"Girl"
"We Can Work It Out"
"I'm Looking Through You"
"In My Life"
"Wait"
"If I Needed Someone" (Harrison)
"Run For Your Life"
Ecco che un LP inserito fra i primi 10 o 40 o 100 dischi più importanti del '900 (a seconda di chi compilasse la classifica di turno) diventa ancora più bello.
Giochi a parte, siamo qui a riflettere sul lavoro della band, in particolare su quello che è stato un punto di svolta, non solo nella loro carriera, ma per la musica pop nel suo complesso. Anche se in effetti ci rendiamo conto che queste parole le potremo usare per ogni singola uscita futura della band: ogni volta una sterzata e un'innovazione significativa. Per non parlare della qualità.
Certo è che già dai testi, prima ancora che dalla musica e dagli arrangiamenti, si capisce che Lennon e McCartney stanno crescendo, artisticamente e umanamente: non sono più ragazzini e la loro necessità di dire cose diverse, stimolati dal mondo musicale circostante, si fa sentire.
Ecco che "Norwegian Wood" e "Girl" parlano di amori andati male, "In My Life" è una meravigliosa e nostalgica riflessione sul passato (fatta da un venticinquenne!) e "Nowhere Man" introduce una tipologia di personaggio del tutto nuova, apparentemente estranea al loro mondo.
Il sound è più maturo, le scelte più ragionate, si inizia a sentire che la registrazione non è più un modo per fissare cose già esistenti ma per crearne di nuove, inaspettate. Così il sitar fa la sua comparsa su "Norwegian Wood" e diventerà un suono caratteristico degli anni '60, e il rock'n'roll che li accompagnava dagli esordi è, per la prima volta, praticamente assente.
Per non citare le due meravigliose ballad a firma di Lennon, "In My Life" e "Girl", la prima condita da un superbo assolo di George Martin al piano, suonato a metà velocità e poi raddoppiato in fase di missaggio, e la seconda dotata di una caratteristica interessante: il respiro (inspirato e ispirato) di Lennon che segue il verso «Ah girl» sul ritornello è innovativo e coraggioso allo stesso tempo; potenzialmente poteva rendere ridicolo un verso molto intenso, così non è stato.
---
In esclusiva per Fingerpicking.net
---
Chitarra acustica sempre molto presente: su tutte le parti spicca sicuramente quella di "Michelle", suonata da Paul ed entrata nella leggenda dalla porta principale. Difficilmente l'introduzione di una canzone è risultata più giusta, immediata e coinvolgente.
Anche "Norwegian Wood" è pesantemente connotata da caratteristiche unplugged: fra chitarra e sitar il mondo è quello acustico; e l'altra ballata lennoniana, "Girl", vede un'acustica portante suonata con un capo all'ottavo tasto (il brano è in Mi bemolle ma il chitarrista in questo modo suona le posizioni di Sol) e altre due chitarre che entrano sul finale a suonare la parte che precede l'ultimo ritornello. "I'm Looking Through You" e "Run For Your Life" sono entrambe sorrette dall'acustica suonata in strumming, potente e deciso come sempre accadeva dall'inizio.
Gli arrangiamenti
Tutte le canzoni sono sotto i tre minuti, la sola "You Won't See Me" li supera di poco: l'era della psichedelia e delle interminabili session stava iniziando ma non sfiorava minimamente il loro lavoro, e non lo farà praticamente mai, per fortuna!
"Day Tripper" vede un riff portante suonato da chitarra e basso all'unisono e una essenziale parte di piano rispondere alla voce. "We Can Work It Out" ha un cambio di tempo a chiusura del bridge davvero notevole. McCartney costruisce vere e proprie melodie sotto le voci, ascoltate il basso su "Nowhere Man" o "Michelle" per avere un'idea chiara di quanto il suo playing fosse decisivo. Su "The Word" suona in pieno stile R'n'B reggendo il pezzo quasi da solo, e a 1.15" regala una frase degna del miglior Jimi Hendrix!
Le voci
Presenza costante dei vocalist su praticamente ogni traccia, a supporto del cantante e del brano. "You Won't See Me" e "Nowhere Man" sono davvero ricche di cori fondamentali per l'arrangiamento, ma si fatica a trovare un momento di musica che ne sia sguarnito. Celebri i « Beep beep mm, beep beep yeh!» di "Drive My Car", i cori dal sapore bluesy come la canzone stessa sono un marchio di fabbrica e quasi ogni brano ha una doppia voce o una risposta al solista.
---
I pensieri di Winston
---
di Davide Canazza
Sul retro del primo album dei Beatles c'era chiaramente scritto quale fosse il ruolo e lo strumento di ciascun membro della band: John alla chitarra ritmica, George alla solista, Paul al basso e Ringo alla batteria.
A partire da Rubber Soul le carte si mescolano definitivamente e i quattro diventano intercambiabili: versatilità a 360° se si considera che anche Ringo viene accreditato all'organo Hammond su "I'm Looking through You".
Questo LP è un vero e proprio giro di boa, il confine tra quelli che vengono considerati il primo e secondo periodo Beatles. E devo ammettere che è anche uno dei miei preferiti! L'atmosfera che si respira ascoltando questo disco è prevalentemente americana, sprizza rhythm'n'blues da tutti i pori, non per niente s'intitola Rubber Soul! Lo stesso McCartney, in una vecchia intervista, lo aveva definito come «il loro tributo alla Motown»!
Gli arrangiamenti sono ricchi e vari, gli strumenti utilizzati sono sempre più variegati tanto che diventa impossibile riproporre dal vivo la maggior parte dei brani. Nei concerti che seguiranno, i Beatles eseguiranno live solo due pezzi tratti da questo album: "Nowhere Man" e "If I Needed Someone" che si aggiungono ai due brani del singolo collegato, "Day Tripper" e "We Can Work It Out".
In studio si fa abbondante uso di organo Hammond (un RT3 con Leslie), armonium, i già citati Vox Continental Organ e l'Hohner Pianet affiancati a due pianoforti acustici, uno Steinway gran coda e un Challen verticale.
Sul versante amplificatori finisce l'egemonia Vox. Nell'estate del 1965 arriva un Fender Bassman Blonde, versione testata e cassa (Piggyback) del 1963. Inizialmente riservato a Paul, diventerà invece l'ampli preferito da Harrison che lo utilizzerà con la chitarra per tutta la sua carriera per la maggior parte delle sue incisioni.
---
In esclusiva per Fingerpicking.net
---
In
Rubber Soul
le chitarre acustiche iniziano a guadagnare sempre più spazio e non si tratta più del semplice accompagnamento ritmico. Lo stile di Lennon già maturato su "You've Got to Hide Your Love Away" si afferma definitivamente su "Norwegian Wood". Qui John suona in Mi con lo shape del Re col capo mobile al secondo tasto, doppiando con la chitarra la parte cantata. La chitarra di Lennon è raddoppiata da una 12 corde acustica suonata da Harrison che esegue anche le parti soliste di sitar. Harrison suona lo strumento indiano per la prima volta in questa occasione, a digiuno di ogni rudimento, e la sua linea viene perfezionata dopo alcuni tentativi. Questo primo esperimento farà nascere in George la passione per la musica orientale e nei mesi successivi prenderà lezioni da Ravi Shankar.
Lennon tiene il capotasto mobile al secondo tasto della sua Gibson J-160 anche per "Nowhere Man", mentre lo sposta all'ottavo sulla ritmica di "Girl", brano in cui George esegue due parti soliste con due chitarre acustiche differenti: una con la 12 corde (la Framus di John) nella parte centrale, duplicata nel finale, e una con una sei corde sul finale. Quest'ultima parte è ispirata dalla musica greca, sembra quasi un bouzouki. La linea fu ispirata da McCartney che qualche settimana prima era stato in vacanza proprio in Grecia!
In "Michelle" le chitarre acustiche sono suonate da John e George, mentre l'intro di "I'm Looking through You" è di Paul. In "We Can Work It Out" alla chitarra troviamo di nuovo Lennon, che suona l'armonium, mentre Harrison suona le percussioni.
---
Ho visto i Beatles dal vivo – 2
---
di Dennis Conroy
Dovetti dire all'amabile Claire Kennedy che non conoscevo il gruppo di cui parlava, mentre cercavo di mantenere il carisma che il mio ruolo di chitarra solista all'interno dei Premiers mi conferiva.
La incitai a dirmi tutto di loro: avevano un cantante come Elvis o Cliff? Suonavano strumentali come gli Shadows? Quando rispose di no a entrambe le domande capii che dovevo scoprire questo gruppo dal nome strano.
Sono passati quasi cinquant'anni dalla prima volta che misi piede al Cavern e in quel mondo giù in cantina governato dai Beatles. Non ho mai tenuto diari di quando o quante volte li abbia visti, o cosa avessero suonato in determinate esibizioni, quindi tutto quello che posso raccontare sono pezzi casuali di memoria, canzoni e fatti che ancora tengo cari, di cinque ragazzi che hanno cambiato non solo la mia vita musicale, ma la mia vita.
Lasciando la pioggia in Mathew Street, ciò che ricordo della mia prima visita in quello che era forse un mercoledì all'ora di pranzo, entrando al Cavern, fui colpito dalla sensazione di attesa. Ancora oggi ricordo bene quella atmosfera. Ero con il nostro bassista, Alan Walton. Imboccammo la scala, fatta di gradini di pietra scivolosi e poco illuminati e verso la metà li sentimmo.
Era un suono come non ne avevo mai sentiti prima. I muri di mattone del Cavern sembravano trattenere il suono di quel gruppo ancora mai visto (chiamavamo 'gruppi' le band in quel periodo) per poi rilasciarlo intorno agli angoli e sulle scale per accoglierci. Ricordo distintamente il suono secco delle chitarre senza riverbero (nessun eco esterno) e la batteria che copriva una voce attutita. Mentre aspettavamo in fila per pagare, credo uno scellino e sei pence (circa otto pence di oggi), sentimmo molto meglio. Sono abbastanza sicuro che la band stesse suonando "Red Hot (My Girl Is)".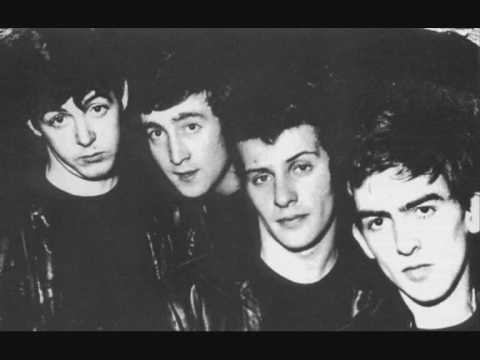 Questo video illustra con foto d'epoca un documento sonoro inedito nella sua interezza, che è probabilmente parte degli Hamburg Tapes registrati dal vivo allo Star Club nel 1962
Comunque, dopo quella che sembrò un'eternità, ma fu probabilmente solo la lunghezza del numero di apertura, mettemmo gli occhi sui Beatles.
Guardando il palco, alla nostra sinistra c'era George con Paul al centro, John era a destra di fronte a un piano verticale e Pete alla batteria. Gli amplificatori erano su delle sedie dietro John e George, mentre quello a forma di 'bara' di Paul era sulla pedana rialzata della batteria. I Beatles disattendevano ciò che ci si sarebbe aspettato indossare da una simile band, vestendosi con magliette, jeans e stivaletti cubani con il tacco. A quel tempo sembravano portare capelli abbastanza lunghi, ma guardando le foto oggi si scopre che erano piuttosto corti, considerando ciò che sarebbe successo negli anni a venire.
Questa immagine dei Beatles sul palco fu, per noi, secondaria rispetto alla musica che da quel palco arrivava. Nei due anni in cui ho avuto modo di vederli dal vivo quella musica era un misto del più rock dei rock'n'roll che possiate immaginare, alcune delle più belle canzoni della Tamla/Motown e canzoni di ogni genere come "Falling In Love Again", "A Taste Of Honey", "Henry the Eight" così come loro composizioni, "P.S. I Love You", "Love Me Do" e "The Tip Of My Tongue".
Cosa portai via da quella prima serata al Cavern fu un bruciante desiderio di cambiare completamente il mio atteggiamento verso la musica che suonavo e quello che volevo dalla musica nella vita. Fu un momento di cambiamento nella vita.
Quando Alan e io suonammo il nostro concerto successivo al Chinese N. 1 in Berry Street a Liverpool, le cravatte (il nostro 'abito di scena') rimasero a casa e le maniche delle magliette arrotolate. Il mio riverbero fu acceso solo sugli strumentali.
La prossima volta: cosa suonavano, come suonavano, con chi suonavano, cosa dicevano.
(2 – continua)